Cruises to Dominica, nicknamed the Nature Island, bring you to an ecological paradise.
As you approach the port of Roseau, your first glimpse is that of distant, verdant mountains, covered with a thin veil of mist rising high about the turquoise sea.
Venture inland and you'll find active volcanoes, steaming hot springs and bubbling sulphur ponds. Waterfalls cascade down dozens of mountainsides while crystal clear rivers and streams flow through National Parks.
UNESCO designated one of Dominica's National Parks as a World Heritage Site. Pack your hiking shoes for an all-day guided tour to the world's second largest volcanically heated lake. guided tour. You won't find high-rise hotels or the usual restaurant chains here. Dominica is truly a nature lover's paradise.
Where exactly is Dominica?
The island of Dominica (pronounced dom-in-EEK-ka) has a perfect location in the middle of the chain of the Caribbean islands.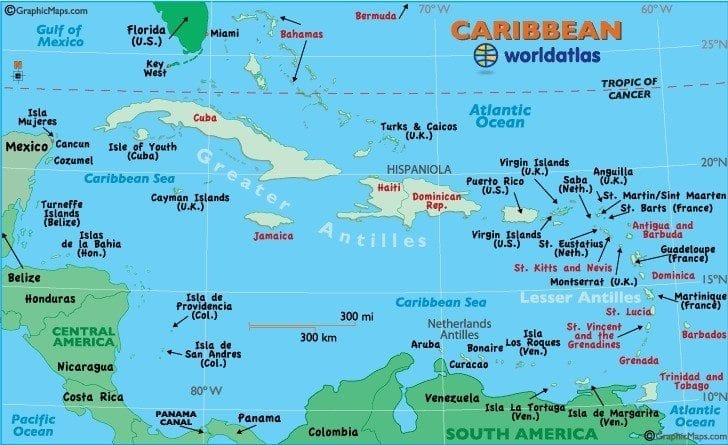 Because of the longer distance from the southern ports in the US, not including departures from San Juan, Dominica is included only on 10-night or longer Caribbean cruises.
What clothes should I pack?
Cruises to Dominica go all year round. If you plan to trek inland, expect it to be quite hot and humid most of the year due to the lush mountains and dense vegetation, especially in the summer. Sunshine and rainbows quickly follow sudden rainstorms that appear from behind the mountains.
However, it rains year-round in the rainforest so pack a rain poncho in addition to your hiking shoes, if heading inland. No matter the season, temperatures usually hover around 75-85 degrees Fahrenheit with a cool sea breeze and less humidity from December through May.
What time of year is best to visit?
January through May means that the hurricane season has passed and days are generally sunny and getting warmer. Sperm whales are spotted off the coast year-round while February-April is ideal for sighting Humpback whales. Much of the month of November is spent in celebration of Dominica's Independence Day from the British. Expect anything from live music to local street fairs with plenty of spicy Creole food to tempt your senses.
Is there shopping in Roseau?
The majority of ships dock in downtown Roseau, the capital of Dominica. Shore excursions depart from the gangway area. It's a short walk to the Old Market Plaza. Once a slave trading post, it's the place to buy local hand-made and hand-carved arts and crafts.
Shop at dozens of well-known Caribbean boutiques and along the main street, from typical souvenir stores to luxury boutiques. all duty-free. Bring home locally made hot sauce or a few bottles of indigenous spices to bring home.
Show me the money
There are at least four banks in downtown Roseau with ATMs. Be aware that you may need to enter the bank to access the ATM; some banks may close at 2pm.
Except for shopping in the Old Market in Roseau (bring cash), bargaining isn't the routine.
Credit cards are widely accepted in stores and restaurants in Roseau.
A 10% service fee may be added to your restaurant bill. If it isn't then a 10-15% tip is respectful.
What's good for kids?
Active, outdoor adventure and hiking is Dominica's main activity. Kids should be carefully watched when hiking the sometimes slippery trails and stony paths leading to the waterfalls, lakes and other natural wonders. Baby buggies would be difficult if not impossible to maneuver. The downtown pier area of Roseau offers a small museum, shopping and a few places for light bites.
Much of the month of November is spent in celebration of Dominica's Independence Day from the British. Expect anything from live music to local street fairs with plenty of spicy Creole food to tempt your senses. Speaking of food…
Local food in Dominica
Given the incredibly fertile soil and no shortage of rain, Dominica produces almost all of their own fruits, vegetables, herbs and spices that you'll find in homes and on restaurant menus. As you travel into the countryside, the scents from spice trees fill the air. Exotic fruits and oversized vegetables grow in nearly everyone's backyard.
Cold drinks made from watermelon, mango or even pumpkin are homegrown staples and refreshingly delicious.
With dozens of aromatic spices readily available and a melding of West African, Indian, French and a mélange of cultures, Dominica's cuisine generally has a Creole influence with tastes, textures and ingredients that many visitors haven't tried.
Chicken, pork, goat and lamb are the mainstay of their Creole cooking. Many species of fish are caught just offshore and used in stews and curries.
Dominica coffee is quite excellent, due to the mountainous growing areas, similar to Jamaica's Blue Mountains. After you've sipped your first cup, be sure to buy a bag of beans to take home. Speaking of foodie souvenirs, limitless types and temperatures of pepper sauce, sweet coconut candies and rum cakes are also available for purchase at several shops at the pier.
Things to do in Dominica
Take a dip in a waterfall.
No trip to Dominica would be complete without a visit to one of the many cascading waterfalls. One of the easiest to reach and closest to Roseau is the twin Trafalgar Falls. Once your taxi or tour bus parks in the drop-off area, it's a quick and easy 20 minute hike to the falls. Along the trail, you'll find several lookout viewpoints, so be sure to bring your camera.
The more adventurous (and sure-footed) can continue their trek over rocks and boulders and follow the signs to the naturally cool and hot pools. Keep an eye on the time so you don't miss your tour bus!
Put on your hiking boots and head on up to Middleham Falls. Located in the remote Morne Trois Pitons National Park, it's a one to two hour, somewhat challenging hike through the forest. The challenge is mostly due to the moss-covered rocks and slippery paths. But the reward is there when you reach the 300 foot falls and step out on the viewing platform. Take a quick splash in the waterfall pool before trekking back to the park entrance.
If a stroll through time is more your thing, consider a self-guided, historic walking tour of the capital city, Roseau. Stop by the Dominica Museum (kid-friendly) and learn about the island's culture and society, geology and hurricanes. Nearby, meander through the culturally rich Old Market and learn about the slave trade and Carib Indians. Buildings from the 18th century are scattered around Roseau and the port area. Stop at the historic Fort Young Hotel for a quick peek and lunch. Maps for this historic and cultural walking tour are available in town.
On a cruise to Dominica, the best shopping is where your ship docks; at the waterfront in the island's capital of Roseau.
Bubbling hot springs, coarse volcanic black sand and beautiful pristine coastlines are scattered all around the island.
Care for a bit of the bubbly? You won't drink champagne, but you can go swimming in it. Well, sort of. Dominica's abundance of unique geothermal springs offer an amazing swim and snorkel experience.
Champagne Beach
Just a few miles south of Roseau, gasses vented through the ocean floor bubble up to the surface and it's like swimming in a glass of champagne. The water is a warm 90 degrees year-round with a natural reef very close to shore.
Put on your snorkel and fins and you'll spot all sorts of marine life, from turtles and lobsters to parrotfish and puffers. Look carefully; a few cannons from a 17th century shipwreck can be seen through the bubbles. There's also a changing room with showers, snack bar and gift shop.
Soufriere Bay Beach
Another bubbling beach, Soufriere Beach is located near Champagne Beach. An unusual black sand beach with a rocky stretch, Soufriere Beach is even less crowded than Champagne Beach. There are no restrooms at the beach but there is a snack bar. You'll have to venture into Soufriere Bay (the town) to find a restaurant and facilities. But don't let that deter you. It's a gorgeous, secluded beach with great snorkeling.
Pointe Baptiste and beyond
If a day spent relaxing on a smooth stretch of golden sand is more your thing, Pointe Baptiste Beach, located on the northern coast, is ideal. Intermittent black sand and white sand beaches dot the Calibishie area in the northeast and are fairly secluded. Make sure to allow ample travel time between the northern coast beaches and Roseau. If your ship departs mid-afternoon, you may want to reconsider this region. It's about an hour and a half drive from Roseau to the Calibishie area beaches.
Cruise lines that visit Dominica
A few years ago, only a handful of cruise lines visited Dominica. I've counted at least 10 cruise lines that offer cruises to Dominica. While many of the cruise options are 7-nights and depart from San Juan, there are still quite a few departures from Miami and Ft. Lauderdale, Florida.
Included on their eastern/southern Caribbean itineraries to Dominica are: Azamara, Celebrity, Cunard, Holland America, Norwegian, Oceania, Princess, Royal Caribbean, Silversea and Star Clippers.

I'm the editor and creator of CruiseMaven.com, a solo traveler cruising the world on waves and wheels, collecting recipes along the way.  I hope my articles and photos entertain, advise and inspire you to travel the world without flying.  Take a breath…stop for a local meal and a glass of wine along the way.