Port Canaveral cruise port, located in Cape Canaveral, still has a small town feel despite its growing size. And it's been my home turf since 2000, so I'm a little biased.
Conveniently located on Florida's Space Coast, Port Canaveral is about an hour's drive from Orlando. And while Orlando and its theme parks are known world-wide, there's plenty to see and do in and near Port Canaveral.
Cruising from Port Canaveral? Here are the facts.
Port Canaveral is located in the city of Cape Canaveral and adjacent to famous Cocoa Beach. Cape Canaveral, where the rockets are launched, and the Kennedy Space Center are also nearby. If you have time, a visit to the Kennedy Space Center is worth the time and money.
A convenient drive-to port, Port Canaveral is easy to find and parking is a breeze. You can even reserve your parking space at the port online before you leave home. One less thing to remember to do.
Before you reserve your hotel, motel or resorts near Port Canaveral, ask if they offer free shuttle service and/or free parking if you purchase a stay and cruise package. Some properties offer park and shuttle at a discount rate if you don't buy the whole package.
READ NEXT: Driving Directions to Port Canaveral
Stay, Park and/or Cruise packages.
Here are the places I've either stayed at or personally inspected:
Radisson Resort at the Port – Cape Canaveral: Packages include stay, park and shuttle with and without breakfast
Courtyard Cocoa Beach: Package includes free parking with overnight stay, shuttle to/from ship, complimentary happy hour daily from 5-7pm.
Hampton Inn in Cocoa Beach, is next door to the Courtyard (see above) and guests can use either hotel's pool and facilities.
Country Inn and Suites in Cape Canaveral. This hotel offers a cruise parking package with shuttle. Also, free internet, breakfast, coffee and cookies every afternoon.
Residence Inn, Cape Canaveral. Included in their Cruise and Stay package is free breakfast and parking, shuttle to/from ship for a small fee. Full kitchen. Plus – complimentary light dinner, beer, wine and soft drinks on Mon-Wed evenings.
There are plenty of family-friendly activities near the port, including the Kennedy Space Center. With miles of wide beaches, public parks and nearby restaurants and shopping, you might want to consider spending at least a couple of days before or after your cruise. Disney World and Universal Studios Orlando are just an hour away, too.
Driving directions to Port Canaveral
1492 Charles M. Rowland Dr., Port Canaveral, FL 32920
From the North or South: Drive on I-95 to Exit 205 and keep driving east to Hwy 528 East (the Beachline Expressway.) Drive due east 11.5 miles on Hwy 528. Leave the mainland behind and after you've driven over the causeways, watch for the exit to the "A" cruise terminal. You'll turn onto SR 401 and then drive north 1 mile on SR 401. Go over the drawbridge and get to the right-hand lane. Follow the signs to your cruise ship terminal and parking.
From Orlando International Airport (MCO) Take the north exit from the airport and veer right onto State Road 528 (the Beachline Expressway.) Follow 528 right to Port Canaveral.
From Tampa, it's an easy a two-hour drive across the state, picking up I-528, the Beachline, just past central Orlando.
Jacksonville will take you about two and one-half hours in good traffic on I-95 south to 528 east.
Miami is just about four hours, while the drive from Ft. Lauderdale will take slightly less. Turnpike to Ft. Pierce is recommended if you're driving at peak times.
At this time, parking rates at Port Canaveral are $17 per day for cars and RVs. This includes day of departure and arrival back to port.
Port Canaveral is in the midst of phenomenal growth, adding ships, improving the channel to accommodate the mega-ships and building an entertainment, shopping and resort complex.
Take a look at the port from the Port Canaveral webcam. You may just catch a Carnival, Royal Caribbean, Norwegian or Disney ship leave port.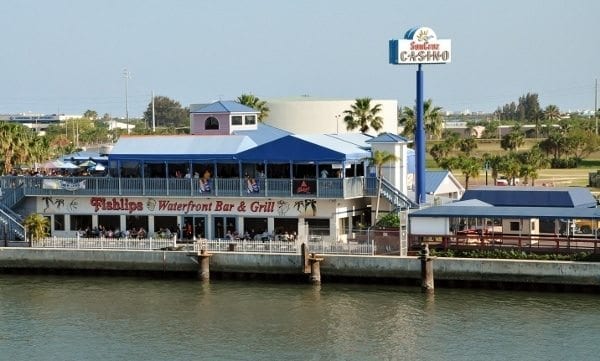 If you haven't experienced a sailaway aboard a ship from this wonderful, "small town" port, you should put this on your cruise to-do list right away.
The hotel links above are affiliate links which means I will earn a tiny bit of change if you should click and book your hotel through the hotel link on this page. If you do, thanks! Happy Travels!
PIN THIS AND SAVE!

I'm the editor and creator of CruiseMaven.com, a solo traveler cruising the world on waves and wheels, collecting recipes along the way.  I hope my articles and photos entertain, advise and inspire you to travel the world without flying.  Take a breath…stop for a local meal and a glass of wine along the way.