As I cozied into the plush leather seat aboard the Denali Star, the historic blue and gold Alaska Railroad lurched forward. We moved along the rails at a lumbering pace, on a panoramic northbound journey from Anchorage to its terminus in Fairbanks.
With eight hours to go, I had ample time to review my upcoming five-day whirlwind itinerary. The next morning's activity grabbed my attention; a chance to walk with reindeer!
A 20-minute drive from Fairbanks is a place where guests walk through a boreal forest alongside a herd of reindeer. I always thought only Santa and other adventuring Arctic explorers could have this experience. Not so, if you visit Running Reindeer Ranch!
Running Reindeer Ranch
Just past 9:30 am, my ride from Fairbanks drops me off and promises to return in about 2 1/2 hours; the amount of time scheduled for the 10:00 am reindeer experience. As I'm walking towards the chalet-style house where the tour will begin, there crossing right in front of me, was a real reindeer! I didn't know whether to laugh or freeze.
It only took a few seconds to realize that this big guy was as gentle as a pet dog. Just "slightly" larger..and with antlers. I turn to walk towards the house and boom! It happens again, only this time there's two of them, and I burst out laughing. Hopefully, no one sees or hears me…the crazy travel writer lady from Florida.
All About Reindeer
Here, in this verdant and lush boreal setting, you will learn everything you've ever wanted to know about reindeer…and a lot more. Open year-round, Running Reindeer Ranch is family-owned, operated, and founded by Jane Atkinson, husband Doug, and their three human children. Now they have nearly a dozen four-legged family members that run loose on their five-acre, wooded and landscaped property.
How Jane and Doug's Ranch Got its Start
It wasn't a spur of the moment business decision that brought their first reindeer to their homestead. Instead, as Jane likes to tell the story, her daughter Robin, then 12 years old, asked if she could have a horse (might as well start big and go from there). After Robin made several requests for various animals, Jane got the idea that an animal best suited to life in Fairbanks and near the Arctic would be a smart decision. She began to delve into reindeer research.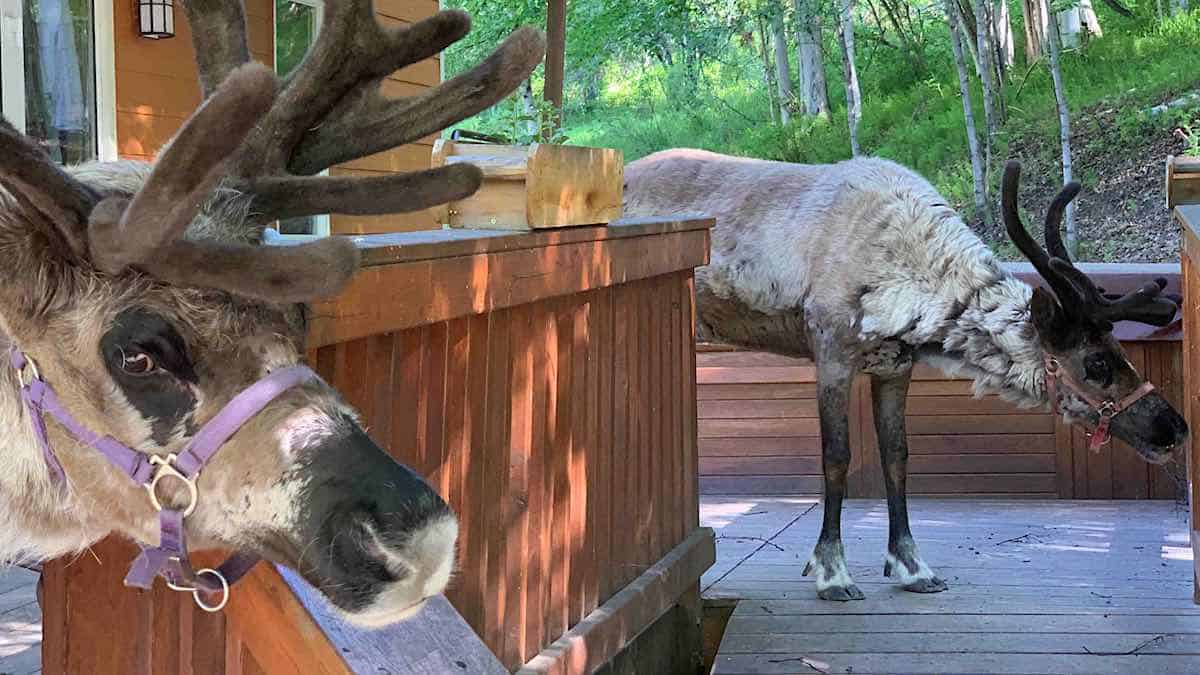 With time spent at the University of Alaska Fairbanks' Reindeer Research Project and daughter Robin's successful home-based cookie company, the family's first two reindeer, Ruby and Moon, were purchased in the fall of 2007. Since then, new reindeer were added nearly every year, either by a reindeer mom or purchased from a nearby farm.
Walking the Walk with Reindeer
After a safety briefing and waivers signed, Jane introduced us to the herd and their adorable names; Daisy, Olive, Buttercup, Poppy, Cosmo, Juniper, Jasper, and more. No Rudolph or any monikers from the likes of that particular team.
For those who don't know, these gentle creatures have antlers, not horns, and yes, even the females have antlers. Remember, horns grow, and antlers shed every season. Jane explained that because the antler covering, called velvet, is so sensitive, we have to be sure not to touch the antlers.
READ NEXT: What to pack for a cruise to Alaska
At the end of every summer, when velvet covers the antlers, male reindeer begin to shed their velvet and the females shortly afterward. As the velvet sheds (and is somewhat bloody-looking), the reindeer eat what falls off for its dense nutrients.
Then we're off on our easy-paced walk through the fairy-like forest surrounded by almost dozen, free-roaming, all cute-as-a-bug reindeer. The trail is reasonably level, and there are benches along the path. If the reindeer decide to run, we need to remember to stand still. Reindeer know to go around people, and they even know, like cats know their whiskers, how much clearance their antlers need.
After the walk through the forest, surrounded by watchful reindeer moms, dominant dads, and curious baby reindeer scampering about, we reached a quiet pond at the end of the trail. But it didn't remain still for very long. As we learned, reindeer love the water, splashing, wading, and jumping over rocks and flora.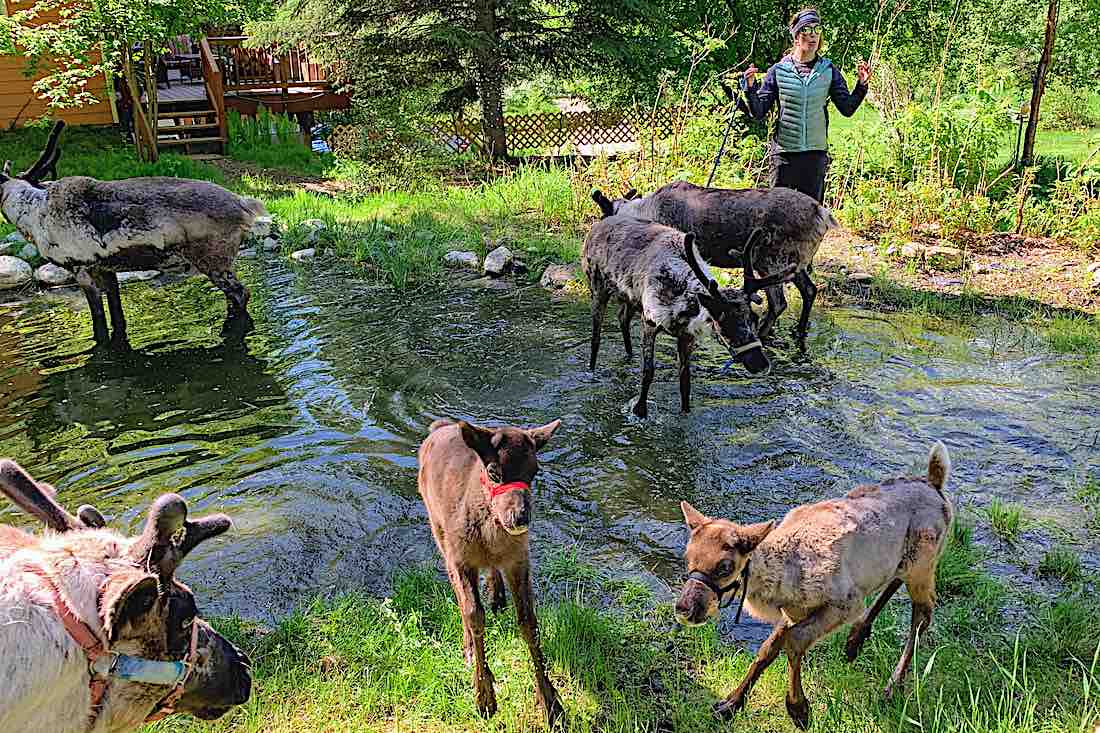 Meanwhile, Back at the Ranch
Though our walk with reindeer had come to an end, this amazing experience wasn't over. Now it was time for cookies, lemonade, and a lesson in everything reindeer. Jane and Doug took center stage in their guest house living room while we munched on her now-famous oatmeal and chocolate cookie recipe.
Everyone had a chance to hold all shapes and sizes of antlers. Scraps of dried velvet made the rounds as Jane talked more about the creatures we had met.
"Up on the housetop…" and other fascinating facts
One curious fact we all noticed as our walk began was a soft, rhythmic clicking sound as the animals passed by us. Jane explained that the clicking sounds are tendons that snap over bones in reindeer feet. These clicks are the familiar words and lyrics of legend and song. So it's not only when they are "up on a housetop."
Their multi-purpose hooves also act as snowshoes and enable the animals to dig into the ground in search of food, especially in the cold weather.
Jane shared her experience of traveling with her daughter to Mongolia to learn about their reindeer, the herds, and anything insight she could gain. Their research to start their ranch left no stones unturned.
And what about caribou? While there is still debate about the differences between caribou and reindeer, science shows they are the same species. However, it's generally agreed that caribou are the wild creatures and, therefore, bigger while domesticated reindeer are smaller.
Plan a visit to the ranch
Running Reindeer Ranch is open year-round. If you can't make it to Fairbanks in the summertime, you should know that winter in northern Alaska is exceptionally unique. It's also the best time to witness the sky's glow from the aurora borealis. You can even stay at Jane's Reindeer Haus guest-house, too.
Running Reindeer Ranch Cookie Recipe
I'm the editor and creator of CruiseMaven.com, a solo traveler cruising the world on waves and wheels, collecting recipes along the way.  I hope my articles and photos entertain, advise and inspire you to travel the world without flying.  Take a breath…stop for a local meal and a glass of wine along the way.