When I received the invitation for Wonder of the Seas Inaugural trip in March 2022, I knew I needed to go. It was time to take that first cruise since the pandemic began.
If I was finally going to take the plunge, this ship would be the way to do it. Go big or go home. That was my logic.
In addition, this would not be just any cruise ship. Royal Caribbean's new Wonder of the Seas is the largest cruise ship in the world.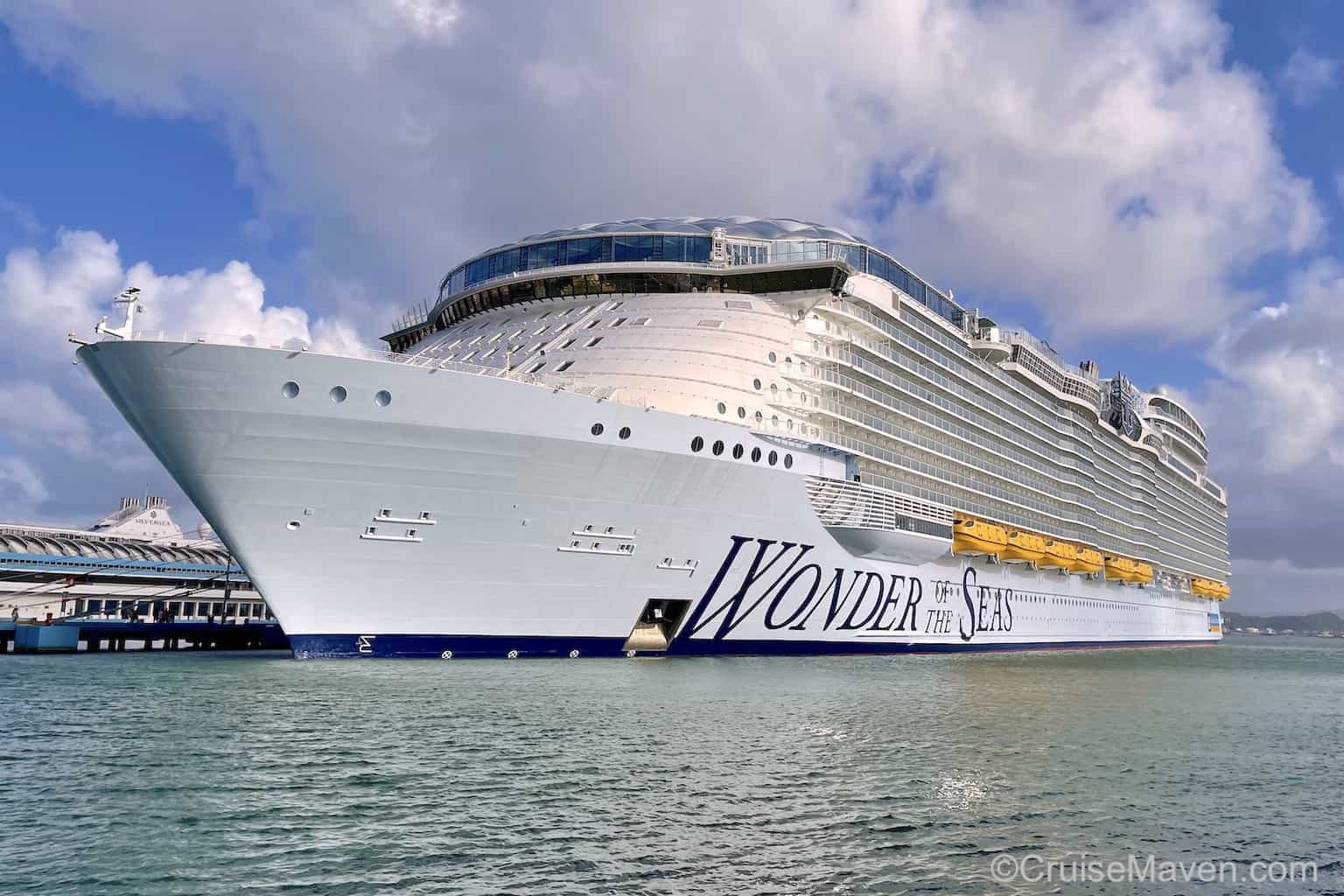 My last time on the water was in the middle of the pandemic and not by choice. To leave Alaska from Sitka required a three-night Alaska ferry "cruise" from to Bellingham, WA in Sept 2020. Then the long drive back to Florida.
So the last "real" cruise for me was way back in June 2019 aboard Holland America's Maasdam, a 21-day Alaska cruise round-trip from San Francisco.
RELATED: Only Way to Get Home During Covid was the Alaska Ferry
Wonder of the Seas Experience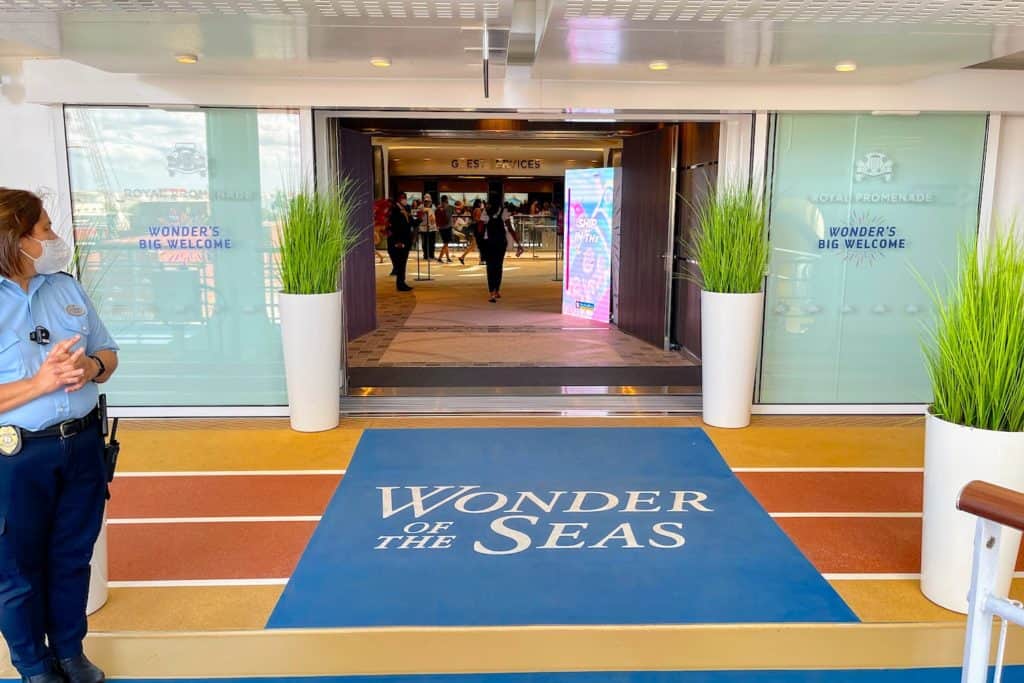 In case you're wondering, yes, I was fully "vaxxed" and I planned to abide by what I thought were current requirements for wearing a mask indoors.
Here are my first impressions of what it was like to get back on board a cruise ship for that first cruise during Covid in March 2022.
Also, I've added some thoughts on the Wonder of the Seas cruise experience.
Wonder of the Seas Inaugural and "First" Cruise
Unknown to me when I accepted the invitation for the inaugural, buffets were reopened. Mask requirements were lifted a week before departure.
However, there were health and safety requirement still in place. For this inaugural cruise aboard Wonder of the Seas, all guests ages 12 and older were required to have been vaccinated and present their vaccination card.
Plus, those of us 12 and older also needed to take a COVID-19 PCR or antigen test within 48 hours of boarding and of course have a negative result.
I didn't know what to expect for cruise ship capacity during Covid. The cruise lines have been pretty tight-lipped when it comes to revealing passenger count.
As it turned out, according to someone higher up on the chain of command, there were close to 4,350 passengers and 2,300 crew members onboard.
Wonder of the Seas can accommodate 5,731 passengers, up to 6,988 at full capacity. We were sailing at maybe 65%? I'm not a mathematician.
Preparing for My Return to Cruising During Covid
Royal Caribbean suggested to download their mobile app prior to departure. Their app provides personalized boarding information and requirements to help prepare for the cruise.
Within the app, I was able to make dining reservations, plan what to do ashore and just about everything you'd need on the cruise.
Then, 72-hours before departure, I received a text message from Royal Caribbean that advised me to log-in to the app. From there, I chose my boarding time, completed the health questionnaire, and even took my ID photo.
Everything possible to speed up time waiting in queue inside the terminal.
My first cruise departure countdown officially started. Yay!
The itinerary sounded interesting, too. On this seven-night cruise round-trip from Fort Lauderdale on March 4, 2022, the only destination-type ports were San Juan, Puerto Rico and Nassau, Bahamas.
There were two more stops on this cruise. We had a full beach day at Labadee, Royal Caribbean's private beach in Haiti.
Plus another full beach day at their amplified CocoCay, now renamed Perfect Day at CocoCay.
RELATED: My Favorite Way to Spend a Port Day in San Juan
Driving to Port Everglades for Wonder of the Seas
If you plan to drive and hope to get a parking space in the main lot, choose an arrival time before 11am.
The main lot is adjacent to terminal #18, where Wonder of the Seas docks. This is the same terminal where you'll board Allure of the Seas, too. And some Celebrity ships.
Extremely convenient, the main parking lot is at ground level and a super-easy walk to the terminal.
I chose a 1PM arrival time because I thought I'd get to the port just before the stragglers arrived for a late boarding. Once at the terminal, I drove to drop off my one large suitcase with the porter.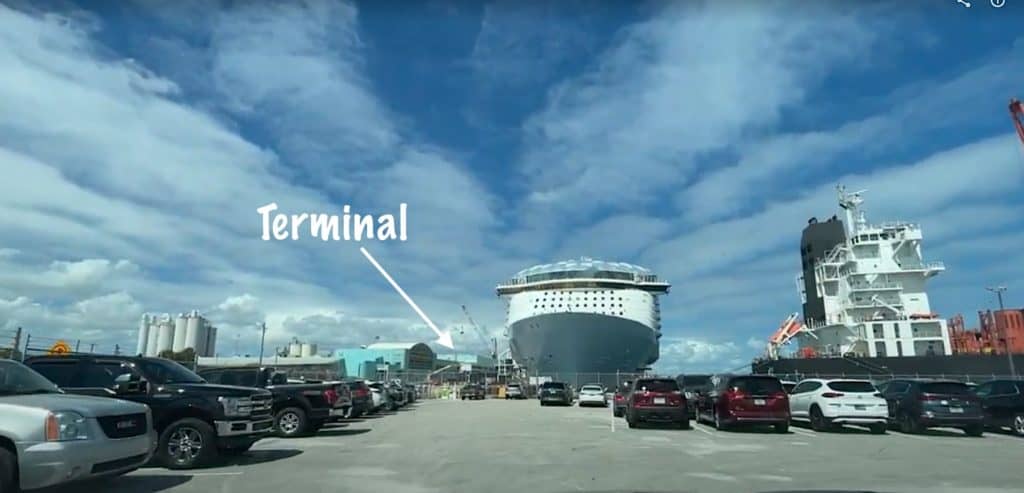 As I neared the adjacent main lot to park, a sheriff flagged to me to keep on driving…to the dreaded Annex Lot.
Allow me to explain. The Annex Lot isn't truly horrible unless, like me, you have some heavy carry-on luggage to drag.
The walk from the Annex Lot to the Terminal was a challenge because not all of the path is smooth pavement. Most of it is torn-up gravel.
Rolling my top-heavy, four-wheel carry-on suitcase with an overstuffed backpack attached required some skillful maneuvers over and around the small potholes and pebbles.
Insider Tip: When Leaving Annex Lot After Your Cruise
In the reverse after the cruise and if you're not traveling solo, someone in your party can walk to the car, drive through and pay for parking.
Then carefully re-enter the pick-up area. Broward County Sheriffs will not let you stop near the terminal exit doors to load passengers and luggage.
That means whomever is left to wait, will have to haul the luggage to a small, designated pick up area, already jam-packed with the outflow of passengers plus those waiting for a Ride Share car or other transportation.
The best advice if you're forced to park in the Annex Lot, solo or not? Get a porter inside the terminal. It'll save your back and your cruise will end on a better note.
The porter will walk with you through Customs and then continue the 10-minute walk to the Annex Lot. Be sure to give a good tip. I did – and I was so grateful for the assistance.
Check-In for Wonder of the Seas
Once I finally reached the inside the terminal, check-in was a breeze. Yes, there was a long queue, but from the time I set foot inside the terminal to clearing security was at most 20 minutes.
The hardest part for me, as a solo cruiser, was about to happen. With too much crammed into my carry-on and backpack, the walk to go up four gangway switchbacks was grueling. The entrance to Wonder of the Seas was on Deck 5.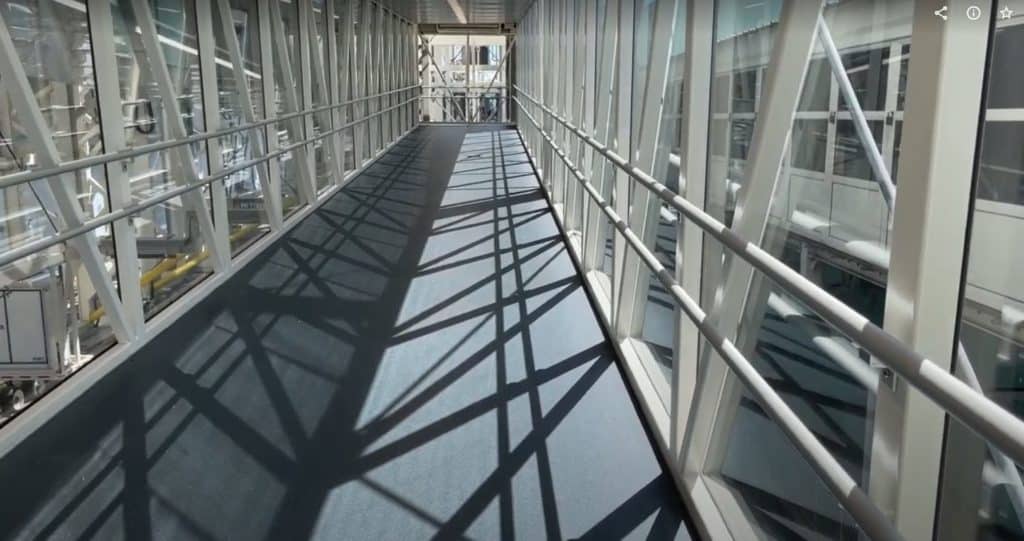 Note to self: I absolutely positively have to pack lighter, both my carry-ons and main luggage.
Boarding Wonder of the Seas
As I mentioned, when I confirmed my reservation in early February, masks on cruise ships were still required in indoor public spaces and on elevators.
Now, masks for guests were optional. This cruise during Covid just took a weird turn for me.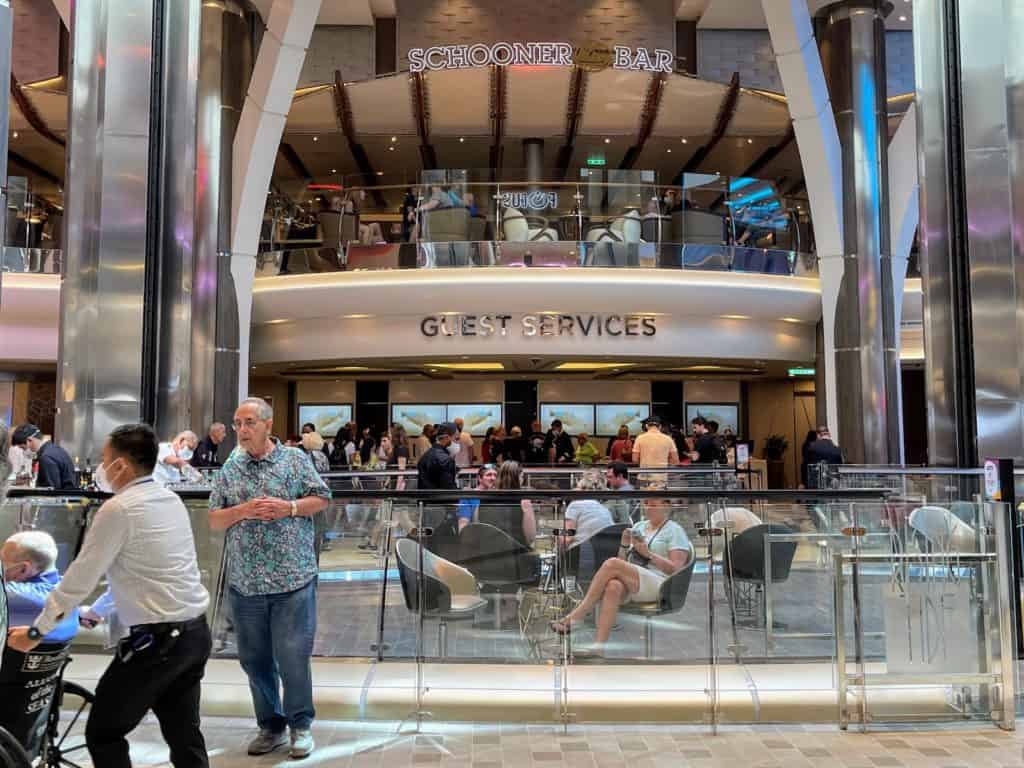 I was totally gobsmacked – hardly any passengers wore a mask. Not even when packed like sardines in the elevators.
The crew and officers, however, were required to wear a mask at all times. From what I observed, almost everyone from Royal Caribbean complied.
Crew and staff had to be fully vaccinated. They also spent two weeks in quarantine on one of the Royal Caribbean ships deemed a dedicated quarantine ship. Then, their deployment began.
Insider Tip: Finding An Elevator at Boarding
There are only two elevator banks on Wonder of the Seas. This makes for a long walk to or from the elevators if your stateroom is all the way forward or aft or if mobility is an issue.
If hauling luggage on carpeting is an issue, book a stateroom closer to the elevator. You'll be grateful you did this, especially on disembarkation day when everyone is rushing to leave the ship.
My "First" Cruise Finally Begins
Finally. I walked in to my balcony stateroom and immediately felt right at home. Within minutes I was unpacked and headed outside.
It was so nice to be outside on any of the decks and hear people laughing, music blaring and everyone enjoying themselves. The past two years of being semi-homebound seemed to disappear.
I can't say enough wonderful things about the crew. They were all so nice and friendly and genuinely seemed happy to be back aboard a ship, too.
Muster drills have not yet returned to pre-pandemic proportions. All that was requested was for us to watch a video on their app, then go and check-in with a crew member at your designated muster station. That was it.
No crowding in lounges or sweating bullets in the South Florida sun while standing in line, shoulder-to-shoulder, on the life boat deck.
As a solo female cruiser, I was pleasantly surprised and pleased that my room attendant was a woman. This doesn't happen very often.
Dolores hailed from Ocho Rios, Jamaica and was absolutely wonderful. We'd chat in the corridor and take turns surprising each other with goofy decorations on the towel animals.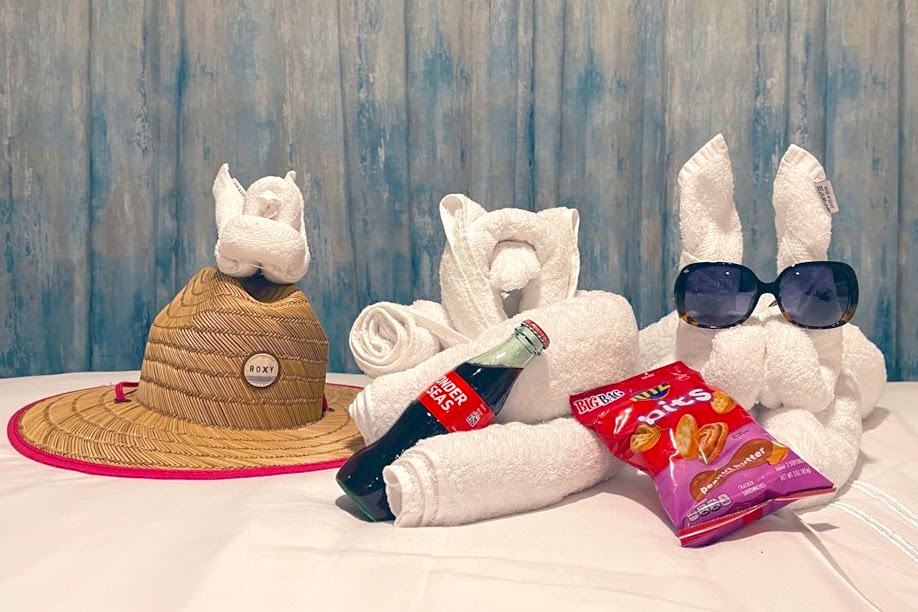 Dining on Wonder of the Seas – First Night On Board
Based on comments that I overheard from passengers, this was one area that may need a little improvement.
But the ship was new, the crew and staff were still adjusting to a return to life at sea. Even some basic provisions were not yet on board.
I was so exhausted on boarding day (mainly from hauling my luggage from the Annex Lot to my stateroom) that I decided to order room service dinner.
As with most mass market cruise ships, Royal Caribbean charges a fee for room service. The only exception is the cold continental breakfast. Otherwise, you pay $7.95 for room service, plus tax and tip.
The selection wasn't terrific so I ordered Atlantic Salmon with a baked potato and a veg. Sadly, the salmon was raw in the middle, the baked potato cold and the sour cream was soup-like.
But I was on my first cruise since the pandemic and nothing was going to spoil this experience. Besides, there are a handful of free food options available for late-night snacks.
Restaurants on Wonder of the Seas
If I had the energy, there's the no-charge almost-always-open Sorrento's Pizza on the Promenade Deck, and it's pretty good.
Windjammer Buffet (the largest in the fleet) was also open for a late dinner. Plus, the Promenade Cafe operates 24/7. I was content to just chill in my stateroom and relax on the balcony.
There are a total of 21 restaurants and dining options aboard Wonder of the Seas. Of those, 10 have a fee, nine are complimentary and one is reserved for suite guests.
One of the most popular specialty restaurants aboard Wonder of the Seas is the Mason Jar. Southern-style cooking for Royal Caribbean's new dining venue.
Washee Washee
Interestingly, at almost every dining venue, except the main dining room, there were long, trough-like sinks with automatic water and soap dispensers.
Crew members encouraged everyone to "washee-washee" before being seated or crowding through the Windjammer Buffet.
I will note that all the buffets, from Windjammer to El Loco Fresh, were NOT self-serve. Crew members did all the serving. Even at the taco seasonings stand someone would spoon the salsa, melted cheese etc. onto your plate.
The only exception was if you wanted to add soy sauce, oil and vinegar, hot sauce etc to your plate. These condiments were sort of tucked away in a corner and didn't seem to get much traffic.
Onboard Activities
You can see from these photos that not only was the weather gorgeous, but everyone was either in one of the four pools or camped out around them.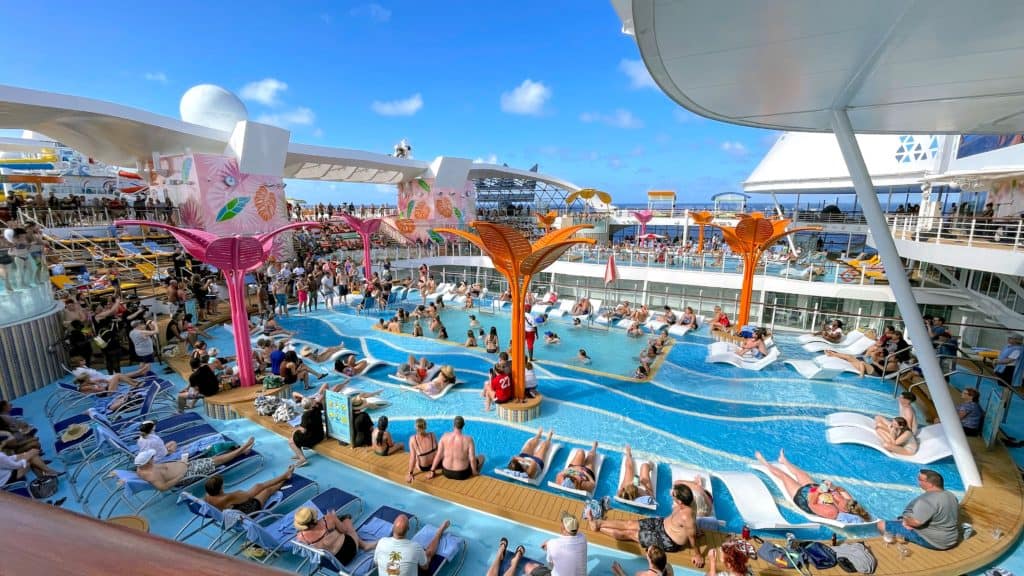 With the good strong breeze, there seemed to be no concern about taking a cruise during Covid.
Almost every outdoor activity was in operation, albeit at different times of the day. It's important to check the daily Cruise Compass for opening times.
I'm not a sun worshipper so it didn't matter to me about snagging a lounge chair by any of the four pools. But there were plenty of loungers, some under shade, if I changed my mind.
Going Ashore in San Juan
From Port Everglades, it was two nights at sea until we reached our first port of San Juan, Puerto Rico.
Our Cruise Compass daily "newspaper" instructed us that Puerto Rico required everyone disembarking to wear a mask on the pier as well as in any indoor or crowded venues.
Everyone disembarked wearing their mask. But by the time passengers walked a few yards away from the guards along the pier and despite the local requirements, almost all masks came off.
The party had begun.
Exploring San Juan
I hadn't planned on buying a shore excursion. When a friend of mine mentioned that he was going on the Sunset Walking Tour of San Juan, I signed up, too. And I'm glad I did.
This time of year, San Juan has their clocks set an hour ahead of EST. So that meant we'd still be ashore for a 5:30 PM sunset.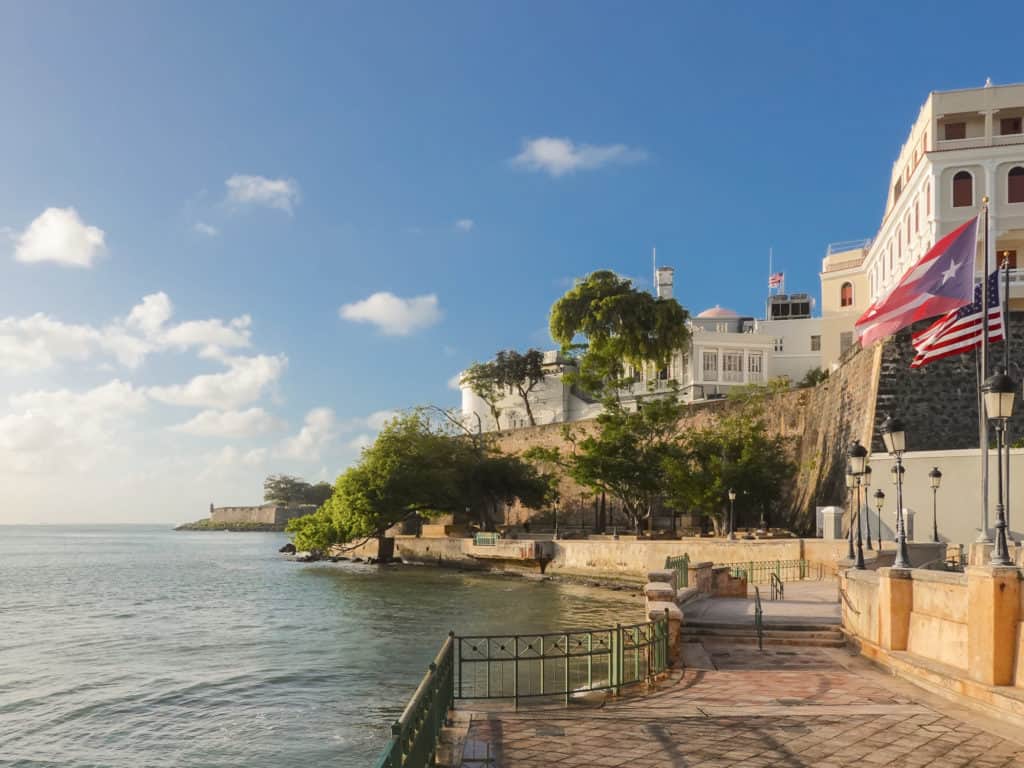 The tour was a decent 3 miles of walking. Up some stairs, through neighborhoods and over cobblestones until we reached El Morro, the fortress at the entrance to San Juan Harbor.
Construction on the fortress began in 1539 and wasn't completed until 1790. Over the years, and eventually six-stories high, it was a formidable sight to incoming invaders.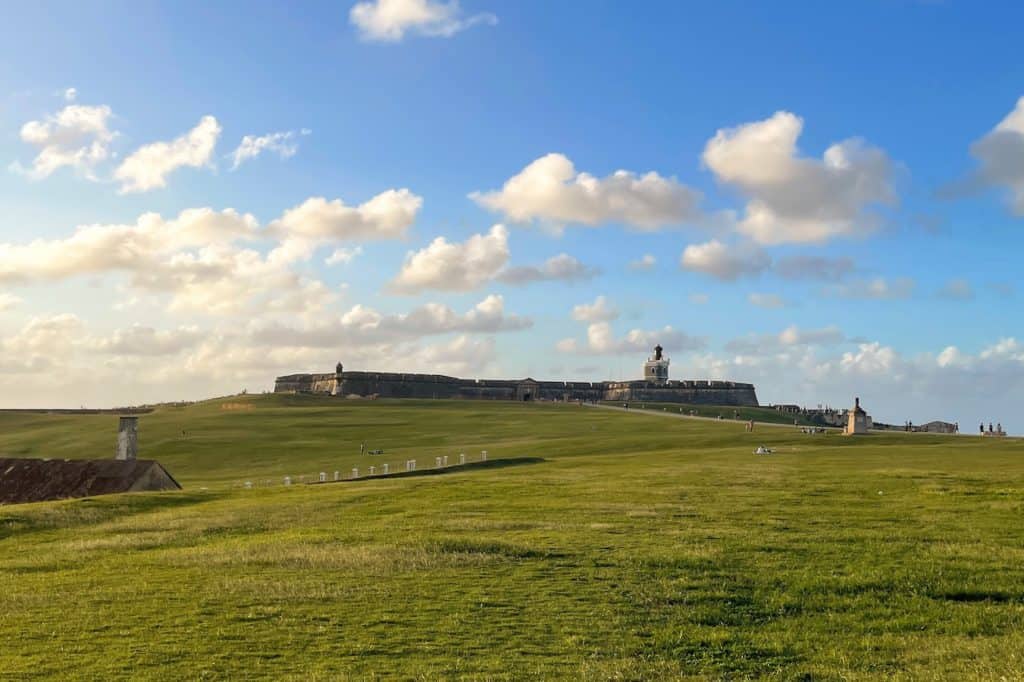 Our walk was perfectly timed to witness sunset at the sprawling fortress landscape, now a U.S. National Park.
As we headed back to the ship, cafés were coming to life, music was playing and delicious aromas drifted onto the streets from local kitchens.
Next Stop: Labadee, Haiti and a Beautiful Beach Day
I've been to Labadee at least a dozen times over the years. Despite Royal Caribbean's upgrades and active adventures, Labadee still has some of its original charm.
The most fabulous upgrade to Labadee is the addition of private cabanas. There are two beaches that offer cabanas; Nellie's Beach and Barefoot Beach Club.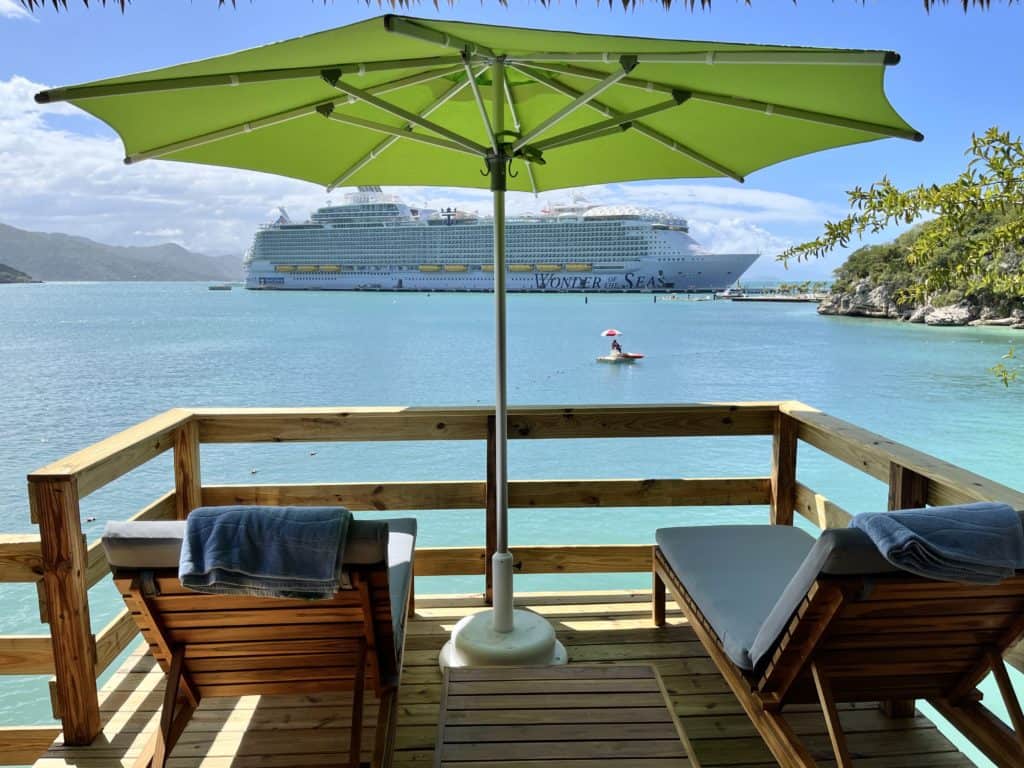 Cabanas at Nellie's Beach are $579 per cabana and accommodate up to eight people.
Barefoot Beach Club is included and exclusive for guests in a Grand Suite and above or Pinnacle level Crown and Anchor Loyalty members.
Both beach areas have their own tram station stop so it's easy to reach these beaches. However, access to the cabanas is not for anyone with mobility impairment. There are either stairs or stone steps to climb to get to the cabanas.
A Familiar Day in Nassau, Bahamas
Same as in San Juan, masks were required on the pier and at indoor venues. And same as in San Juan, five minutes ashore and passengers removed their masks.
All the people who live and work in Nassau were masked indoors and even on the pier.
There are plenty of choices for shore excursions in Nassau. On this trip, my only goal was to head straight to John Bull department store on Bay Street. It's my usual routine.
Whenever I'm in Nassau, I go to the elegant John Bull's to replenish a couple of cosmetics, grab a Starbucks (no line here) and this time, replace a worn-out Longchamps backpack.
While prices are only a few dollars less than in the States, going there basically gives me something to do.
A Perfect Day at CocoCay
Royal Caribbean really took poetic license when they decided to change the pronunciation of CocoCay. So that it would rhyme with Perfect Day, "Cay" (correctly pronounced "Key") is now pronounced "Kay".
The cruise line should update their website with the new pronunciation.
Now this quiet island, once known as Little Stirrup Cay (say, "key"!), provides guests with a full day of water park adventures.
Similar to Labadee but much more expansive, is the Coco Beach Club. A private area ($$$), it's calm and relaxing with its own outdoor restaurant and bar, lounge chairs, a pool and incredible over-water cabanas.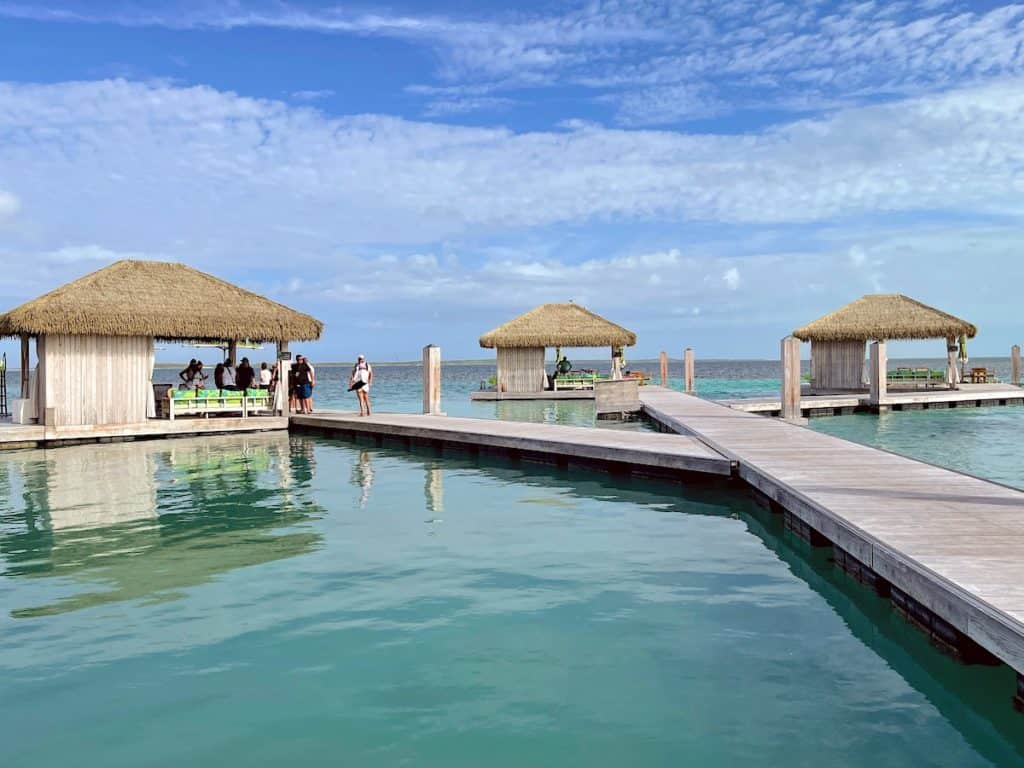 There are even several self-contained (private bathroom and mini-fridge) over-water cabanas that can range as high as $1,599 for the day.
Our media group was scheduled to meet at the Beach Club from 3pm – 4pm. This would be the perfect time to take ship photos and videos when almost everyone was on the island.
Right from the ship I stepped onto the tram to take a tour of the "new" Perfect Day at CocoCay. Besides, I like tram rides.
In addition to Wonder of the Seas, Freedom of the Seas was also there. A simple calculation led to the conclusion that there were probably close to 6,500 cruise passengers on the island.
With all the new beach and activity sections for guests, I never felt crowded. But according to someone in our group, the main swimming pool "looked like Spring Break."
Conclusion of a Perfect Week
My first cruise aboard a real cruise ship during Covid was definitely a million times better and less stressful than I anticipated. It was memorable, for sure.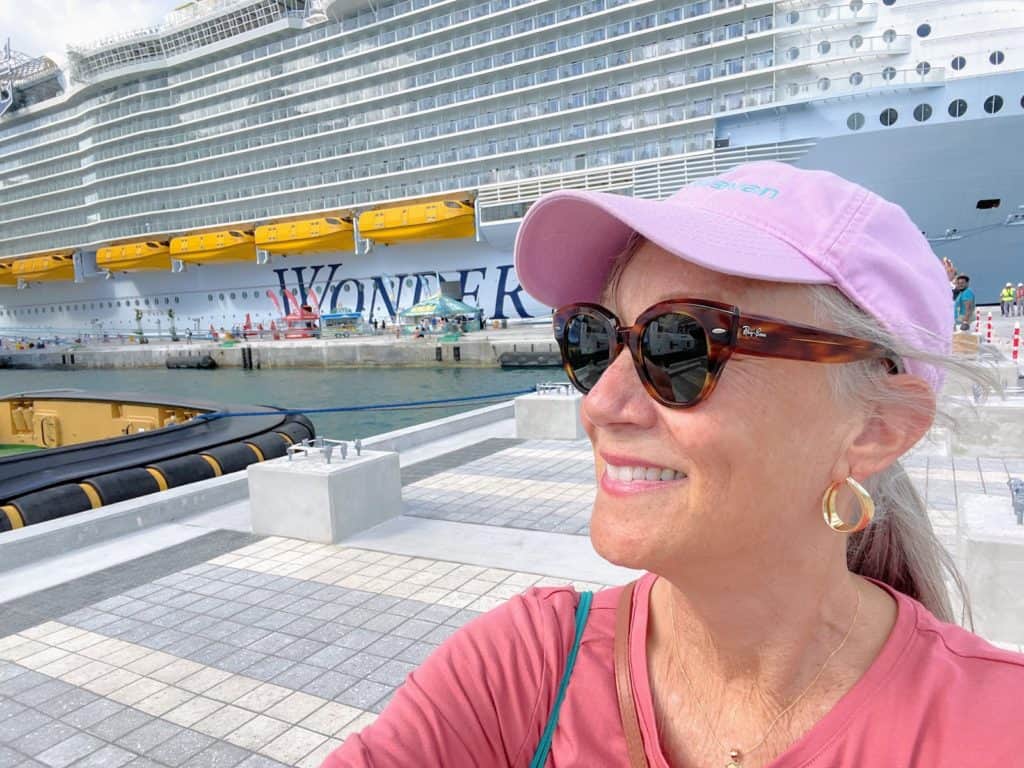 The week-long cruise went by particularly fast. Maybe because it was my first time back at sea and I wanted every moment to count.
Or maybe because it was a Friday to Friday cruise that made the week seem shorter than usual.
Another two or three days would have been perfect. There is so much to see and do aboard Wonder of the Seas that a few more days would just about cover everything I wanted to experience.
Wonder of the Seas is really an incredible ship. Possibly because I am so familiar with the Oasis class of ships so at least I didn't need four days just to learn my way around.
Considering that I don't do things like a zip-line, water slides or rock climbing, I still wasn't able to cram in all the other things that I wanted to do or see or taste in that week.
From the moment I stepped on board, I felt that this cruise aboard the new Wonder of the Seas would go as planned, and almost everyone without wearing a mask.
Looking back, it was as though the past two years of the cruise shut down was a blip in time. It was so nice to be back at sea.
And yes, I'm already planning my next cruise.

I'm the editor and creator of CruiseMaven.com, a solo traveler cruising the world on waves and wheels, collecting recipes along the way.  I hope my articles and photos entertain, advise and inspire you to travel the world without flying.  Take a breath…stop for a local meal and a glass of wine along the way.