For those who prefer a luxury small ship ocean cruise experience but don't want to travel thousands of miles to do it, Tauck Canada and New England cruises are perfect.
Tauck will begin small ship ocean cruises between New York City and Quebec City aboard the Silversea small ship Silver Shadow starting in Fall 2023. This is the company's newest foray into cruising North America and continuing its partnership with Silversea.
Tauck Canada and New England Cruises
Tauck's newest itinerary is a 13-day "Shores of Eastern Canada and New England" cruise. In total, there will be three Manhattan to Quebec City cruises plus three southbound reversals in September and October of 2023.
The new Tauck Canada New England cruises begin with an included overnight hotel stay at the New York Marriott Marquis in Times Square. The next day is a guided sightseeing tour in Manhattan.
Embarkation for Silver Shadow is in the afternoon and then begins the 10-night cruise to Quebec City. Along the voyage, ports of call include: Newport, Rhode Island; Boston, Mass.; Bar Harbor, Maine; Halifax, Nova Scotia; Charlottetown, Prince Edward Island; and Saguenay, Quebec before arriving in Quebec City.
RELATED: Best Things to Do in Bar Harbor, Maine
In Quebec City, passengers are treated to a city sightseeing excursion followed by a tour to the pastoral island Ile d'Orleans and to see stunning Montmorency Falls. After checking in at Quebec City's famous Chateau Frontenac for one night, Tauck will hold a farewell reception and dinner.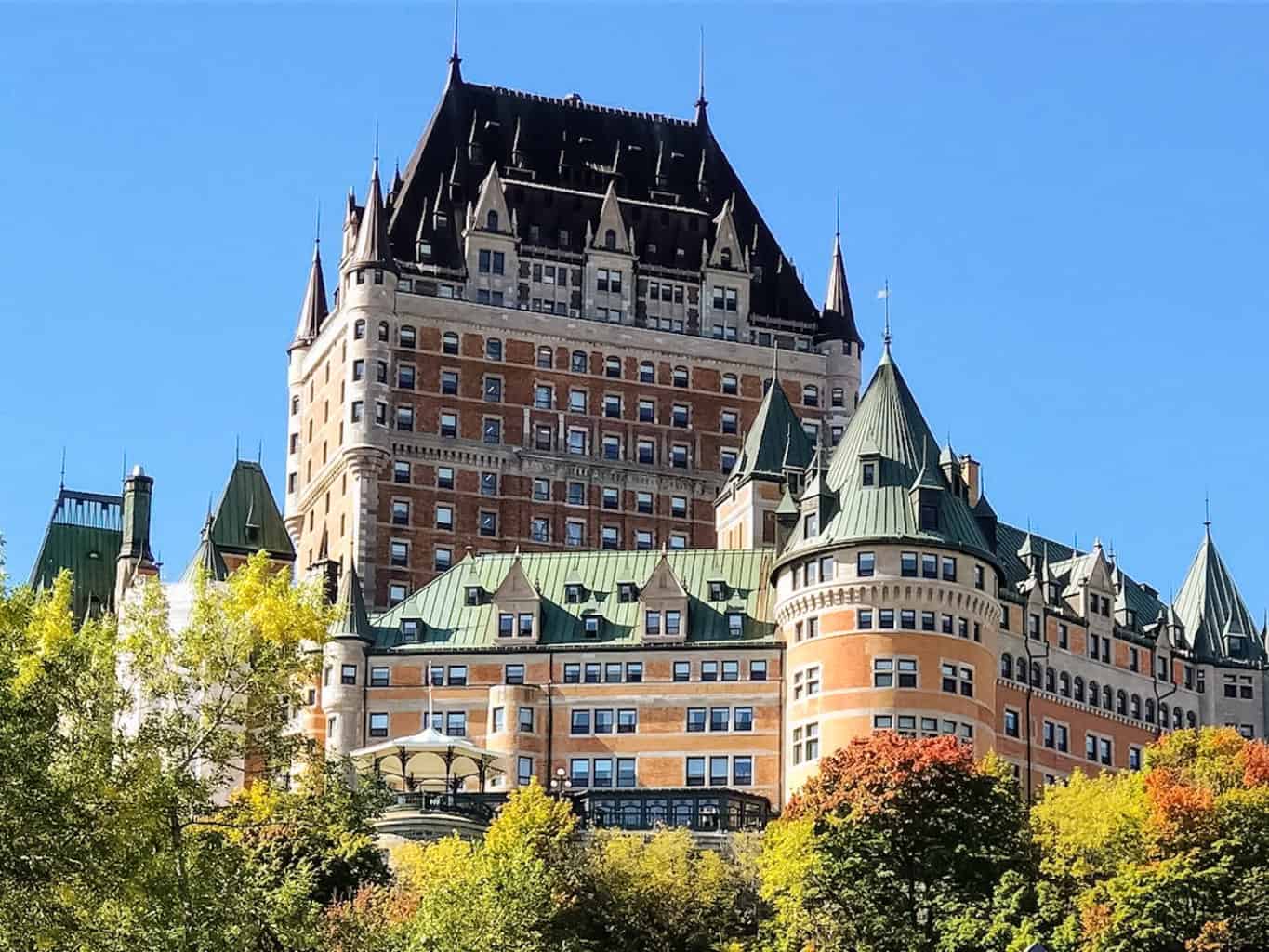 Why Cruise with Tauck?
Although Tauck's guests will be sharing time aboard Silver Shadow with Silversea's non-Tauck passengers, the Tauck guests will enjoy a markedly different experience.
According to CEO Mahar, "Silversea does an incredible job, and we're thrilled to partner with them on this journey," said Mahar, "yet we like to think we're bringing something extra to the table for our Tauck guests. "We take great pride in our ability to reveal the culture and history of a destination, and each of our shore excursions are Tauck-exclusive experiences typically led by our local guides in tandem with our own Tauck Director guides."
What's different is that the Tauck Canada New England cruise package includes hotel stays and sightseeing in Manhattan and Quebec City in its pricing.
In addition, Tauck offers 100% of its shore excursions at no additional charge. Silversea includes only a selection of shore excursions in its prices.
Tauck's shore excursions are designed and operated exclusively by the company, and Tauck Director Guides also see to the onboard and onshore needs of Tauck's guests throughout the trip, added Mahar.
Great Lakes Cruises from Chicago to Toronto
Currently, Tauck offers their "Cruising the Great Lakes: Chicago to Toronto" itinerary. After a full day and night in Chicago, the small ship heads for Milwaukee, Wisconsin before crossing Lake Michigan to the Holland and Saugatuck area in Michigan.
From there, the ship heads north to Traverse City, a full day at Mackinac Island, then southbound on Lake Huron to Detroit, Michigan. An amazing passage through the Welland Canal leads into Lake Erie until reaching Toronto.
And there's still time for a visit to Niagara Falls and an overnight in Toronto before ending the cruise.
North to Alaska
Unknown to quite a few people who want a small ship cruise to Alaska and time to explore the heart of Alaska, Tauck has two options. The first Alaska cruise option is a 10-day one-way between Vancouver, B.C. and Anchorage, AK, or reverse.
The second option begins in Anchorage with 5 days to explore the heart of Alaska before boarding your ship for the southbound voyage to Vancover, B.C.
The new Tauck Canada New England cruises expands the company's footprint into more of North America, in addition to their already-popular luxury land tours.
I'm the editor and creator of CruiseMaven.com, a solo traveler cruising the world on waves and wheels, collecting recipes along the way.  I hope my articles and photos entertain, advise and inspire you to travel the world without flying.  Take a breath…stop for a local meal and a glass of wine along the way.