On Sunday, with iconic Diamond Head as a backdrop, the Disney Wonder cruised into Honolulu harbor for her inaugural visit. This would be one of four inaugural celebrations on this historic voyage.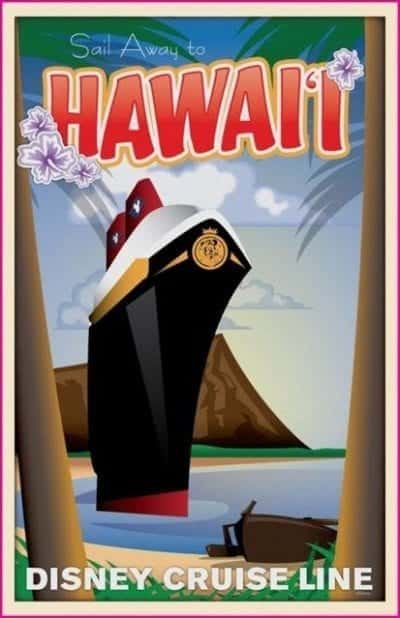 As part of this special fifteen-night cruise, the Disney Wonder will call on three additional new ports – Hilo, Hawai'i, Kahului, Maui and Nawiliwili, Kaua'i. Pomp and circumstance will surround each new visit as the Captain of the Disney Wonder,  Fabian Dib, ship's officers and community leaders are welcomed aboard for the traditional plaque and key exchange ceremony.
If you build it, they will come.
Because this first cruise aboard the Disney Wonder was so well received, Disney Cruise Line has added a second Hawai'i cruise for 2012. This will be in addition to the Disney Wonder's three other west coast itineraries to the Mexican Riviera, Pacific Coast and Alaska in 2012.
"We listen to our guests, and shortly after we announced our first Hawaiian voyage it was clear our guests wanted more options to visit Hawaii," said Disney Cruise Line President Karl Holz. "This second sailing to Hawaii is part of a wide variety of Disney Cruise Line vacation options for families in 2012 including new itineraries, regional homeports and the debut of our newest ship, the Disney Fantasy."
Karl Holz continued, "Bringing the Disney Wonder to the beautiful Hawaiian Islands marks a significant milestone in our history. Blending the enchantment of Hawai'i with the magic of Disney is a natural fit."
Where to go next
After completing the first Hawai'i cruise, the Disney Wonder will reposition to Seattle, Washington, for seven-night Alaska itineraries this summer. When the Alaska season draws to a close, the Disney Wonder will make her way down the west coast  visiting San Francisco, San Diego and Ensenada on a series of four seven-night Pacific coastal cruises. Finally, onto Los Angeles, Calif. where The Disney Wonder will sail seven-night itineraries to the Mexican Riviera through the late fall. At the end of the year, the Disney Wonder repositions to Miami via a Panama Canal transit, marking the first time a Disney Cruise Line ship will sail out of Southern Florida.
The Aloha Spirit and Walt Disney
Walt Disney had a fondness for the Hawaiian culture. The photo above shows Walt Disney and his wife, Lillian, arriving in Honolulu in 1934. One of the earlier Mickey Mouse animated shorts, "Hawaiian Holiday" reflected Walt Disney's attraction to Hawai'i and its rich history and traditions. He continued to embrace the culture with the opening of the Enchanted Tiki Room attraction at Disneyland in 1963 and the Polynesian Resort at Walt Disney World.
In August 2011, Walt Disney Parks and Resorts opened Aulani, a Disney Resort & Spa, Ko Olina, on the island of O'ahu. A first-of-its-kind resort, Walt Disney Imagineers worked hand in hand with the Hawaiian community to create a place that celebrates Hawaiian culture, history and traditions. Guests will be able to partake in many Hawaiian activities, including culinary programs, hula lessons, Hawaiian storytelling and even snorkeling in the private lagoon.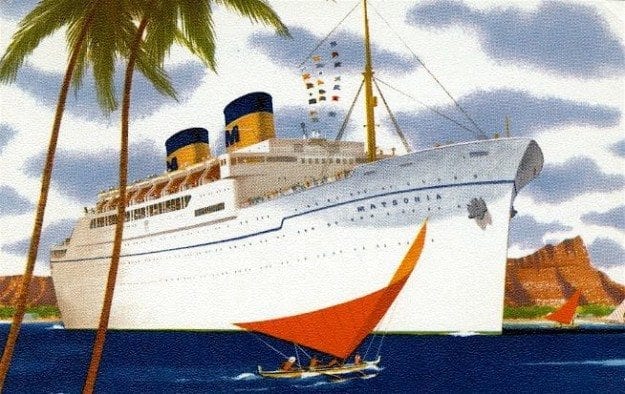 If you've never cruised from the west coast of North America to Hawai'i, put this itinerary on your to-do list. It's been over half a century since I crossed the Pacific Ocean on the SS Matsonia, a mere fraction of the size of the Disney Wonder. The traditional  Hawaii island welcome is enchanting and an event that you will always remember.
 Related Articles
Charo makes a surprise appearance aboard the Disney Magic (cruisemaven.com)
Disney Magic to sail from New York City in 2012 (cruisemaven.com)
Source: Disney Cruise Line
Photo credit: Kent Phillips, Disney, AP, Sherry Laskin's Matsonia postcard 1961
I'm the editor and creator of CruiseMaven.com, a solo traveler cruising the world on waves and wheels, collecting recipes along the way.  I hope my articles and photos entertain, advise and inspire you to travel the world without flying.  Take a breath…stop for a local meal and a glass of wine along the way.