Cruising aboard the Norwegian Epic
First Impressions.
If the saying, "Three's a charm" is true, this would be my best cruise yet aboard the Norwegian Epic.
My first experience aboard the Norwegian Epic was the fun-filled inaugural cruise from Southampton in June 2010. Afterward the inaugural, I stayed onboard (I actually had to exit and reboard) and cruised the seven night transatlantic crossing to New York City. Even though some of the public spaces and cabins were still under construction, the full array of dining options and unique entertainment venues were in full swing. Despite sunny skies and calm seas, the boat "rocked" the entire trip to Manhattan.
This time, as I drove over the bridge at the Port of Miami, there was the Norwegian Epic, gleaming white and blue. There are several decks which form a massive square which rests above the bow and always remind me of a little boxy blue sailor's cap. She was dressed for the occasion.
Across the bridge and winding through the construction at the port took less time than I expected. Considering I arrived at noon, this was an unexpected treat. Luggage dropped with the porter, car parked in the nearby structure and the walk through the terminal to check in and onto the ship was less than thirty minutes.
The cabins on this ship caused quite a stir when they debuted. The sink is next to the sofa (converta-bed) and the toilet is in its own space with translucent doors. The tub or shower stall are opposite the toilet and again, have only translucent doors. Luckily there is a pull-across curtain for privacy from the rest of the cabin. Traveling solo…it made no difference!
Once settled into my cabin, it was time to leave and go to grab lunch. There were four venues serving lunch so I chose "Taste" – a table service restaurant with contemporary cuisine. Service was quick and attentive so within less than an hour I was free to wander about and get reacquainted with the Epic.
A very orderly muster drill took place about forty-five minutes before we were to leave Miami. No longer do you have to wear your life jackets (with strap dangling precariously near others' feet) but you simply meet in your assigned muster station. Within a few minutes of everyone lining up (or sitting down as it were) we were dismissed and the sailaway party began. If you brought your kids, it was also time to meet the Youth Counselors and watch a surprise Nick (as in Nickelodeon) cartoon.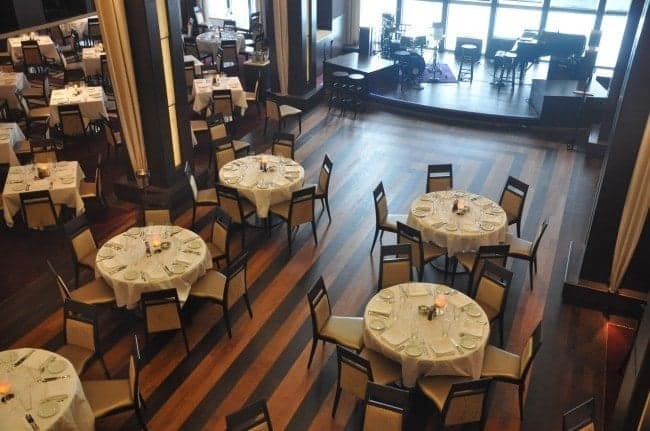 With a mere twenty-four dining venues on this ship, choosing where to eat can be daunting, unless you do your homework. For those less experienced with specialty dining (and pay-per-use) there is the Manhattan Restaurant, a.k.a. the main dining room. While there were wonderful choices of appetizers, entrees (bordering on the Continental) I stayed with the familiar; mushroom soup (with a French name), mixed green salad and grilled salmon. Norwegian Cruise Line is known for their homemade chocolate so I chose a slice of flourless chocolate cake for dessert – rich and oh-so-chocolatey.
If entertainment rules on Norwegian Cruise Line, then the Epic is king of the realm. Tonight I ventured in to the Blues venues, Fat Cats. The quality of these four blues artists was superb. They were able to get the entire house rockin' and dancing in the aisles. Later in the week, I would return to Fat Cats and I'll tell you more about that later. Don't miss these guys. There is no cover charge either and they do three sets from 9pm to 1am.
Off to bed. I had an early morning tour arranged so I ordered my room service coffee and rolls for a 7am delivery and wakeup. The bedding was plush with mattresses that were not too soft. Pillows were large and plentiful and the thermostat worked beautifully. Good night!
I'm the editor and creator of CruiseMaven.com, a solo traveler cruising the world on waves and wheels, collecting recipes along the way.  I hope my articles and photos entertain, advise and inspire you to travel the world without flying.  Take a breath…stop for a local meal and a glass of wine along the way.