From halfway across the ocean and our arrival into Southampton.
If you are wondering what in the world to do with six days at sea, let me tell you that the to-do list is endless. Of course there are the usual cruise ship tried-and-true activities; bingo, slot machine tournaments, wine tasting, galley tours and an array of fitness classes. What you don't have are belly-flop contests, hairy chest contests or goofy team scavenger hunt games. Instead, passengers are entertained by well-known lecturers, ballroom dance classes, afternoon tea time and acting lessons provided by the Royal Academy of Dramatic Arts (RADA). Attend all three RADA classes and you'll receive…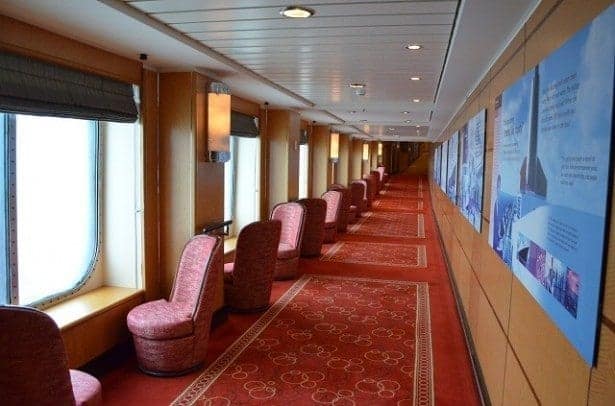 a RADA logo T-shirt. Well, you certainly can't buy that in a souvenir shop! It's the little things that make a Queen Mary 2 transatlantic crossing so special. Like finding a quiet window seat on decks two or three. It's the perfect place to get as low to the waterline as possible and watch as foam-capped waves send a blast of spray over your window. Or learn a new dance. I showed up for the daily 1pm dance class on the day for salsa lessons. No Carmen Miranda am I, but it was still fun. Even more interesting, was watching everyone else try to learn to salsa dance.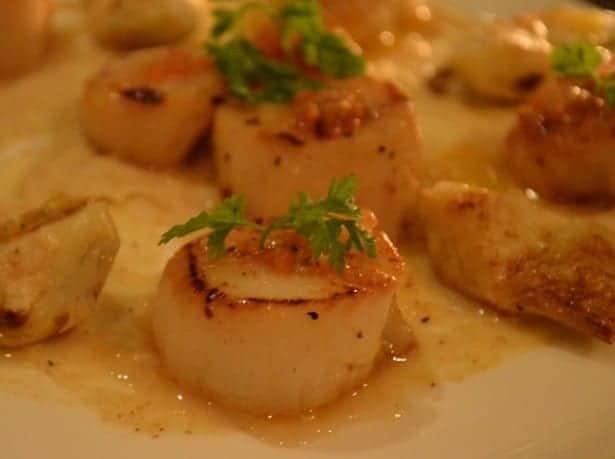 Todd English is the only true specialty restaurant on the entire ship. There are fee-based ($10) small sections of the King's Court buffet area that rotate between Asian, Italian, Carvery, and Indian cuisine. While dining in the Todd English restaurant used to be a fixed price for lunch or dinner, it is now priced a la carte. For what I think are very reasonable prices (entrees range from $16 and up) you can have a lovely, secluded lunch or dinner, far removed from the other thousand hungry passengers in the dining room.
Don't leave home without them!
Even though the entire crossing was cloudy, windy and drizzly, the dogs needed their play time. Dogs? Yes, the Queen Mary 2 is the only cruise ship to offer kennels aboard their ship. Upstairs on deck 12 and under the watchful eyes of the Kennel Master, dogs and even an occasional cat, can accompany their owners across the Atlantic. There are accommodations for up to twelve animals and owners can reserve two kennels for their larger dogs.
On this trip there were ten dogs, no cats and two of the dogs occupied double kennels. Three times a day, you can visit your pooch and play with them in the enclosed deck space. When you're not there, the Kennel Master will exercise the dogs and keep a watchful eye on them at all times. Of course, I couldn't miss the opportunity to take a look. FYI; on this cruise, dogs outnumbered kids. There were ten dogs and eight children onboard.
Inclement weather? No worries. The enclosed/indoor pool is always a popular place to hang out in iffy weather. And on this trip, the pool was crowded every day. A Caribbean band, though somewhat out of place here in the north Atlantic, provided just the right touch to image you were heading towards St. Thomas rather than Southampton. Yes…foo-foo drinks are available at the pool bar.
I stopped by Illuminations to listen to the lecture about pirates, specifically the notorious Blackbeard. Again, the auditorium was filled. Get to these lectures fifteen minutes early to be sure to get a seat. They are very popular events and result in SRO.
Before I knew it, the shortened, 23-hour days quickly passed and it was embarkation morning. Room service isn't offered on that day, but the King's Court buffet opens at 6am. Without any fanfare except to announce that those with express walk-off (taking their own luggage without assistance) were cleared to leave the ship, it was up to the guest to follow their assigned disembarkation time based on their luggage tag color. Since we had completed our Immigration and Customs formality while at sea, once you were off the ship, you simply located your luggage and exited the cruise terminal.
There are porters available for luggage assistance to buses or taxis. You can even arrange for a taxi through the ship's tour office up to one day prior to arrival in Southampton for only a $10 fee. Well worth the investment if you are staying locally in Southampton or heading to the train station.
Thus ended another memorable transatlantic crossing. Put this one on your to-do list. It's difficult to describe the feeling of being in the middle of the north Atlantic and wondering how people were able to make this voyage without the comforts, technology and conveniences that we have aboard the Queen Mary 2.
Now I have to catch three trains in one day to get to Venice, where my next adventure begins…
I'm the editor and creator of CruiseMaven.com, a solo traveler cruising the world on waves and wheels, collecting recipes along the way.  I hope my articles and photos entertain, advise and inspire you to travel the world without flying.  Take a breath…stop for a local meal and a glass of wine along the way.