Life aboard a Cunard ship was once a class-conscious, microcosmic society. From the very wealthy in First Class to the poor schlemiels in steerage, life on some of the world's grandest ocean liners was not much more than a maritime caste system.
Queen Mary 2 tries to adhere to time-honored Cunard traditions.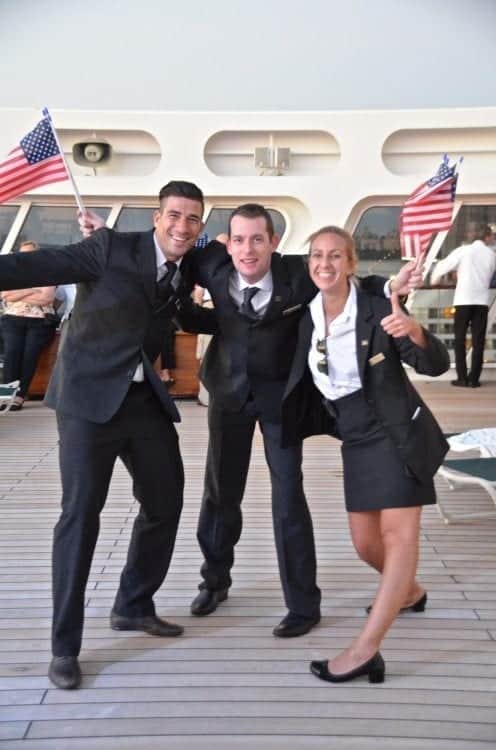 A Bit of Background
I've been a Cunarder (a repeat Cunard passenger) for over 10 years, beginning with the launch of the flagship Queen Mary 2, in 2004. Because I don't fly, I rely on the QM2 for my transportation across the North Atlantic to Europe and back. A transatlantic crossing in seven days.
To get a better understanding what life is like aboard a Queen Mary 2 cruise, I want to point out that Carnival Corporation owns Cunard, not the Samuel Cunard family nor the House of Windsor.
When building this ship, once the largest, tallest and longest ship in the world, Carnival chose modular sections to put together much of the ship's accommodations, spanning several decks.
Conversely, public rooms, suites and dining areas were uniquely designed to mirror the grand scale of Cunard's former ocean liners. Expensive fabrics and plush soft goods, plenty of elevators, spacious cabins and a throwback, wraparound promenade escalated Cunard high above other premium cruise lines. The Queen Mary 2 could have been built to hold at least 1,000 more passengers. But that wasn't the plan.
Carnival wanted to preserve much of the original Queen Mary's reputation and elegance. By building a larger ship with more passenger space and less crowding than all of the other cruise lines, Carnival paid homage to Cunard's past while looking towards the future.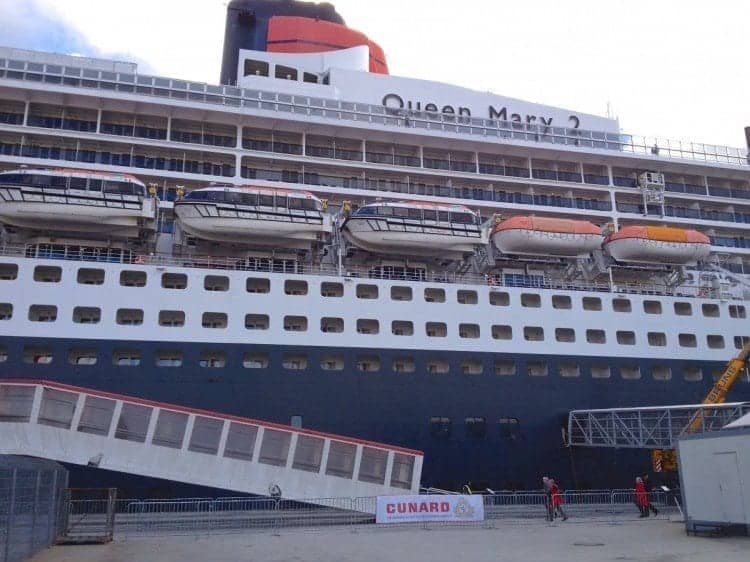 It's actually NOT a cruise ship!
Important to note, the Queen Mary 2 is a true ocean liner, not a typical cruise ship. Built with a double hull and four stabilizers, the bow was designed to slice through the seas like a hot knife through butter. The Queen Mary 2, like its historic predecessors, can comfortable and safely traverse the rugged North Atlantic year-round.
I think that's the appeal for me. It's throwback travel at its finest; like stepping back in time on a grand liner. White-gloved attendants still escort you to your stateroom. The staff is courteous, efficient and non-obtrusive. You don't hear any bingo hawking or gold-by-the-inch promotions blasted over the intercom. But you can play bingo and buy the "gold" chains; information is in the daily planner.
Who are your fellow passengers
But getting back to your fellow passengers and the class system. Accommodations range from a duplex suite in Queen's Grill class that sells for $20,000 on a 7-night transatlantic crossing to an inside stateroom on the same voyage for less cost than a weeklong Caribbean cruise.
Because the Queen's Grill and the lesser expensive (but not much less) Princess Grill passengers have their own lounge and dining rooms, I've never really interacted with them other than at evening cocktail time in the elegant, Chart Room Lounge.
You'll always find passengers who fancy themselves a little too highly, stiff upper lip and all that. I think they may have watched too many Upstairs Downstairs episodes. For the most part, guests aboard the Queen Mary 2 are mostly from the United Kingdom, America, Germany, France and Australia.
How Queen Mary 2 began
When I first started my crossings aboard the Queen Mary 2, room attendants were a mix of Asian and British women, sporting pale grey uniforms with tidy white aprons. Ten years later, the room attendant staff is now predominately Filipino men, still well-trained and efficient.
Even the front desk staff has gone international. At the inception, the staff was made up of very prim and proper British twenty-somethings, groomed to have an attitude.
Now, you'll find a mix of Eastern Europeans, Brits and Aussies that comprise the majority of the front desk staff. They're there to help and you feel like they truly care to assist.
I guess what I'm trying to say is there is absolutely nothing intimidating or inherently snobbish anymore aboard the Queen Mary 2. Of course there are some guests that cling to their class-minded, old ways and mindset. But they are now the minority and tend to stick to their own ilk.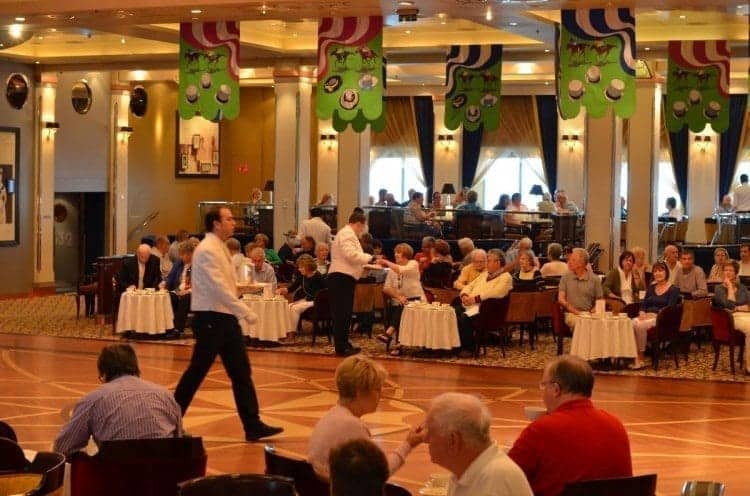 Sitting in the Queen's Room at Afternoon Tea, I'm surrounded by younger (30ish) couples, middle-aged honeymooners, moms and daughters, grandparents with teens and the nearly ancient. It's a wide variety of passengers for sure.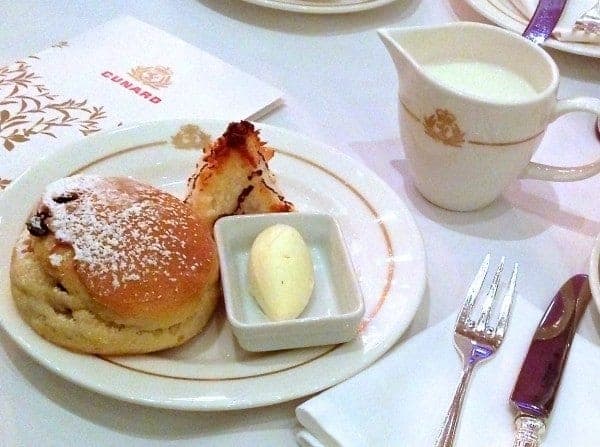 But there's one thing that everyone on board has in common; a love of the sea, a desire to experience the Cunard tradition and to relive a kinder, gentler mode of travel that was on the brink of extinction.
PIN AND SAVE FOR LATER!

I'm the editor and creator of CruiseMaven.com, a solo traveler cruising the world on waves and wheels, collecting recipes along the way.  I hope my articles and photos entertain, advise and inspire you to travel the world without flying.  Take a breath…stop for a local meal and a glass of wine along the way.