"It's not really the middle of nowhere." That's what I find myself saying whenever someone declares, "I'd never go on a transatlantic cruise."
A transatlantic crossing is an entirely different cruise.
I have to admit, while not exactly in the middle of nowhere, on a transatlantic cruise there's not much activity except for an occasional whale or dolphin sighting. You can feel like you are out there all alone. Kind of a personal litmus test for latent agoraphobia.
Remember that old expression, "the shoemaker's children go barefoot"? Whenever I prepare for a transatlantic crossing, I still remind myself of what I'll expect during the crossing experience. After 22 transatlantic crossings (it's always an even number if you never fly), I've learned to love the endless expansive of sea and sky.
10 cruise tips and advice for a transatlantic cruise
1. Know Before You Go – Prepare
With a minimum of seven or more consecutive sea days, even the most entertaining of the mega ships will have a lull in the activities that most interests you. Some ships still have some sort of library.
For the best book selection, get there when the library first opens. By the second or third day, the choice for best sellers has dwindled. Note that Queen Mary 2 has a library on all ships. Chances are you can find a book or two that for the cruise.
Not a reader? Bring your home craft project providing it fits into your checked luggage. You'll find knitting, needle-point, and scrapbook meetings each day in some public space.
Wine tasting events have expanded into single-malt scotch, craft beer and tequila tastings, too. There is a fee but what else do you have to do?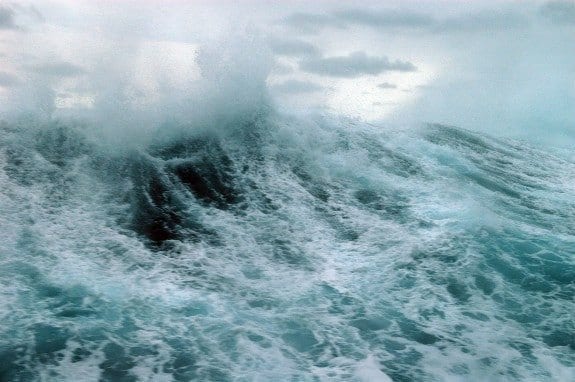 2. Stop to smell the roses
If you find yourself on the verge of activity-overload, scout out a quiet spot to watch the sea. I usually search for both an indoor viewing area as well as an outdoor, wind-blocked vantage point. Sunny days with millpond seas do exist on the Atlantic Ocean.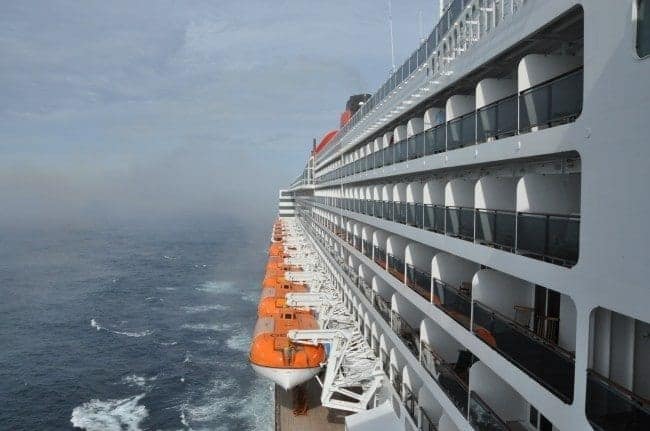 On foggy or rough seas days, curl up in a comfy chair near a picture window. Yes, you will want to look out and see what's going on. Mid-ship on a low deck and you'll hardly feel those famous December thirty-foot seas and gale force winds!
3. Keep moving
There are some ships that you can almost walk your way across the Atlantic. On Queen Mary's wraparound outdoor walking track/promenade, a mere three times around is 1.1 miles. Other ships, you can walk in circles ten or eleven times to finish one mile.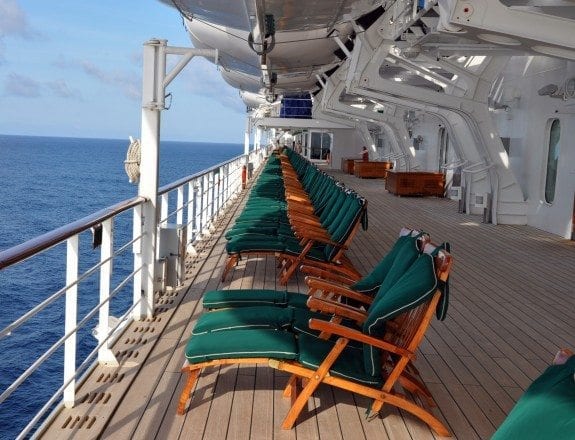 If a good fitness center is important, head on over to the cruise line's website for photos of their workout facility. Almost every cruise line plying the Atlantic offers aerobics, yoga, pilates in addition to spinning and a fitness center.
4. The legendary weight gain
With at least a week of sea days, one of the biggest concerns is weight gain. I've come to realize over time that it isn't the actual over-eating that is the cause but the amount of salt in the food that is the culprit. Also, I hear a lot of people complaining about swollen feet and ankles. Again, it's the overload of sodium in the food.
Solution? Tell your dining room waiter that you would like to be on a sodium-free diet for the cruise.
Here's how it works: every night at the end of your dinner, the waiter (or head waiter) will present to you the menu for the next evening. You choose your entire dinner and the order is brought to the kitchen where there are other special diets orders (gluten-free, allergy requests etc.).
By eliminating the "built-in" salt, you will avoid retaining water and thus not blow up like a puffer fish. But be forewarned: if you order salt-free, your dinner will be salt-free. This means that the gorgeous bowl of steamy French onion soup will arrive sans toasted French bread and cheese. You can always do a modified salt-free when something sounds too good to pass up.
5. A transatlantic cruise is a great time to do nothing
This isn't a "If It's Tuesday, It Must Be Belgium" experience. Transatlantic cruises are generally not "port intensive." But if there is a port you would like to visit, chances are you can find a cruise that stops there en route to where you will disembark.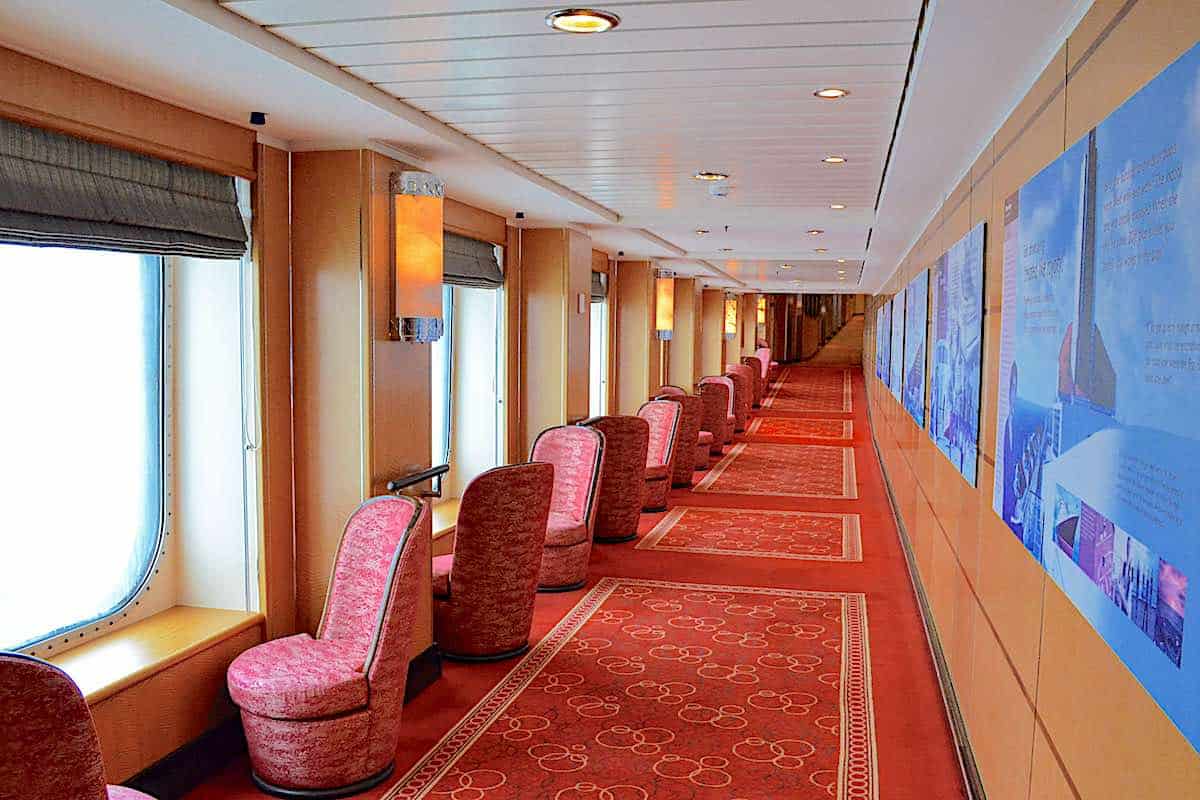 So, with careful planning and a lot of vacation days, you can choose an itinerary which visits four and five ports along the way. Some cruise lines include a couple of Caribbean ports, too.
6. Hop on the bus, Gus
The luxe bus across the ocean, Cunard's Queen Mary 2 is the ONLY cruise line offering regularly scheduled non-stop transatlantic crossings nearly year round. The Queen Mary 2 is also the ONLY purpose-built true ocean liner, not cruise ship, in service today. She's built for transatlantic voyages in the North Atlantic and sails them beautifully.
7. Make the transatlantic cruise into a back-to-back voyage
Once you've decided on which transatlantic voyage to take, book yourself into back-to-back cruises so that you stay onboard for either the first cruise once you arrive in Europe or the last cruise before the westbound crossing. You not only feel "special" in saying that you are "continuing on…", but you get to spend time in many wonderful ports throughout Europe.
8. Does Anybody Really Know What Time it is?
One of the best advantages of a transatlantic crossing is the elimination of jet lag. Yes, you arrive at your destination either in Europe or the U.S. without needing two or three days to catch up to the local time zone.
Which direction is better? Personally, l prefer a westbound crossing because it results in 25-hour days. Here's how it works.
You are booked on a crossing with seven sea days before you get to New York. Starting on the first or second night after departure from Europe, clocks are set back one hour at bedtime or even at noon. It's the captain's choice. My last Cunard and Holland America crossings, we set our clocks back at 1pm every day. It was weird at first, but then we all liked it. You continue to do this for maybe two consecutive days, take a break to adjust and set the clocks back again until you reach your debarkation port. I find that I wake up a bit earlier than usual towards the end of the voyage, but I'm well-rested and ready to go.
Eastbound with shorter, 23-hour days, you might find yourself at the buffet at 2am because your body is telling you it's only 9PM! If you are sensitive to time changes, be sure to check that the ship you are on will have a 24 hour food option, even if it's only room service. Otherwise, you might find yourself, like I have many times, 2AM at the 24 hour coffee and tea location, getting a flavored tea to bring back to my room to have with cookies that I saved from lunch.
9. Helloooo…is anyone out there? You're not really alone at sea.
For a little peace of mind along your journey, remember that your ship travels in shipping lanes. You are never too far from another ship, even though it may not be visible.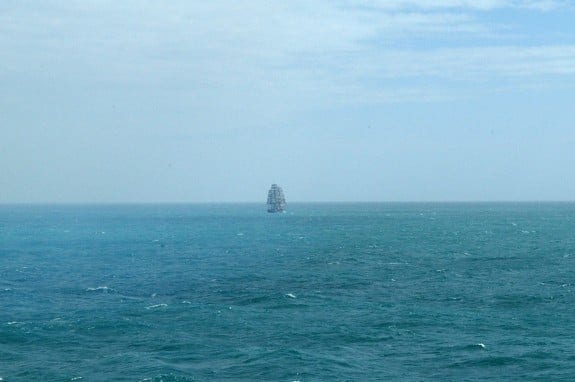 There is a portion on the north Atlantic where you may find yourself in "no-man's-land" for a day or so depending upon the route that your captain decides to follow. Be prepared for a brief blip in satellite communications which affects the internet and television. It rarely happens but it's always possible.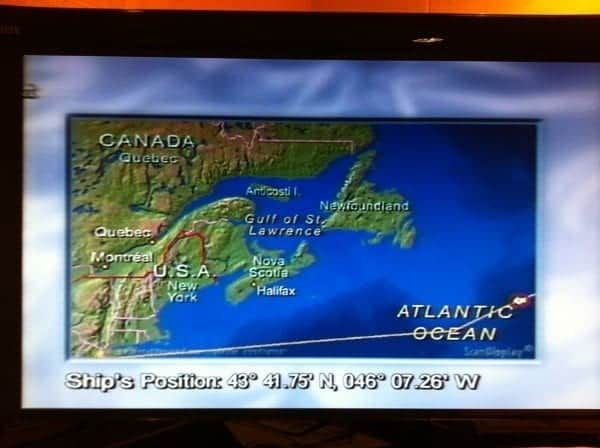 On my recent Cunard voyage, we never lost a second of communication via wifi or TV. Ships' satellite technology (meaning the company that they contract with for access) vastly improves every year.
10. Round-tripping
Finally, if you have the time, why not do like I do and make the transatlantic crossing in both directions? This does take a bit of skillful planning and occasional maneuvering but it is quite frankly, the best way to visit Europe. Here's an idea:
Book a cruise from Ft. Lauderdale to Barcelona. Stay on the same ship for a Mediterranean cruise, round-trip from Barcelona. Afterwards, spend a couple of days in Barcelona. Catch the luxury overnight train from Barcelona to Paris and maybe spend a night or two in the City of Light.
In the morning at 9:00AM, take a taxi to the Gare du Nord to board the Eurostar to London. Two and one-half hours later, with twenty-one minutes of that spent zooming under the English Channel, you arrive rested and relaxed at St. Pancras train station in London. Walk a few yards from your train to the departure hall, find the Cunard representative and board their motor coach to Southampton. In another two hours you'll board the Queen Mary 2 for your voyage home. Easy-peasy.
Bonus recommendation
Once you've experienced the exhilaration and excitement of crossing an ocean, you will be hooked. For the most memorable experience, sail into New York City.
Cruise ships arrive into New York harbor at dawn, pass under the colorfully lit Verrazano Bridge and quietly sail past the illuminated Statue of Liberty and Ellis Island.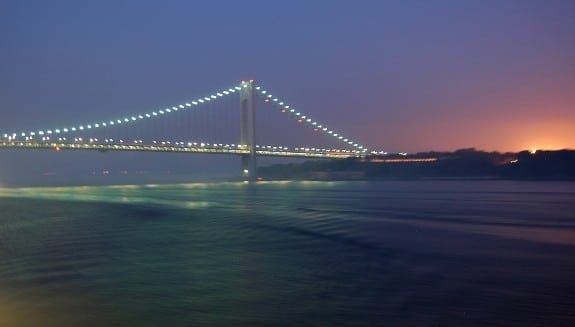 Nearly everyone, passengers and crew, is on deck at 5:00am to view this amazing sight. Some cruise lines set up a special coffee and danish pastries buffet for the occasion. As we sailed past the Statue of Liberty, I've seen grown men cry and overheard people speaking English with foreign accents in hushed voices. Others blankly stare at Ellis Island. It's a very moving experience.
The next time you plan a European holiday, factor in a transatlantic crossing, either a 7- to 9-night voyage on the Queen Mary 2 or a repositioning two-week adventure to or from America. Whether eastbound or west, it's an amazing experience that you'll remember forever.
Read next: How to go by train from Amsterdam to Southampton for Queen Mary 2
I'm the editor and creator of CruiseMaven.com, a solo traveler cruising the world on waves and wheels, collecting recipes along the way.  I hope my articles and photos entertain, advise and inspire you to travel the world without flying.  Take a breath…stop for a local meal and a glass of wine along the way.