Get to Queen Mary 2 in Southampton from Amsterdam in four easy steps.
It's exciting and yet bittersweet. That's how I describe the day that I have to head to Southampton to return home. More times than not, a transatlantic cruise aboard Queen Mary 2 has been my "ride" home from Europe or England for the last 13 years. This would be my 20th Atlantic crossing. I finally knew how to get to Queen Mary 2 from Amsterdam.
I had just wrapped a week cruising through tulip-filled Holland and beer-filled Belgium with Avalon Waterways. It was a wonderful river cruise. I saw millions of colorful tulips and drank two Belgium beers. I liked the tulips.
Why I spent three days in London before the voyage began isn't as important as how to get to Queen Mary 2 in London for a transatlantic crossing from Southampton.

From the river cruise dock to Amsterdam Centraal
Another reason to travel light. Too near for a taxi, it was exactly a one-mile walk to Amsterdam Centraal station from the most-western river ship dock in Amsterdam. As more river ships dock in Amsterdam, their dockage space keeps moving further away from the train station. How to get to Queen Mary 2 from Amsterdam via train requires a little planning.

Finding your train to Brussels
It's an easy but bumpy walk for nearly a mile of uneven cobblestone. When you reach and cross the pedestrian bridge, you're at the west entrance to Amsterdam Centraal. This is a very good location.
Carefully cross the busy bike path and walk in to the station. On your right, just a couple of hundred steps ahead and you're at the turnstile to enter the station. You must scan the bar code on your ticket to enter so have it handy! This is a new security feature since February 2017.
Immediately after the turnstile and through the door passageway, look up for the sign that says Platform 15b. Directly under the sign is the elevator up to Platform 15b. This is where you board the train to Brussels (and Paris). Once in the elevator, press "1".
From Amsterdam to London and Southampton for Queen Mary 2
By 4:30pm and two trains later, I arrived in London. Within 10 minutes I had walked from the Eurostar St. Pancras Station to my hotel across the street, Premier Inn.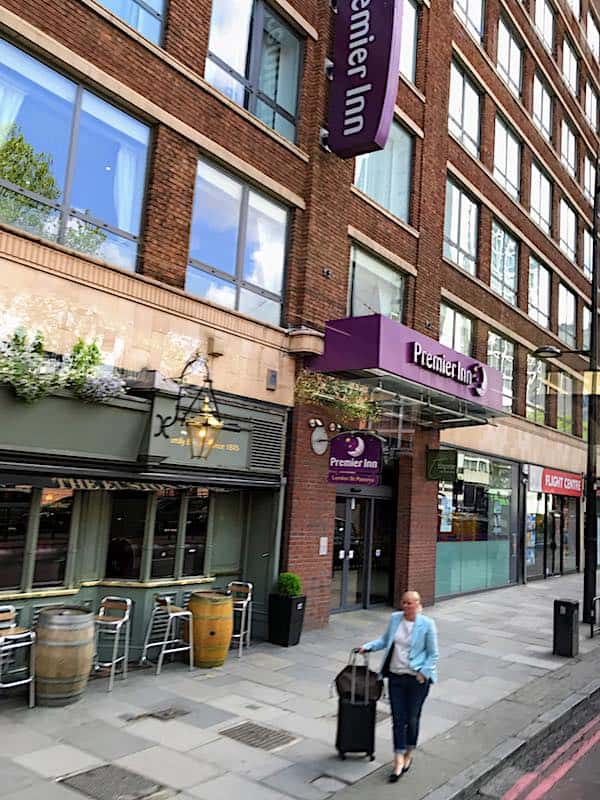 I crammed as much into two full days in London as possible, using mornings as my work time. I don't bother to unpack on these short hotel stays. Instead, I use packing cubes and pretend they are drawers with my clothes in them. Works great.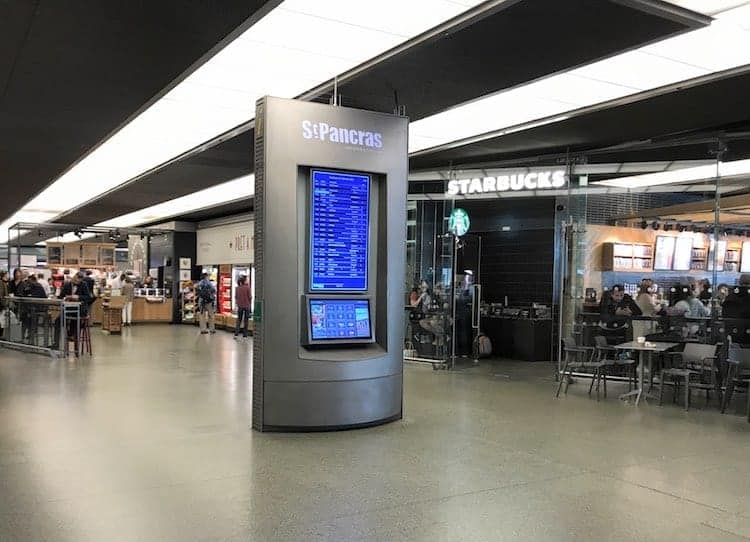 From London to Southampton to embark on Queen Mary 2
Cunard operates a motor coach from St. Pancras direct to the cruise pier in Southampton, taking about 2 ½ hours depending upon traffic of course.
You can prepay for this through Cunard reservations up to three days before your cruise. Or, like I do, just show up and add your name to the list. The cost is $69 per person.
There's a Cunard representative who waits for passengers as they exit from the Eurostar arrival door. Cunard's dedicated motor coaches leave at about 11:30am so be there to check in around 10:45am.
By 2:30pm our bus wove its way through Southampton, past Roman walls and shopping malls. There on the horizon towards the sea, someone spotted the crimsom red and jet black funnel of Queen Mary 2. We arrived at Ocean Terminal.
Be prepared for delays.
If you're a Platinum or Diamond level member in Cunard's loyalty program, you're guided to the head of the line. Those who are not, are given an alphabet-card and pointed to a holding area to wait til their letter is called.
By the time our bus arrived and our group entered the terminal, they were handing out cards for alpha group "U". Unfortunately for the bus people, boarding was only at "D" when we entered.
But that didn't matter too much. The air bridge (gangway from terminal to ship) wasn't holding firm and had separated from the ship. No one was boarding. We were all in a holding pattern including those of us with Platinum and Diamond status.
Bridge fixed and boarding resumed, a mad crush to queue for security check began. I gave up and just laughed as one after the other elbowed and budged their way past me.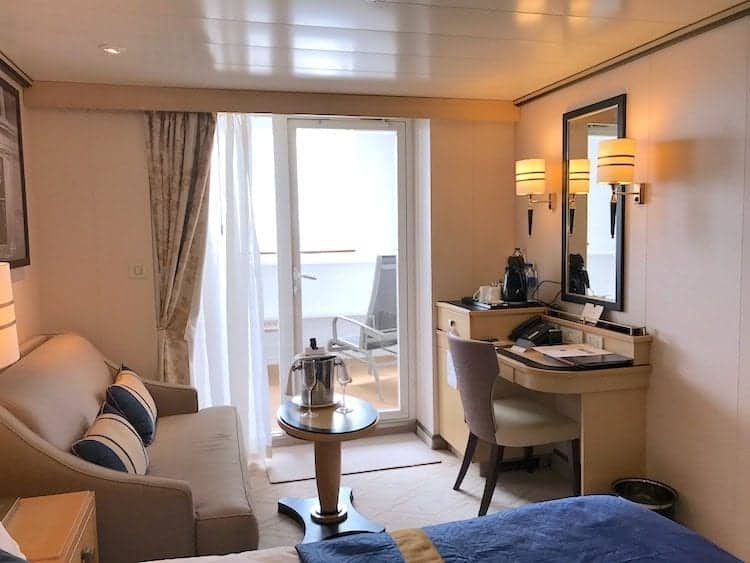 Finally, at almost four o'clock, I reached my stateroom. Within minutes, my suitcase arrived but there was no time to unpack. Because of the delayed boarding, the lunch buffet was open until 5:00 and muster pushed ahead til 5:15. I dashed to the buffet to grab a coffee and something. It had been a hectic morning, a long day and I was hungry.
Coffee and a snack downed, muster over and sailaway festivities had begun. As I walked out onto the chilly yet crowded aft deck for sailaway, the musical duo began their rendition of "Sherry" by The Four Seasons. I knew I was on my way home.
I'm the editor and creator of CruiseMaven.com, a solo traveler cruising the world on waves and wheels, collecting recipes along the way.  I hope my articles and photos entertain, advise and inspire you to travel the world without flying.  Take a breath…stop for a local meal and a glass of wine along the way.