Secret Hideaways aboard Queen Mary 2
If you think the idea of finding solitude and anonymity among 2,618 guests seems far-fetched, you're wrong. With the ship's innovative design and size, I never feel crowded, experience long queues or delays in service. Over the years, I've found hideaways aboard Queen Mary 2 where even the fussiest guest (me!) can read, relax or reflect in peaceful bliss. Here are my seven secret (but not for long) hideaways aboard Queen Mary 2.
The Library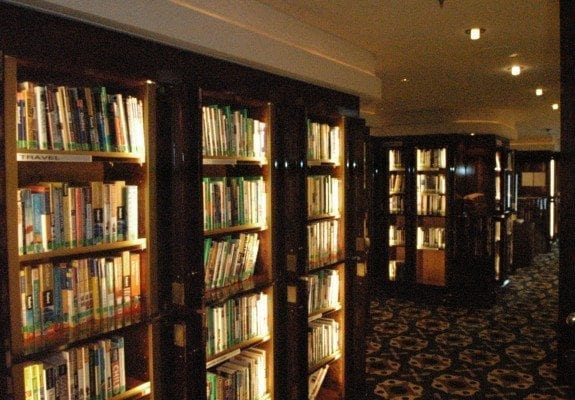 Sounds obvious, right? Not only is this the largest library on any cruise ship in the world, it's also a great quiet place to curl up with a book.
Where's the special quiet spot in the library? Walk through the stacks of books to reach the very front of the library.
With a panoramic view of the sea through floor-to-ceiling windows are several cozy armchairs facing the ocean. If a chair isn't available upon arrival, relax and wait in the nearby sitting area and keep an eye open for a vacant chair. The turnover is quick.
Atlantic Room
Occasionally used for meetings (there will be a sign if there is a meeting in progress), this room is usually vacant. Bring your book, computer, postcards, or cross-stitching, choose a table and chair and enjoy the view and solitude. If you get chilled easily, you might want to bring a sweater as this one particular room is usually cooler than others. Probably because there's never anyone in there!
Sir Samuel'sDeck 3
Sir Samuel's was recently refurbished and now sports a Godiva Chocolatier shop. Mostly, it's a quiet spot for a cappuccino, cocktail or hot tea. Sir Samuel's tends to get crowded at an early cocktail hour, but before that it's a great place to sit, sip and read.
Single chairs all in a row.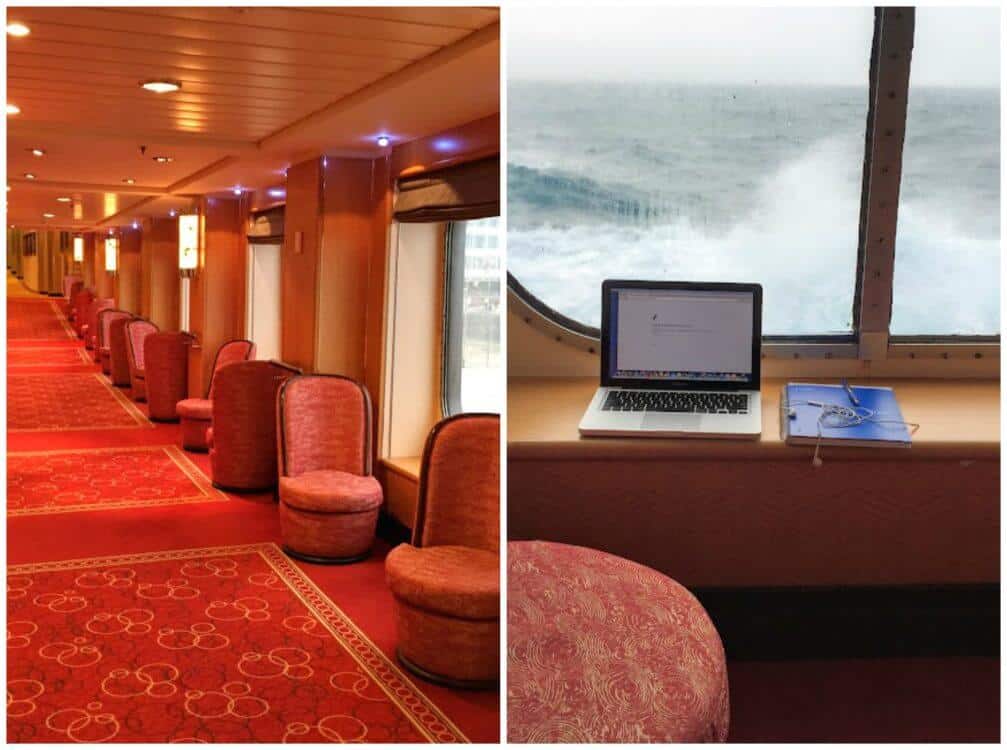 Delve into quiet contemplation while seated in one of the 18 solo chairs located along the rarely used corridor on Deck 2 Stairway A. Like sentinels surveying the sea, these small red, embroidered swivel chairs provide a unique view of the ocean from as close to the waterline as you can get.
READ NEXT:  My best advice for a transatlantic crossing
Connexions
Connexions is the area where computer classes are held as well as the location of the internet café. Just outside the doors to both tech rooms are oversized leather sofas and chairs. You also have two coffee and tea stations that help to make this the perfect, out of the way retreat.
The Board Room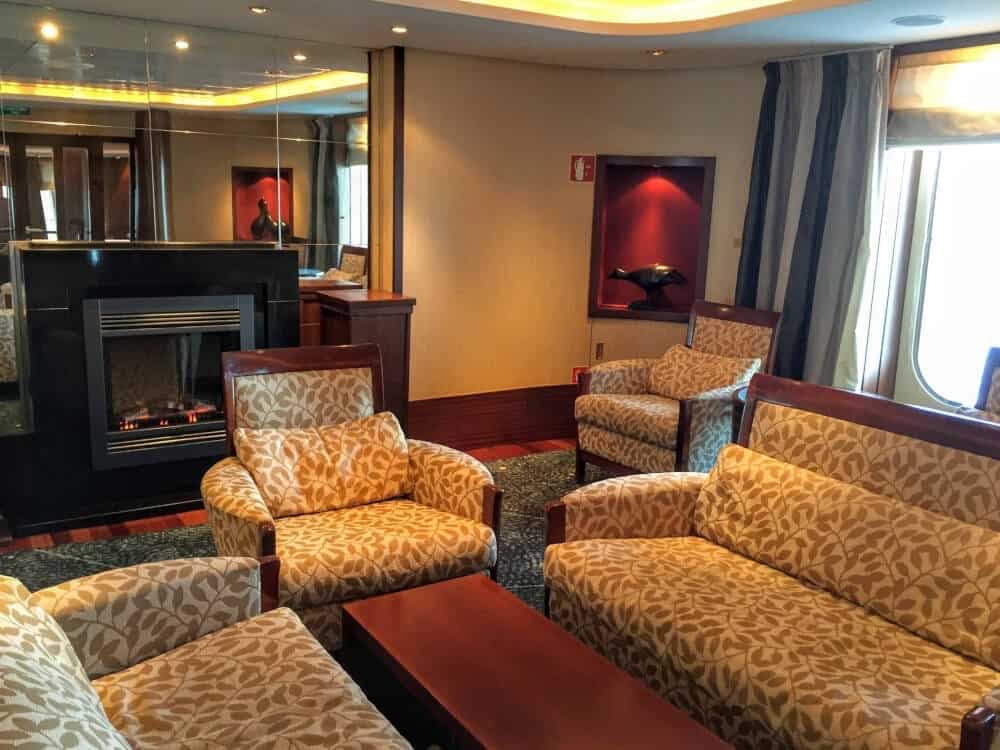 You can enter either through the two glass doors at the back of the Commodore Club or it has its own entrance that's usually missed on first attempt.
The Board Room is almost always vacant. Sometimes meetings are held there, but most times, as you can see, it's empty. And the faux fireplace adds a touch of coziness, doesn't it?
Your Balcony
Of course, there's nothing to compare with the privacy a balcony stateroom. The Queen Mary 2 offers several types of balcony staterooms.
The traditional balcony stateroom features an unobstructed view (like this one) with a see-through plexiglass barrier. Less expensive are balcony staterooms with obstructed views (percent of obstruction varies dependent upon the position of the lifeboat in front of the balcony) and finally, my favorite for cold weather crossings, the larger sheltered balconies.
On a transatlantic crossing, especially in cooler or cold weather, a sheltered balcony provides the privacy of a traditional balcony with the added advantages of a protective windbreak and less cost.
Solitude seekers, avid readers and anyone who simply needs some down time can find their own bliss. Despite the company of more than 2,000 passengers, these seven secret hideaways aboard Queen Mary 2 really will let you be alone among the masses for your seven or eight day crossing.
What's your favorite hideaway aboard Queen Mary 2?
I'm the editor and creator of CruiseMaven.com, a solo traveler cruising the world on waves and wheels, collecting recipes along the way.  I hope my articles and photos entertain, advise and inspire you to travel the world without flying.  Take a breath…stop for a local meal and a glass of wine along the way.