First stop in Europe: Malaga Spain!
We made it! From Ft. Lauderdale to Malaga, Spain in 11 days aboard Holland America Koningsdam. I was here last year but with my foot in a bulky black boot because of a broken toe, I didn't go much past the busy port area. Today I felt like I had boundless energy. No boot, beautiful weather and a city to explore. There were things to do in Malaga that I just couldn't do last year.
I'll have to explain the port in Malaga. It's a good mile and half walk from the port area to town center. I might suggest that you ride the shuttle bus to the drop off point. It will give you an overview of the port and make it easy to find your way back, if you decide to walk.
As you can see on the map, it's sort of a weirdly-shaped walking path from your ship to the bus drop-off point.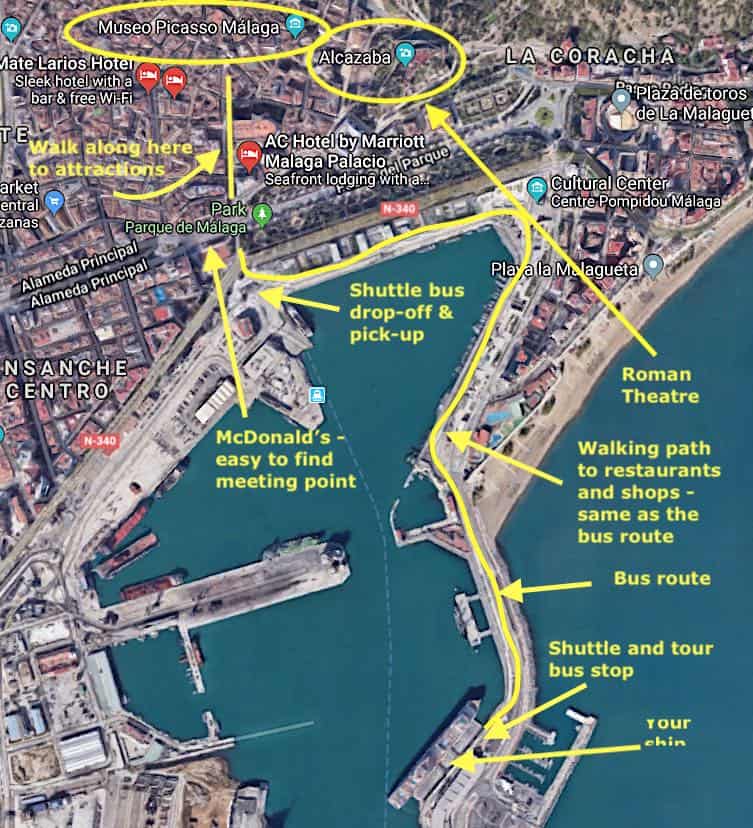 Things to do in Malaga, Spain, on your own
From ship to shore and back again, here's my self-guided walking tour. As you can see, there were a lot of things to do in Malaga. Most of all, be sure to sip and taste your way through the city, too. When in Spain, safe time for tapas!
See related:  A Lovely Day in Lipari, Italy
You don't have to spend a fortune to explore a new city. On a first-time visit, I really prefer to walk about on my own. That way I can get a feel for a new place without being rushed around in a group tour. On my second visit, then I'll plan ahead and most likely sign up for a shore excursion. Preferable one that leaves after 11am!
<– Days 9 & 10 – Day 11 –>
I'm the editor and creator of CruiseMaven.com, a solo traveler cruising the world on waves and wheels, collecting recipes along the way.  I hope my articles and photos entertain, advise and inspire you to travel the world without flying.  Take a breath…stop for a local meal and a glass of wine along the way.