Although I've been a fan of Crystal Cruises for years, I never had the chance for a "Crystal Experience." Sure, I read a ton of Crystal Cruises Serenity cruise reviews, but I still didn't know what to expect.
For so many years all I heard was that Crystal Cruises was the top dog. Nothing better. Really? I had to find out for myself.
This wasn't my first rodeo on a luxury cruise line, but it was my very first time on a Crystal Cruise. Plus, this cruise was aboard the recently refurbished Crystal Serenity. This was also my first full-transit Panama Canal cruise, from Atlantic to Pacific. A lot of "firsts".
Crystal Serenity Cruise Ship Review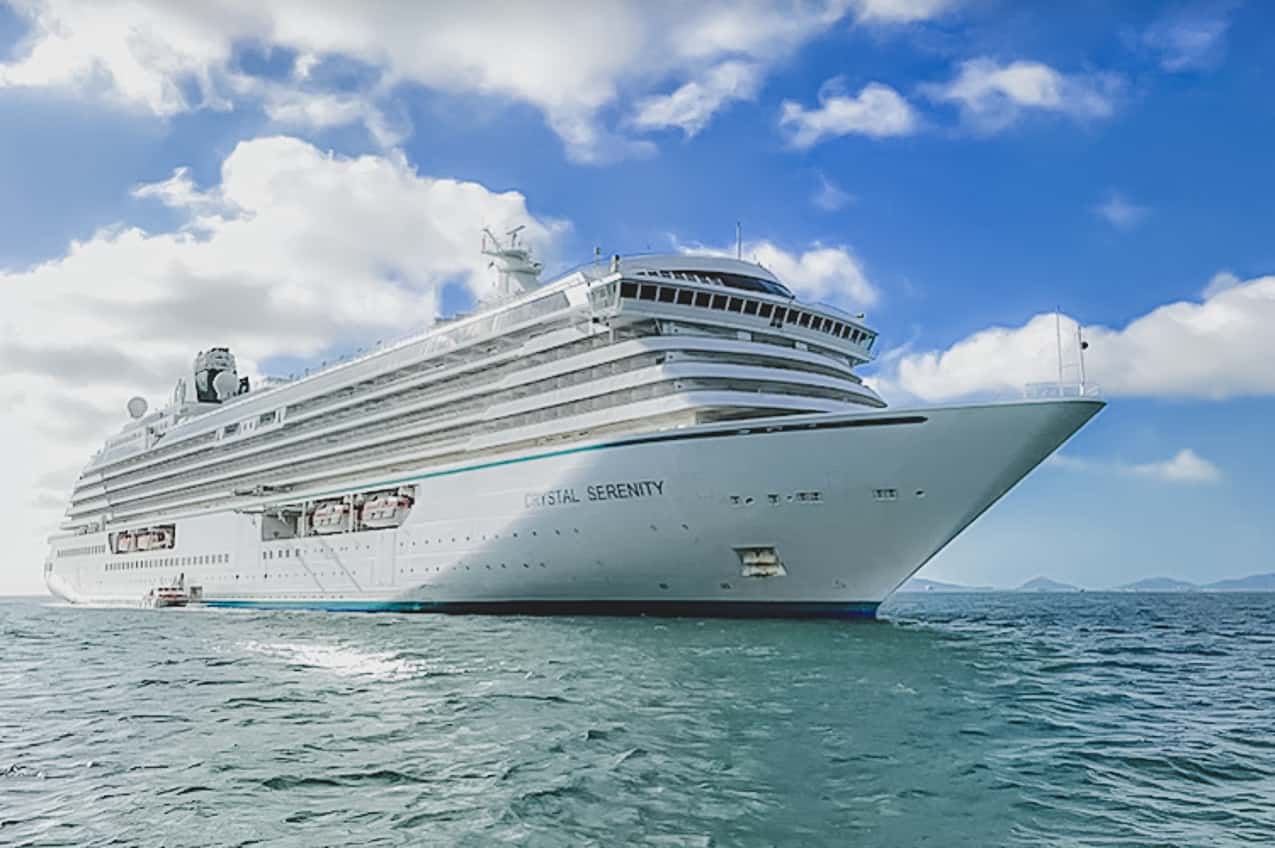 Crystal Serenity Details
FAST FACTS
Year built: 2003
Year refurbished: 2018
Weight: 68,970 tons
Decks: 9
Passengers at double occupancy: 980
Crew: 655
Total staterooms: 548
Our itinerary was an 18-day Panama Canal cruise from Fort Lauderdale to Los Angeles. A bit heavy on sea days, nine in total. With eight scheduled ports, this would be a cruise to remember.
Our port visits included:
Key West, Florida;
Panama City, Panama;
Acapulco
Puerto Vallarta
Cabo San Lucas, Mexico
San Diego, California.
Due to high winds, we missed a day at Caldera, Costa Rica. After that, all ports were right on schedule.
Finally, we disembarked in Los Angeles. Eighteen days, even on Crystal Serenity, would be a long cruise. Or so I thought. Somehow, the days went by in a blink.
Welcome aboard Crystal Cruises' Crystal Serenity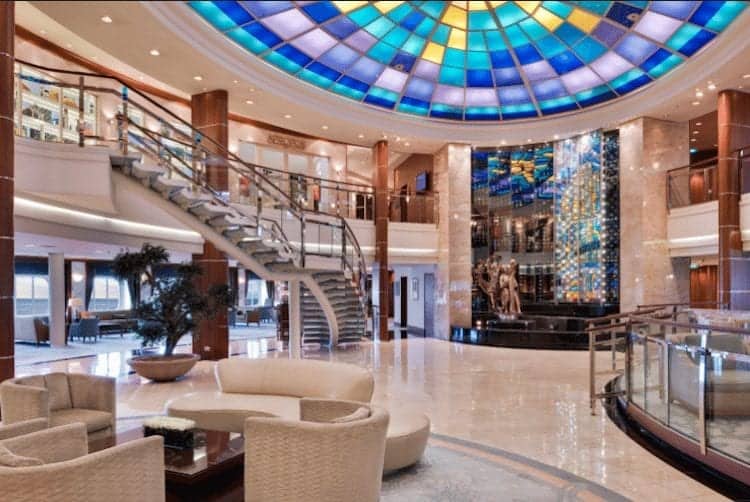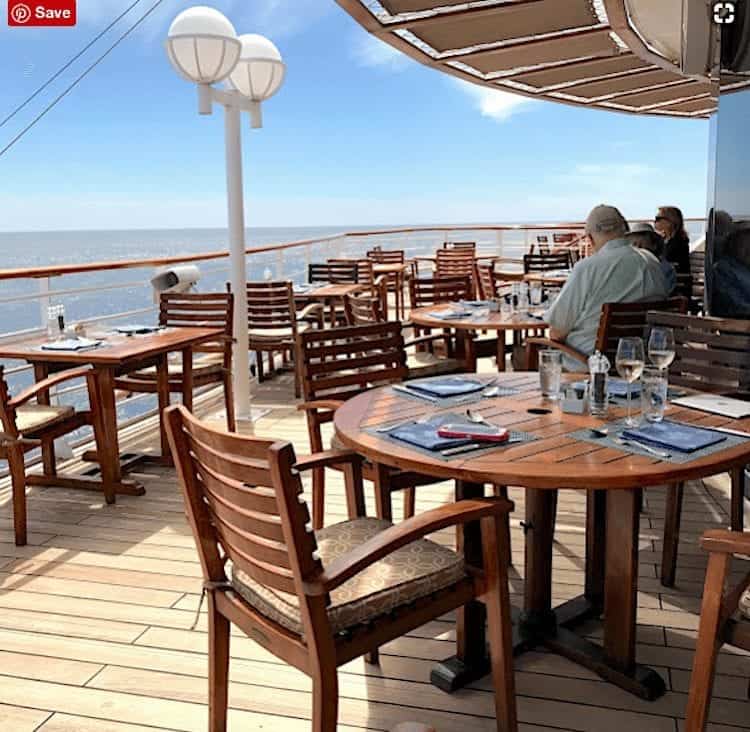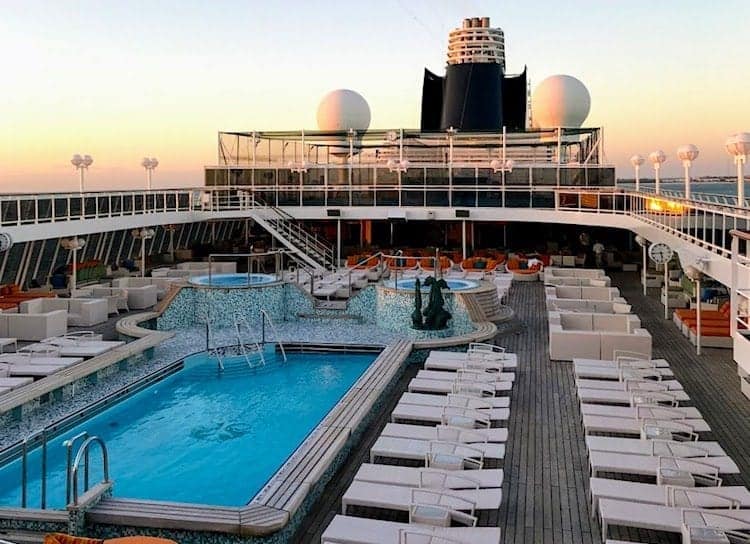 About Crystal Serenity Cruise Ship
Launched in 2003 and with 14 decks, Crystal Serenity can accommodate up to 1,070 guests. Most of what you'd expect to be included on a luxury cruise ship, was included. Complimentary wine, beer and premium spirits, specialty coffees and teas, gelato, and a self-service launderette are all included.
You'll pay extra to buy your photos in the photo gallery, Chef's special wine dinners and shore excursions. I never felt nickel and dime'd for a second. Best part? Gratuities were included in the price of the cruise. Of course, a little cash to a crew member who really went out of his or her way to be helpful, would be appreciated.
Crystal Cruises offered a wide range of shore excursions that ranged from nominally priced to a bit over-priced. But don't be penny-wise and pound foolish like I was. Crystal offered an evening ashore in Cartagena, Colombia complete with a stroll through town, a drink at a rooftop bar and then a special dinner.
With a price tag of $209, I thought it was too expensive. It was a small group with only 12 people signed up, six of whom I knew. Everyone returned to the ship at about 9pm and totally raved about the most fantastic shore excursion experience they'd ever done. Lesson learned.
RELATED: Crystal Cruises Has New Owners!
Where Everybody Knows Your Name
I think the crew must be given a cheat sheet with photos of all the guests! How they remembered everyone's name was amazing. Personalized service truly exceeded my expectations. The crew did have a slight advantage, though.
While the ship accommodates just over a thousand passengers, on this cruise we had less than 550. So imagine 550 guests and 655 crew. For all of the 18 days, it was fabulous.
Crystal Serenity Review: My Standard Balcony Stateroom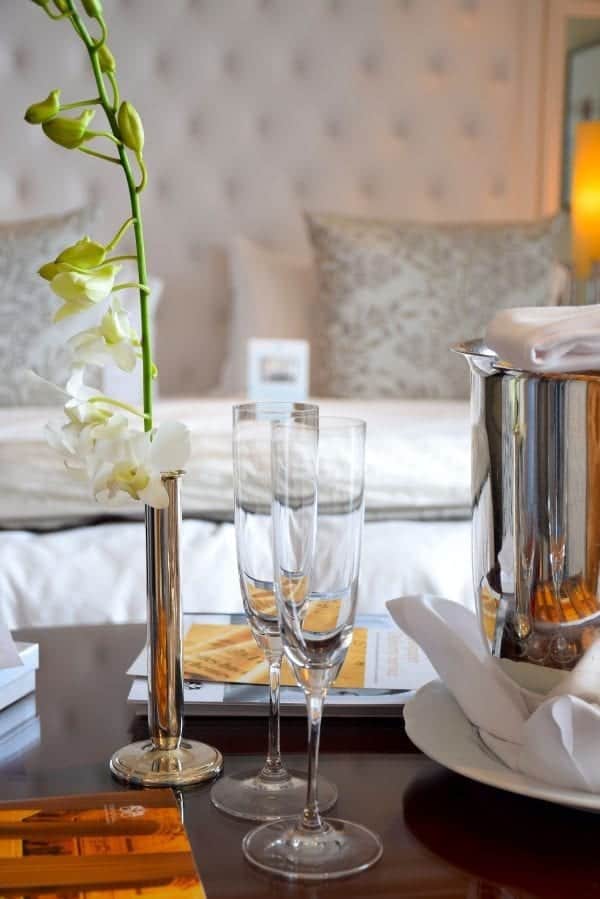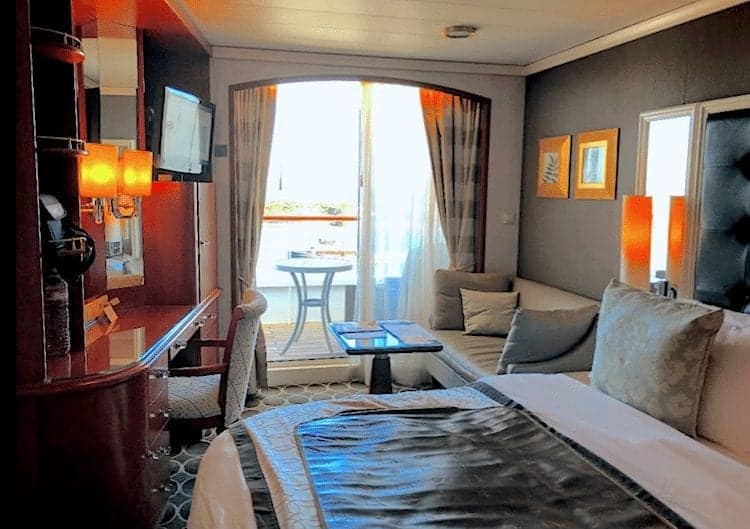 My standard balcony stateroom was very comfortable, with a king bed that could convert to twins, a refrigerator/complimentary mini-bar, flat screen TV, reading spotlights on both sides of the bed and plenty of drawer and storage space.

The bathroom was super-big and even as a solo, I enjoyed the variety of using two sinks! The shower in the tub had the best water pressure I've found on any ship. Lots of handles to grip to step in and out of the tub. That's a good thing since the majority of guests are 60+ and balance can be an issue. The bath products supplied are by Etro…nice soaps, too.
Almost all staterooms on Crystal Serenity have a balcony. There are a handful of oceanview staterooms on Deck 7, the Promenade Deck, and those are the most economical. Get a suite and you'll have a butler to anticipate your every whim.
READ NEXT: How to choose your Panama Canal cruise itinerary
For those with severe allergies, Crystal Serenity has what they call a "Pure" stateroom. Yes, you'll pay a little more but hopefully you'll not to be allergic to anything in the room.
I loved the cushioned chairs on the balcony. Much nicer and more comfortable than plastic straps or mesh panels.
INSIDER TIP: There's no need to pack a magnifying mirror; your bathroom has one.
Crystal Serenity Review: Dining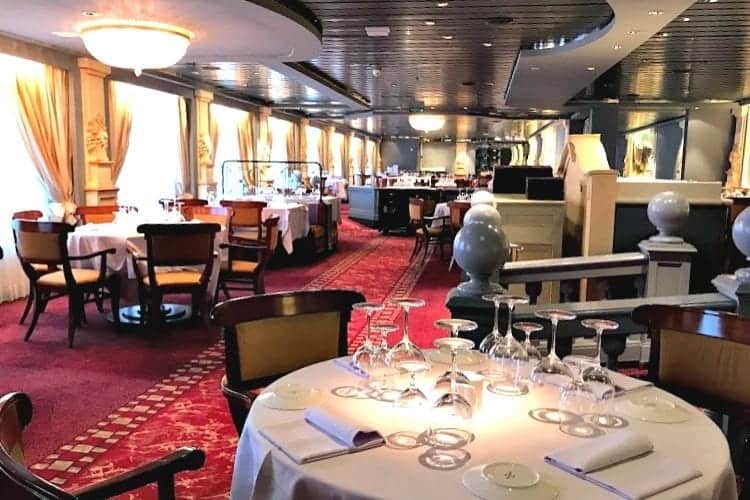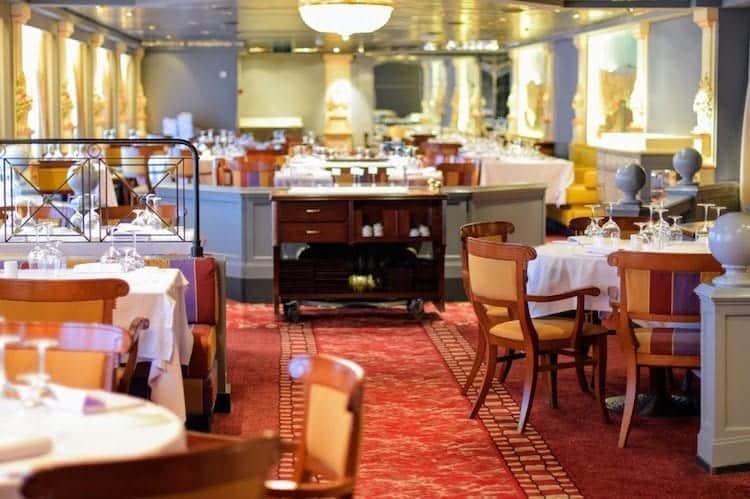 And if that wasn't enough, the cruise line's two ships both have a proper kosher area within the galley. No more pre-ordered frozen meals if you keep kosher.
For a ship this size, Crystal Cruises has figured out how to successfully incorporate several dining venues into a smaller space.
In total, there are six dining venues plus The Vintage Room for a private wine dinner ($$$$). With two seatings, the Main Dining Room saw most of the action at dinner time. There's no escaping to a Lido buffet for dinner, only breakfast and lunch and daytime snacks.
Alternatively, occupying a retractable glass-domed area, there's the Trident Grill (L & D), Taste (L) and a gelato station. Two specialty restaurants, Prego & Chef Nobu's Silk Road & Sushi Bar, are complimentary for two visits per person on cruises up to 14 days. On 15-day or longer, each person can chow down at either place for four visits total.
Prego, the Italian option, was a one-time visit for me. The food was okay but I was not impressed. Silk Road and the Sushi Bar were by far my favorites for the remaining three specialty options.
Best Onion Rings Ever at Trident Grill
Rounding out the sixth restaurant is the Lido buffet. There's always a crew member waiting to help carry your plate to a table. One of the nicest buffets at sea. Spotlessly clean, wonderful and varied selection at different food stations and great outdoor seating. If only they were open at dinner time. Rumor has it that after the November 2018 refurbishment, it will be open in the evenings.
Room service is available 24/7 and I never missed a room service breakfast, complete with cappuccino. Dinner is ordered off the main dining room menu and includes a table cloth over the lift-up coffee table.
INSIDER TIP: You can order the incredible onion rings in the Main Dining Room, too. Ask your waiter. Your table-mates will love you for it.
Crystal Serenity Review: Entertainment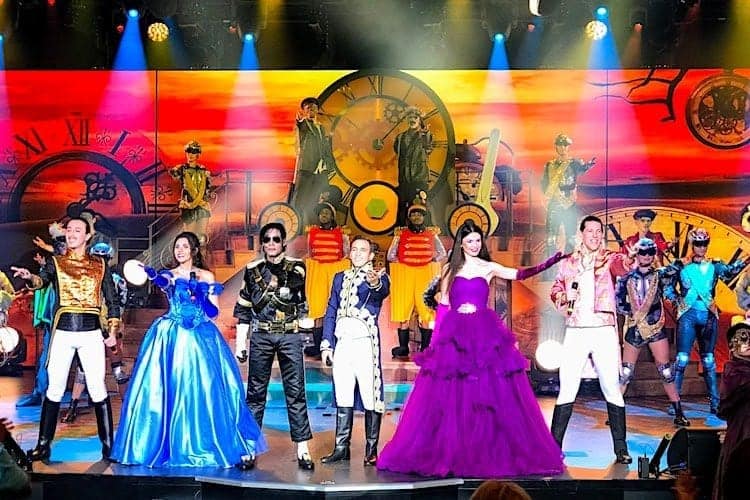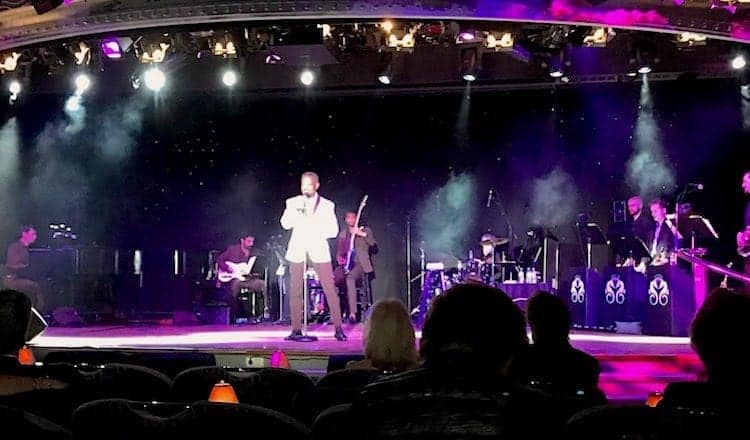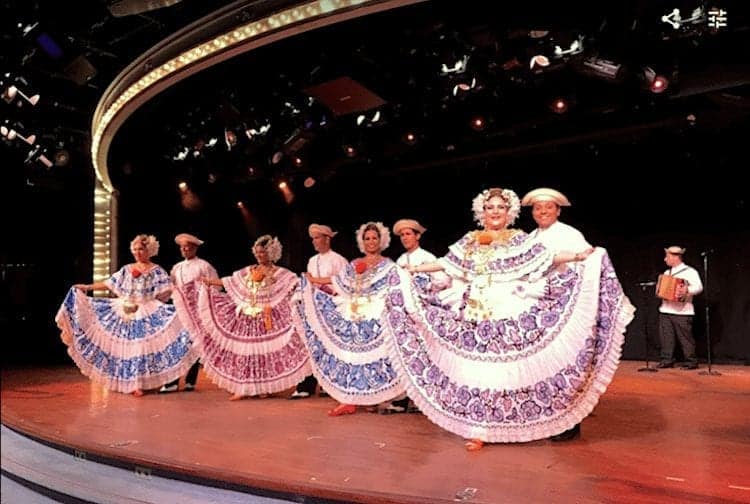 Once again, I was impressed by the quality of entertainment and entertainers. From Kenny James of Star Search fame and folkloric Panamanian dancers to a rousing multi-costume change production number by the house performers and a finale with the cruise director and his dummies. There was almost always something for everyone.
Comics, violinists and pianists rounded out the performances. They boarded and left at various ports along the way.
The house orchestra was fabulous and energetic, covering a variety of styles; classical, jazz, Dixieland and more. If you enjoy live music, this is for you.
INSIDER TIP: When a second evening performance is offered, there's no problem finding a great seat. By 10PM, most passengers have gone to bed.
Onboard Activities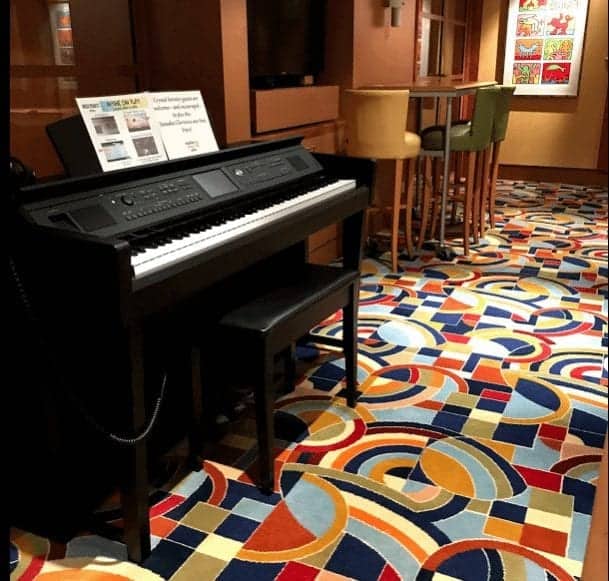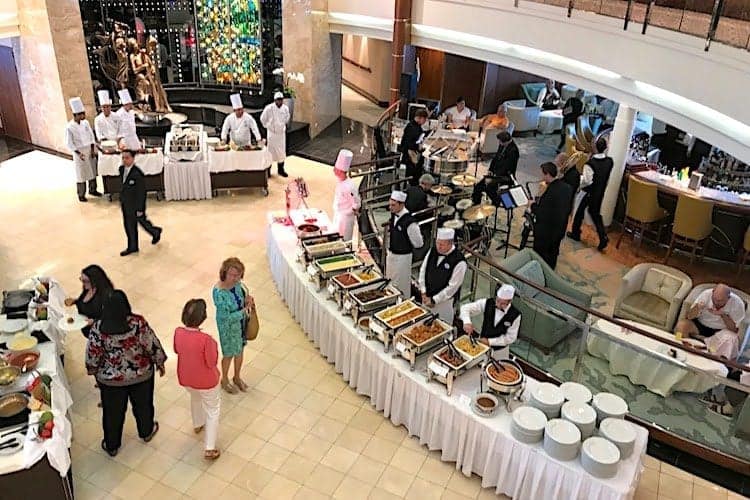 Crystal Cruises is used to itineraries with more sea days than ports so there's plenty to do at sea. The library (check for open hours) has a terrific selection of books. Plus, you can check out videos for your in-room DVD.
There was a daily knitting group, noon trivia and golf lessons. Afternoon tea was a daily event. Not like Cunard with a parade of scone-bearing waiters. Roaming waiters served tea sandwiches, the proverbial scones and of course, a fresh pot of tea.
In the food department on sea days, there were cooking demonstrations in the main theater. Twice we were treated to the most stupendous gala buffet I've ever seen, on land or on sea.
There's a tennis court at the top of the ship, exercise classes, karaoke in the evenings at Pulse Disco and a dedicated Yamaha piano (a Clavinova, really) for passenger use. The next cruise, 24-days from Los Angeles to Sydney, there would be Yamaha keyboard lessons in The Studio.
INSIDER TIP: As a Solo Cruiser, daily trivia is always a great way to meet other passengers.
Who's Onboard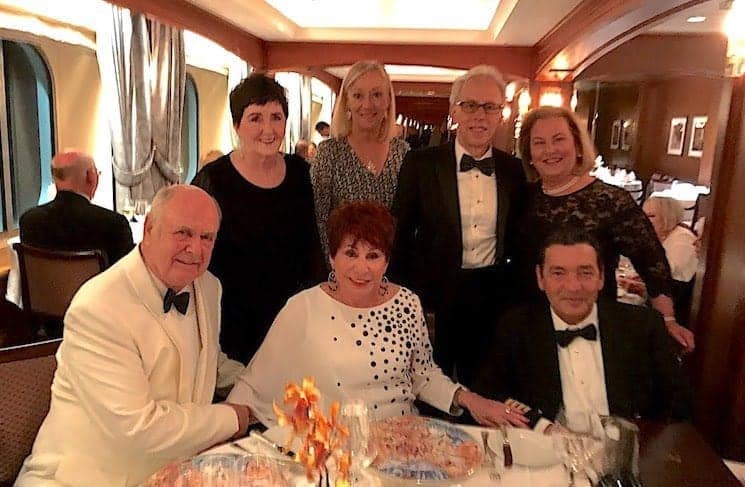 My preconceived notion of the passenger demographic wasn't too far off base; older, retired and wealthy. Surprisingly, there were exceptions. One couple was onboard as a gift from a family member, another couple saved for years to do this particular cruise.
While a handful of passengers were maybe late forties and on their 4th World Cruise, the majority of guests cruised Crystal two to three times a year.
Though the dress code is considered "resort casual" I saw a fair share of fellow passengers that didn't quite meet that standard. No jeans after 6pm anywhere on the ship, though not policed, was understood.
As a Crystal Cruises newbie, I was definitely not in the "Club". On mass market cruises, you always overhear passengers asking each other, "So how many cruises have you been on". On Crystal Serenity, the measuring contest was, "So how many Crystal cruises have you been on".
Crystal Cruises certainly has a dedicated following of Crystal-Only passengers. These folks started their cruising life with Crystal and won't go anywhere else.
I kind of understand…if something fits the bill and always delivers what makes you happy with your investment, why change? Personally, I like to experience different cruise lines; from mega-ships to yacht-size vessels. But I totally get their thinking.
Despite an obvious country-club behavior, nearly every passenger was cheerful; happy to be able to experience yet another Crystal Cruise. I really didn't encounter any snobbishness or rudeness. I met some wonderful people on this cruise and even one couple with whom I hope to always remain friends.

Final Thoughts on Crystal Cruises and My Crystal Serenity cruise
Looking back as I write this Crystal Serenity review, I now understand the cruise line's loyal following. As I said to my new Crystal Cruise friends Cherie and Michael, going on a Crystal Cruise is like returning year after year to a beloved summer camp.
The crew (camp counselors) know your name, you know where the venues are located (like finding the mess hall and arts and crafts building) and you are reunited with past cruise friends (camp buddies) every time you step aboard (find your camp cabin). The same…only much more expensive. And if you're lucky, you're there for two glorious months.
Cruise Review In a Nutshell
Crystal Cruises' Crystal Serenity
Category: Luxury ($$$$)
Internet/Wifi: Complimentary and unlimited.
Itinerary: Full Panama Canal transit – Ft. Lauderdale to Los Angeles
Date: January 5 – January 23, 2018
Disclosure: I was a guest of Crystal Cruises aboard the Crystal Serenity. I did not receive any compensation nor was I required to write this review. All opinions are my own and reflect my cruise experience and observations.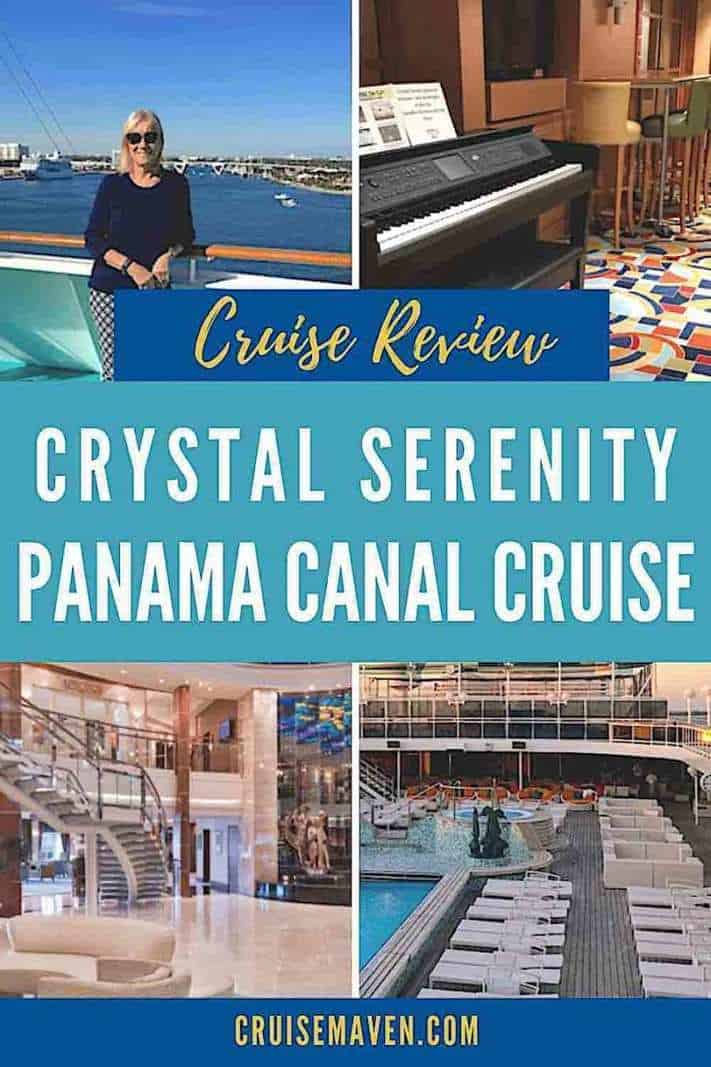 I'm the editor and creator of CruiseMaven.com, a solo traveler cruising the world on waves and wheels, collecting recipes along the way.  I hope my articles and photos entertain, advise and inspire you to travel the world without flying.  Take a breath…stop for a local meal and a glass of wine along the way.