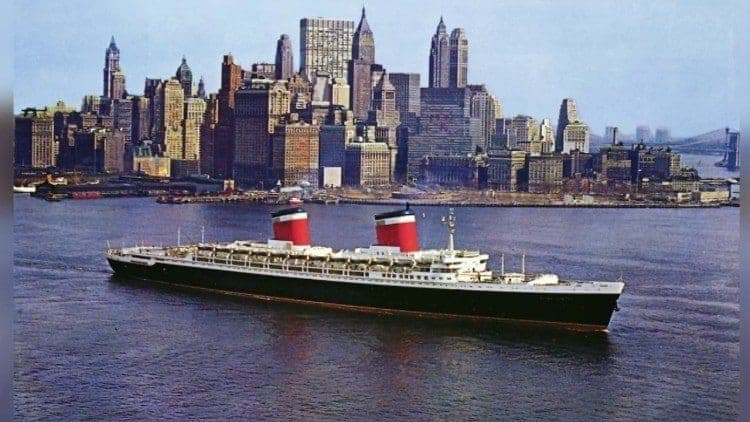 Crystal Cruises hopes to save the S.S. United States from the scrap heap.
In a surprise announcement made at the Manhattan Cruise Terminal in New York City on February 4, 2016, Edie Rodriguez, CEO and President of Crystal Cruises, revealed her company's plan to bring America's historic flagship and fastest ocean liner in the world back into service.
On the S.S. United States' maiden eastbound transatlantic voyage that departed from Manhattan on July 3, 1952, the ship broke the records when it crossed the Atlantic in 3 days, 10 hours, 42 minutes. For the first time in nearly a century, an American passenger ship had won the famous Blue Riband award for the fastest transatlantic crossing.
Once the ship of choice for celebrities and royalty to cross the Atlantic Ocean, the S.S. United States short career lasted only 17 years, from 1952 until abruptly pulled out of service in 1969.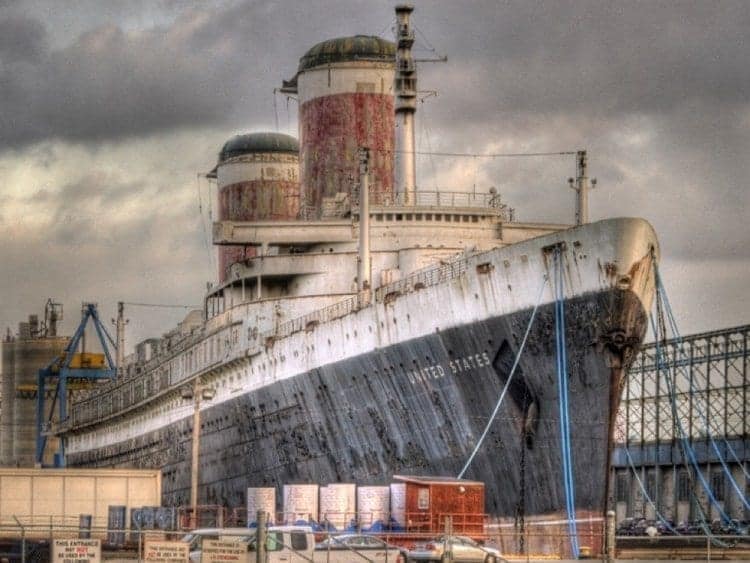 Since 1996, the ship has been rusting away at a dockyard near a shopping mall in Philadelphia, on the Delaware River. In 2011, the S.S. United States Conservancy took stewardship of this grand old vessel but expenses to keep her afloat proved too costly and without a benefactor with deep pockets, the S.S. United States would soon be torn apart and recycled bit by bit.
Enter Edie Rodriguez and her vision of growth for Crystal Cruises. With Crystal Cruises now owned by Japanese leisure and hospitality company Genting Hong Kong, award-winning luxury Crystal Cruises seems on the brink of massive growth. On order are river cruise ships, jet planes, yachts and of course, more luxury passenger ships.
For Crystal Cruises to add the legendary S.S. United States to their roster of ultra-luxurious modes of transport, will require a technical feasibility study to assess what is needed to bring the ship up to today's luxury guests' expectations and modern safety standards. Older ships didn't have balconies or dozens of dining options. Today's passengers, especially those paying a premium price, expect certain amenities and options that rival the best luxury hotels and cruise ships.
Rodriguez said that she expects the feasibility study to conclude by the end of 2016. At that point, it's expected that Crystal Cruises and Genting Hong Kong will decide whether or not to move forward to return the S.S. United States to its former glory as the grandest American-made ship and fastest ocean liner in the world.
As the news conference concluded, Rodriguez expressed confidence that the study will have a positive result. Crystal Cruises will cover all costs associated with saving the S.S. United States. The projected cost of such a refurbishment project is expected to reach at least $700 million.
To be named, United States by Crystal Cruises, the plans include transforming the ship to carry 800 passengers in 400 luxury suites, five more suites than the original ship. The wraparound Promenade and Navajo Lounge will be restored. New engines and state of the art marine technology will be implemented to ensure the ship can reclaim the title of fastest cruise ship in the world.
Fingers crossed that Crystal Cruises will be pleased with the results of the feasibility study and embark on a road to restoring America's flagship to its original glory and beyond.