Lately, it seems like cruise ships are free-agent ball players getting moved around from team to team and port to port. Today's announcement from the Tampa Port Authority that Royal Caribbean's Jewel of the Seas will be leaving Tampa Port and replaced with sister ship, the Brilliance of the Seas only reinforces my theory. While it's sad to see an "old friend" move away, it's also fun and exciting to await the arrival of a new ships into port.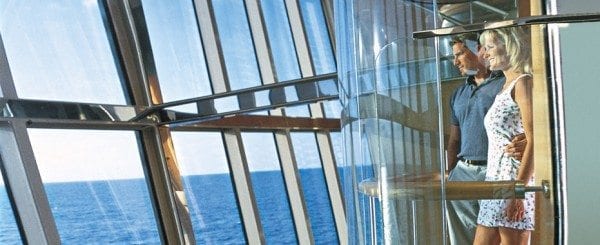 I'm glad that Royal Caribbean is committed to keep a Radiance-class ship in Tampa; it's one of my favorite of the six classes of ships in the fleet. The Radiance-class is named after the first ship in this class, the Radiance of the Seas, built in 1997. Anyone who has stood in the atrium on anyof these ships knows how spacious and bright Radiance-class ships appear. They are smaller than most of the Royal Caribbean fleet, all with slightly over 2.100 passengers each.
The Brilliance of the Seas will sail four- and five-night Western Caribbean itineraries, stopping in Cozumel on the four-night cruises, and Cozumel, the Cayman Islands and either George Town or Key West on the longer sailings.
"We look forward to welcoming Brilliance of the Seas to Tampa and believe the ship's exciting new features will create a fresh buzz in Tampa's robust cruise market and with the travel agent community," said Richard Wainio, port director and chief executive, in a written statement.
Before coming to Tampa, the 2,112-passenger Brilliance of the Seas will undergo a major renovation adding many of the innovative and unique features that are found on the newer two largest ships in the world, the Oasis of the Seas and the Allure of the Sea. New amenities will include a more dining and entertainment options, revitalized staterooms, Wi-Fi, digital way-finding stations and an outdoor LED video wall.
Brilliance of the Seas will also offer a 13-night Southern Caribbean cruise as it travels to Tampa. This cruise leaves from Boston on Oct. 27 and ends in Tampa.
Reservations for the Brilliance of the Seas sailing from Tampa will begin on May 17.
Photo credit: Royal Caribbean, Tampa Port Authority
I'm the editor and creator of CruiseMaven.com, a solo traveler cruising the world on waves and wheels, collecting recipes along the way.  I hope my articles and photos entertain, advise and inspire you to travel the world without flying.  Take a breath…stop for a local meal and a glass of wine along the way.