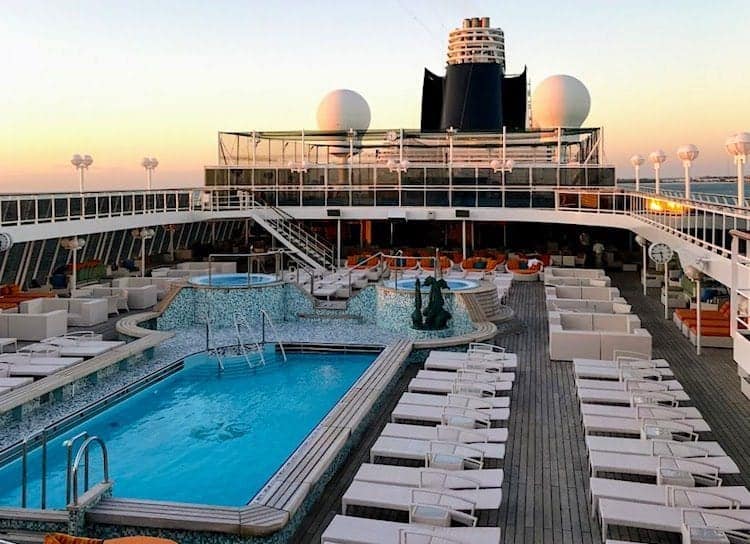 From a month-long dry dock that began in mid-October, Crystal Serenity refurbishment is complete. Similar to renovations made to Crystal Symphony in 2017, the 980-passenger Crystal Serenity is back on the water, sailing today from Lisbon.
I had the opportunity to cruise aboard Crystal Serenity last January on a Panama Canal cruise and everything seemed fine to me. But after 15 years, apparently Crystal Cruises thought it was time to give their ship a new look. Some of the ungraded areas include revamped dining options, more technology and ship-wide upgrades. And that's just touching the surface.
Crystal Serenity now features new dining options and open-seating dining, something that passengers have requested for a while. Butler-serviced Seabreeze Penthouse and Seabreeze Penthouse Suite accommodations are more spacious. They've redesigned lounge and entertainment venues that includes the Stardust Club and Palm Court. Entertainment has been changed to offer a new production show called Crystal on Broadway, The Show.
Details of the new spaces and guest experiences include:
New Dining Options
Open-seating dining debuts aboard Crystal Serenity so now guests can dine where, when and with whom they choose. New restaurants with new international cuisine are:
Waterside – Formerly, the Crystal Dining Room serves daily changing menus of international classic and modern cuisine, paired with unlimited fine wines, spirits and beers. I like this new look; it's much lighter and brighter. More tables for two and four were added. While breakfast and lunch are served at set dining times at dinner, Waterside is available to dine any time.
The Marketplace and Churrascaria – Formerly the Lido Café, the two areas feature an open-kitchen concept with dishes made to order. The Marketplace serves buffet-style breakfast and lunch and in the evening transforms into Churrascaria. This Brazilian-style bar-be-que welcomes guests with a traditional Caipirinha cocktail, then offers a selection of tapas and ceviche, salads and soups, vegetables and freshly grilled meat and seafood brochettes. Churrascaria offers open seating and does not require reservations.
Silk Kitchen & Bar – What used to be Tastes is now an Asian-inspired venue serving traditional Chinese comfort food. Family-style favorites are on the menu for dinner, while lunch options include favorites from the noodle bar, wok dishes and traditional dumplings. Silk also serves Crystal's late risers breakfast service. Silk has open seating for breakfast and lunch and requires reservations for dinner.
Umi Uma – Once the Silk Road & The Sushi Bar, the restaurant still operates under the watchful eye of Master Chef Nobu Matsuhisa, serving Japanese-Peruvian specialties. This is still the only Nobu restaurants at sea.
Stardust Supper Club – A brand new dining experience and a throw-back to the era of the Rat Pack, debuts on black- tie-optional evenings in the Stardust Club. It features a four-course menu, live musical performances from Crystal's Ensemble and string quartet.
Prego – Reservations required, this specialty restaurant serves regional Italy specialities.
Public Spaces
Palm Court – has a new "in-the-round" stage plus more tables for two. Teatime will still take place in the Palm Court with the previous stage area becoming a dedicated space for fresh pastries and snacks.
Galaxy Lounge –  The new Broadway-style production show called Crystal on Broadway, features songs from the hit musicals Rent, Something Rotten! and West Side Story.
Pulse Disco and Resorts World Casino at Sea have new carpet and furnishings.
New Seabreeze Penthouses
On Deck 10, 36 new Seabreeze Penthouses and two Seabreeze Penthouse Suites now occupy the space of former Deluxe Staterooms with Verandah. The new accommodations, offer the same personal butler service, specialty services, walk-in closets, spa-like bathrooms and spacious square footage as the other Penthouses on board (367 sq. ft. and 491 sq. ft, respectively, including the verandah).
The transformation effectively reduces the ship's capacity from 1,070 guests to 980 guests, while the number of crew on board remains the same.

Technological Enhancements
Public and guest suites now have new, state-of-the-art HD TVs. Guests can now access information on their TVs including onboard folios, Crystal Life Spa & Salon menus, the wine menu and daily restaurant menus. The new on-demand system also offers a movie library and entertainment, as well as live views from the ship, broadcasts of ship lectures, presentations and destination info. Wi-Fi coverage throughout the ship has also been upgraded with a dedicated antennae in every suite and all public areas and open decks.
Crystal Connect is the interactive app that allows guests to access it from their smart devices for ship and itinerary info, dining menus, shore excursion and port maps.
Computer University@Sea has received new 70-inch TVs. The Studio, a multifunctional learning center, has been divided to offer a classroom for language, art and other instruction and a separate dance studio for private lessons.
Reservations are open to book through 2021.
Interior photos:  Crystal Cruises
I'm the editor and creator of CruiseMaven.com, a solo traveler cruising the world on waves and wheels, collecting recipes along the way.  I hope my articles and photos entertain, advise and inspire you to travel the world without flying.  Take a breath…stop for a local meal and a glass of wine along the way.