Did you know you can take an Amtrak train to cruise ports throughout the US? Most of us don't live near a cruise port so choices on how to get to your ship are limited. Basically, fly or drive.
Some people (like me!) simply refuse to fly, and that seriously limits travel options to a cruise port. There is a better, relaxed and fun way to begin your cruise vacation: take an Amtrak train to your cruise port!
How to Take an Amtrak Train to Your Cruise Port
Amtrak is America's passenger train. Unlike a busy airport, you can arrive at an Amtrak station 45 minutes before your train is scheduled to depart. Check your baggage and wait to hear the station attendant announce the famous "All Aboard."
After the train car attendant helps you step onboard, you'll nestle into your sleeping compartment or reclining wide seat. When was the last time that happened on an airplane?
READ MORE: 29 Best Tips for an Amtrak Overnight Train
There are over 500 Amtrak stations in 46 states and Washington, D.C, so there's bound to be an Amtrak train to get to your cruise ship's homeport.
Ready to take an Amtrak train to your cruise port? I've listed all cruise ports by state and the Amtrak trains to get you there.
Take Amtrak to Florida Cruise Ports
There are two daily overnight trains, operating two different routes running between Boston, New York City and Washington DC, all the way to Miami. Note: as of May 19, 2022, there is only one train running daily between Miami and New York City, the Silver Star. The Silver Meteor is on temporary suspension until September 11, 2022, due to staffing shortage issues.
The current Amtrak train to Florida, the Silver Star, follows much the same route as the Silver Meteor for most of the journey between New York and Miami. The Silver Star includes stops in Jacksonville, Orlando, Winter Park and Miami for cruise ports at Jacksonville, Port Canaveral, Ft. Lauderdale and Miami.
Currently, a section of the Silver Star will veer west from Lakeland to service Tampa and the cruise port. Then continues southbound to Fort Lauderdale and Miami.
Upon arrival at any of the south Florida Amtrak stations, it's a short taxi ride to the port. But you'll need to spend an overnight at a hotel because the trains arrive in the late afternoon. But you might do that anyway if you flew to the port.
If you're cruising from Port Canaveral, I suggest that you plan to depart the train in quaint Winter Park rather than busy Orlando or Kissimmee. At either train stations, you can arrange a car rental or pre-book a shuttle service. It's an easy, 1-hour drive to Port Canaveral from Winter Park or a local area hotel in Cape Canaveral or Cocoa Beach.
Los Angeles Area Cruise Ports on Amtrak
Long Beach and San Pedro Cruise Ports
Just because you live hundreds or even thousands of miles from the cruise ports in Los Angeles, doesn't mean spending hours in the sky to get there.
Amtrak operates four almost-transcontinental trains from the east coast, Midwest and southern states as well as an overnight train from Washington state.
Your overland coast-to-coast journey begins in New York City or Washington DC. Both cities have three overnight trains to Chicago. The next day, westbound from Chicago, there are two trains going directly to Los Angeles; the Texas Eagle via San Antonio in almost three days (due to a long layover in San Antonio, but you're asleep in your compartment) and the Southwest Chief, a much shorter trip of around 43 hours. The scenery is amazing on both trains.
RELATED: Getting to Los Angeles Union Station from San Pedro Cruise Port
You can take the California Zephyr from Chicago to Los Angeles but it's not a direct train. You have to change in Sacramento and then continue on to L.A.
My suggestion? Take the train with the most breathtaking scenery, the California Zephyr, to Sacramento, stay over a couple of nights to have time to visit the incredible California State Railway Museum. You can then catch the historic Coast Starlight at 6:30am and arrive in Los Angeles at 9pm. There are two hotels in a 10-minute walking distance to the train station.
Arrival into the splendidly restored Los Angeles Union Station is an experience in itself. Taxis are available just outside the station.
Take Amtrak for Cruises from New Orleans, Galveston/Houston
Whether you live on the west coast, east coast or the Midwest, you can easily get to the Port of New Orleans and the Texas ports at Houston (Pasadena) and Galveston.
The Sunset Limited, originating in New Orleans and Los Angeles, departs three days a week in either direction. Cruisers from the west coast can depart their train in Houston or New Orleans.
READ MORE: Guide to Amtrak Sleeping Accommodations
Leaving from Chicago, passengers board the famous City of New Orleans train for a quick overnight ride down to the Big Easy. From there, cruise ships head out to the Caribbean and twice a year Transatlantic crossings to Europe.
New York is the departure point for the Crescent, en route to New Orleans via Philadelphia, Washington DC and Atlanta. Heading to Houston, transfer in New Orleans to the Sunset Limited for a short 9-hour train ride. From Houston, Amtrak provides a dedicated motor coach to Galveston.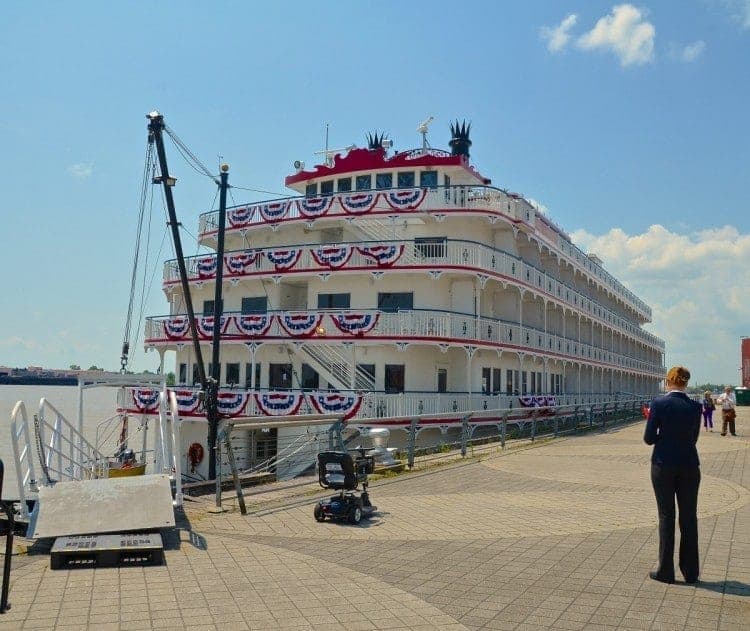 Cruise from the Port of New Orleans aboard an authentic paddle wheeler and step back in time on a northbound Mississippi River cruise. Or leave from Chicago aboard the Empire Builder to St. Paul, MN and begin a southbound cruise on the Mississippi. Memphis or St. Louis, too.
Amtrak to Cruise Ports in Seattle and Vancouver
Travel from New York to Chicago and transfer to the Empire Builder to Seattle on one of the most scenic Amtrak train rides in America. Once the train gets to the western side of Montana, the Empire Builder travels straight through Glacier National Park.
There's even a train stop at one of the National Park Lodges, where you could spend a day or two pre- or post-cruise.
From the Port of Seattle, train passengers can choose either a round-trip 7-night Inside Passage Alaska cruise or a one-way cruise to Anchorage to explore more of the Last Frontier.
To take Amtrak to Vancouver for your Alaska cruise, you'll transfer in Seattle to the Amtrak Cascades train and cross the Canadian border via the train. Because of staffing issues related to the pandemic, the Cascades is on temporary hold through the end of 2022.
Instead, Amtrak has a dedicated motor coach that takes passengers to the Vancouver Union Station. From there, it's a short taxi ride to downtown Vancouver hotels and the nearby Port of Vancouver.
Those who depart from Seattle for a longer cruise to Asia, Hawaii or even Australia will love Amtrak's generous luggage regulations. Each person is allowed to carry on 2 bags up to 28" tall and up to 50lbs. Passengers may also check up to 2 bags for free, same height and weight restrictions and 2 additional bags at $20/each. That's a lot of luggage.
Southern Californians can hop aboard the historic Coast Starlight for an overnight ride to Seattle. Hugging the Pacific Coast for several hours before ascending the Sierra Nevada range, the scenery is spectacular. Not to mention the private lounge and dining car for first-class passengers.
Tips For Taking Amtrak to a Cruise Port
ALWAYS arrive the day before, just as you should if you're flying to your ship.
If you're traveling in coach, bring a light travel blanket and small pillow.
First class sleeping compartments include bottled water, juice, sodas, and all meals in the dining car so you don't need to pack a picnic. Plus, you can always purchase something extra to eat from the Café Car.
Rates for sleepers increase as supply decreases. Book your accommodations early. If your plans change, new cancellation penalties allow for some flexibility.
Purchase travel insurance that covers missed connections, just in case of a severe delay or if you need to cancel for covered reasons.
Print out your timetable from Amtrak's website.
An Amtrak train ride to your embarkation port may not be the solution for everyone, especially for those that are on a time constraint. For people who live in South Dakota, Wyoming or much of Idaho, this probably isn't an option, either, as there is no train service to these areas.
But for most of us across America, there is an Amtrak station no more than a half-day's drive away. Let your vacation begin before the cruise; take Amtrak to your cruise port and arrive refreshed, relaxed and ready for another adventure.
Pin to Your Favorite Boards!
I'm the editor and creator of CruiseMaven.com, a solo traveler cruising the world on waves and wheels, collecting recipes along the way.  I hope my articles and photos entertain, advise and inspire you to travel the world without flying.  Take a breath…stop for a local meal and a glass of wine along the way.