So you're going to take an Amtrak train trip!  Good for you.  Because I don't fly, Amtrak has become my best friend.  I want to share with you my Amtrak travel articles so you can plan your Amtrak train travel, all across America.
I've created this table of contents for traveling on Amtrak to help you quickly find what you might need.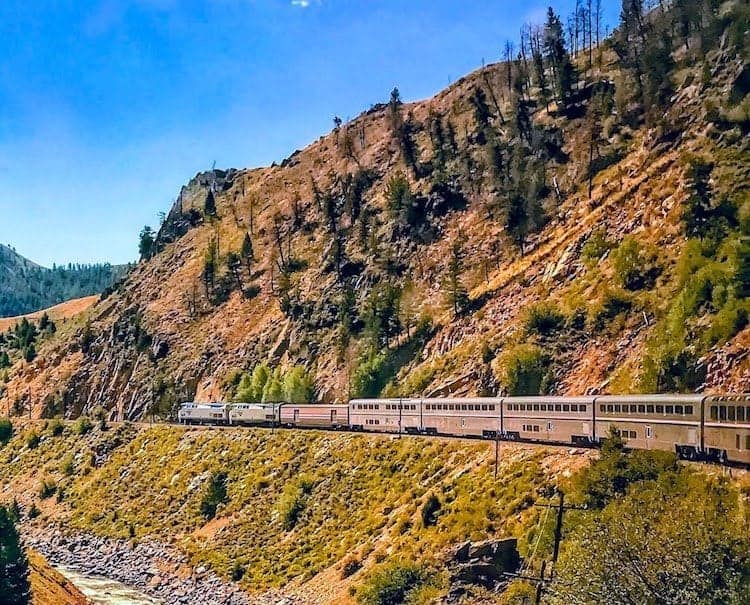 BEFORE YOU GO
While a train trip could be as simple as buying a ticket and boarding the train, being prepared has its perks.  Whether you're going cross-country for fun or taking Amtrak to a cruise port, these tips will help you plan your Amtrak trip.
Packing Tips for an Amtrak Overnight Trip
29 Best Tips for Overnight Amtrak Train Travel
Guide to Amtrak Sleeping Accommodations
Pre-purchase Parking at an Amtrak Station
Don't Fly! Take Amtrak Trains to Your Cruise Port
How to Get to Los Angeles Union Station from San Pedro Cruise Port
Information How to Travel with Your Pet on Amtrak
ONBOARD THE TRAIN
If you've ever lived in an apartment, you know how annoying it can be if you have obnoxious neighbors.  Sometimes people don't even realize they're bothering someone.  The same courtesies apply to train travel.
Plus, I'm always adding information about what you can expect when you're onboard.
Amtrak Etiquette and Advice for Coach Passengers
Amtrak Etiquette and Advice for Sleeping Car Passengers
AMTRAK TRAIN REVIEWS
Want to know what it's like to travel on the train from Los Angeles to New York?  I've traveled more than once on nearly every train route on the Amtrak system.  And I love taking photos of the scenery and train stations to share with you.
Across America Aboard Amtrak Southwest Chief
Silver Star Without the Dining Car
Amtrak Coast Starlight from Los Angeles to Seattle
Aboard the Capitol Limited Superliner from Washington D.C. to Chicago
Riding the Rails from Florida to New York
From Florida to Boston for a Holland America Cruise
Please check back to this list of articles to plan your Amtrak train travel. I'm always adding more helpful advice and tips.