There's a lot to be said for having your own private sleeper on an overnight train trip. An Amtrak Viewliner roomette is an affordable option and includes added amenities not given in coach. Plus, Amtrak Viewliners are all one level, making it easy when boarding or stepping off the train for a fresh air break.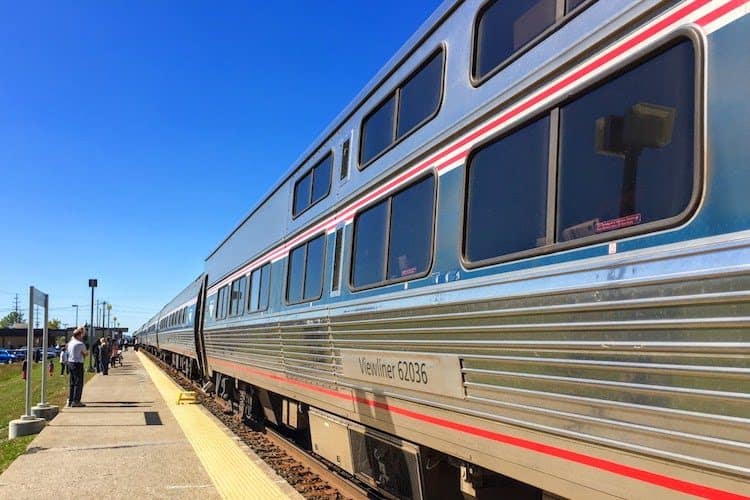 Amtrak Viewliner Roomette Explained
A Viewliner roomette is designed for two people with upper and lower berths at night. During the day, two oversized seats face each other with a pull-out table between the seats. There's also a large picture window and two cup holders on the window sill. Curtains slide across for privacy or sleeping.
Viewliner Roomette Inside Look
Specifically to the Viewliner roomettes, there's a fold-down sink and a toilet in the room. While this can be an interesting situation when occupied by two people, for one person it's absolutely perfect.
Found only in an Amtrak Viewliner roomette. The fold-down sink and small toiletry area are really handy. Not to mention having a private commode.
There's also a shower room at the end of the car that's kept neat and tidy by the car attendant. Fresh towels and individual soaps are provided.
READ NEXT: Best Apps for Your Amtrak Train Trip
Viewliner Roomette at Night
At some point, usually when making dinner reservations or taking your in-room order, your sleeping car attendant will also explain turn-down service and the hours it is available. I prefer to wait and be one of the last turn-downs on the list. It's easier for me to work at the pull-out table after dinner than to sit on the bed to type.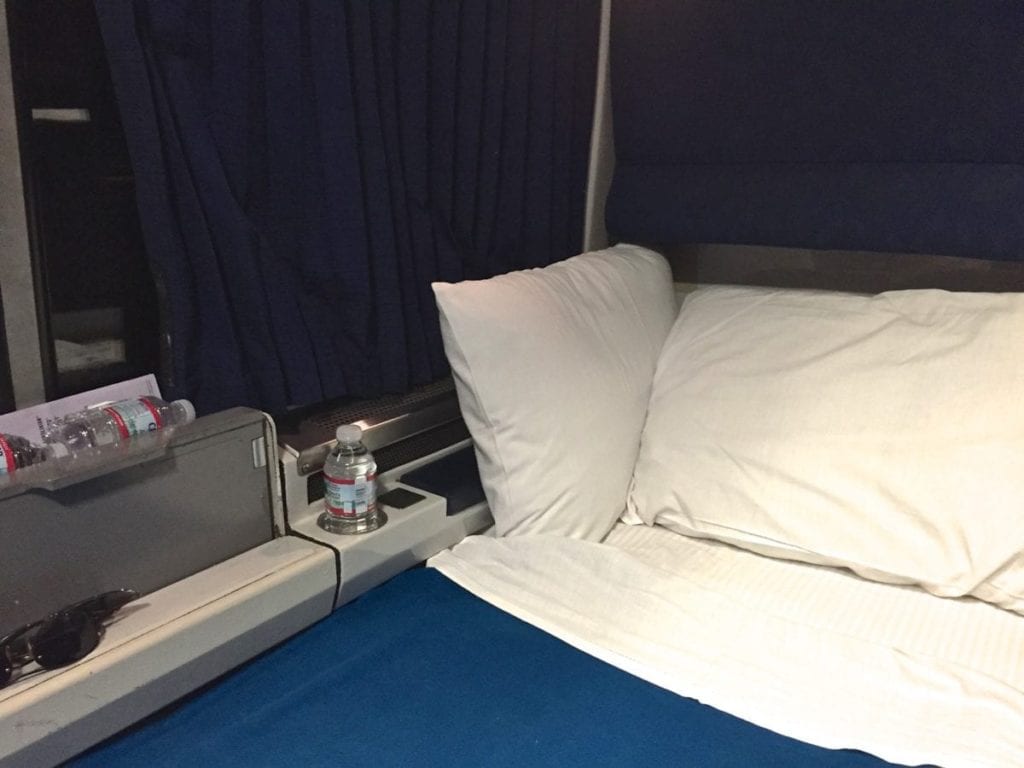 In addition to your sleeping car attendant providing turndown service, he or she will explain how to work the gadgets and switches in your room.
Another of my favorite on board perks of having an Amtrak Viewliner roomette is the coffee station. It's located at the end of the sleeping car. During the pandemic, it was out of service.
Before You Board Your Train
The Amtrak Station Lounge for Sleeping Car Passengers
If you reserved a sleeping compartment, you have complimentary access to a private lounge at certain Amtrak stations before train departure. In addition to complimentary non-alcoholic beverages, there's also WiFi, newspapers, bathrooms and television.
A staffed station lounge, called the Metropolitan Lounge, is located in Boston South Station, Chicago Union Station, Los Angeles Union Station, New York Moynihan (Penn) Station, Philadelphia 30th Street Station and Portland Oregon Union Station. In Washington, D.C., it's called the Acela Lounge.
All you need to do is to show your ticket to the person staffing the entry desk. At that time, you can also request Red Cap service if needed.
Along with priority boarding, if you request a Red Cap to help you, he'll take you from the Lounge to directly on board to your Viewliner roomette.
READ: Amtrak Sleeping Car Etiquette
Amtrak Viewliner Routes
The routes for the Viewliner are limited. You'll find these one-level trains traveling on routes east of the Mississippi river.
Viewliner trains include the Silver Meteor and Silver Star between New York and Florida, Crescent between New York and New Orleans, Cardinal running between Washington, D.C. to Chicago and the scenic Lake Shore Limited from New York City to Chicago skirting along the Hudson River.
RELATED ARTICLES ON CRUISE MAVEN:
One Final Note:
Amtrak has ordered new Viewliner equipment that's gradually coming on line. The new roomettes do not have a toilet but there is a sink. It'll be a while until all Viewliner cars are replaced. You can ask the reservation person if you are in one of the new Viewliner sleeping cars.
Pin and Save!