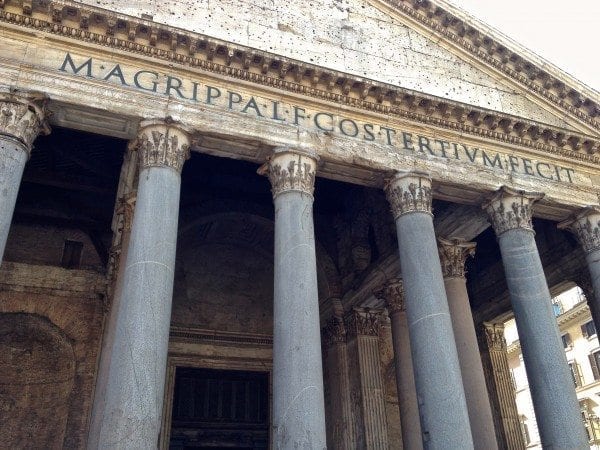 What to see in Rome with only one day to explore.
A cruise from Rome actually departs from Civitavecchia, the closest port to Rome.  Even though it's only an hour's drive from the port (in good traffic), it's always best to spend at the least, one full day to explore this incredible city.  Your first day before or after your cruise doesn't count; either you're jet-lagged or post-cruise-lagged!
While one day isn't nearly enough time to view every relic and ruin in ancient Rome, there are a few important highlights to include on a whirlwind day in the Eternal City.  You really can see quite a bit.
Walk the walk.

Reserve a hotel in Rome's city center to be within walking distance to many of the ancient and historic landmarks. Somewhere near the Spanish Steps or Trevi Fountain puts you right in the middle. With only one day to tour Rome, here are five important highlights to include on whirlwind walking tour.
Trevi Fountain.

No visit to Rome would be complete without a stop at Fontana di Trevi.  This beautiful, intricately carved fountain, located on Via Della Muratte, has been used as a backdrop in dozens of movies. It's said that tossing a coin into the fountain means a return trip to Rome is destined to happen. Note: Good news! The scaffolding has been removed!
Spanish Steps.

Piazza di Spagna, the famous Spanish Steps, is located at Via Condotti and Via Frattini, a short walk from Trevi Fountain.  Named for a nearby palace that once housed the Spanish Embassy, this is a wonderful spot to soak up the sun, stop for a cuppa at famous Babbington's Tea Room or climb the 137 steps up to the Cathedral. A stunning vantage point to look out over the sea of tourists, decide on the next point of interest or just absorb the ambiance of this iconic landmark.
Pantheon.

Perhaps Rome's most perfectly preserved ancient monument is the Pantheon, built in 27 B.C.E.  Once a Christian church, it's the burial place for Italy's royalty as well as the artist Raphael. There's no admission fee or dress code so all visitors can enjoy the still-colorful murals, towering religious statues and the oculus that allows daylight to illuminate the interior of this sacred building.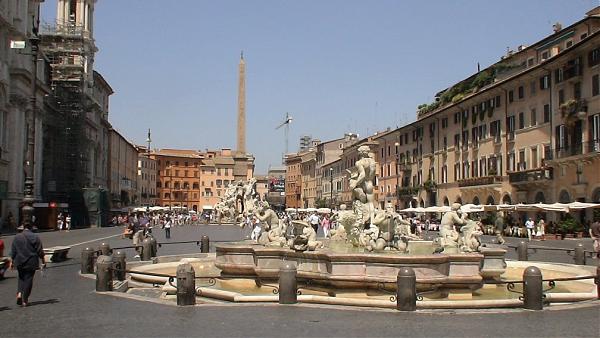 Piazza Navona.

This not-to-be-missed piazza is close enough to the first three places to be included on a one-day walking tour. Piazza Navona is home to Bernini's much-photographed "Fountain of the Four Rivers" and a popular, centrally located meeting place for tourists and locals to just hang out.  Cafes and shops line the piazza making this a good end-of-the-day destination for a coffee and a freshly baked Italian pastry.
Coffee break time.

Crave a cappuccino? Rome is dotted with busy, little coffee bars, most of which do not have seats.  Act like a local.  Walk in and pay at the register.  Head to the bar and the barista will read your coffee order from the receipt and almost immediately, it will appear.  Watching a barista at work is like watching a well-choreographed, fast-paced ballet.
If your legs haven't yet given out, add a fifth or sixth landmark to your walking tour. Explore the magnificent ancient ruins of the Colosseum or the sprawling 19th century square, Piazza del Popolo.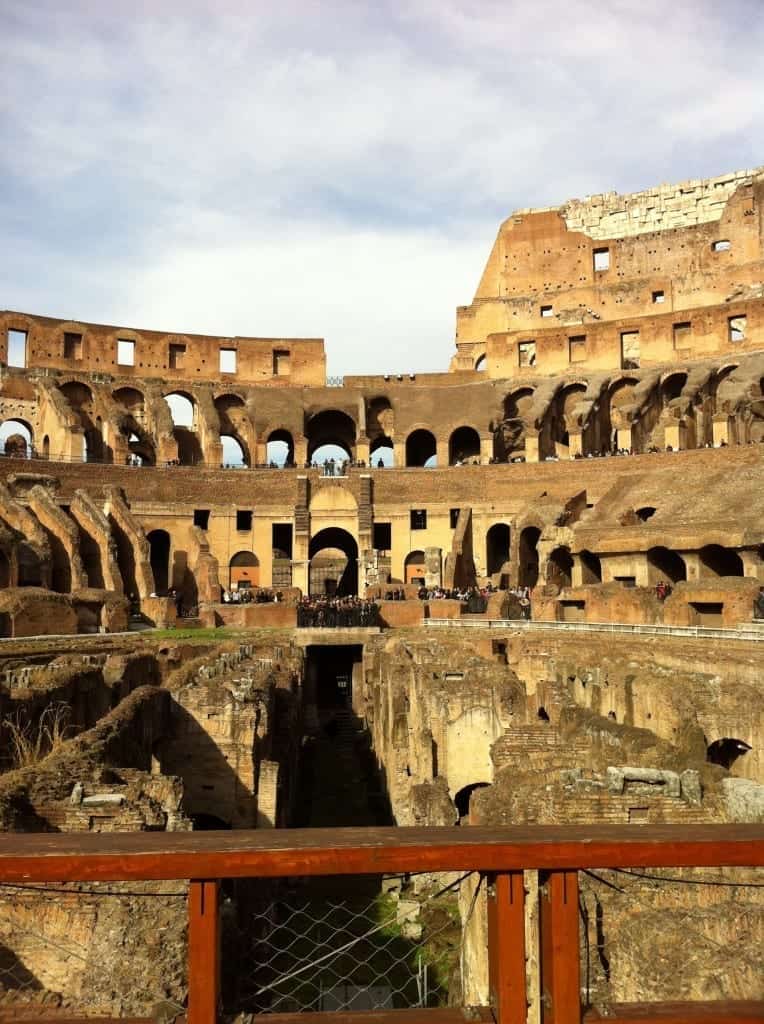 The Colosseum.

Designed for Emperor Vespasian in 72AD, is an engineering marvel.  It's a sight to behold and even more breathtaking and somewhere eerie, to explore.  Once, 50,000 spectators would watch and cheer as the Gladiators entered the ring to battle wild beasts, as well as each other.
Inside, visit the second and third levels to look out over the immense arena and the hypogeum; a maze of underground passages through which millions of beasts were shuttled to their doom. in   Some tours also include guided tours of the hypogeum.
If you plan to visit the Colosseum, it's important to prebook a tour so that you can skip the incredibly long lines of impromptu tourists. Check online for tour operators that offer "skip the line" admission.  Two such companies include Viator and Walks of Italy.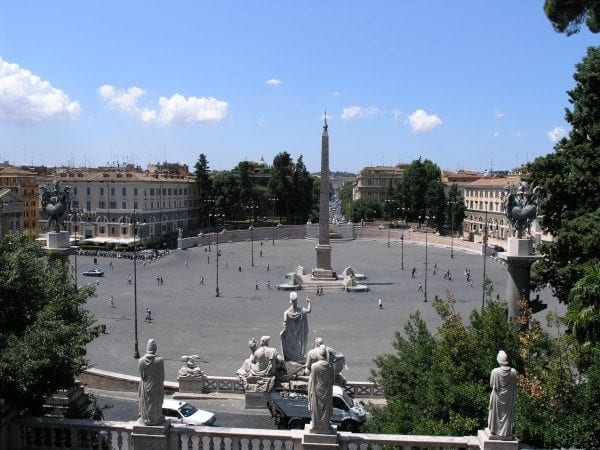 Piazza del Popolo.

This piazza may look familiar; it's been the scene-stealer in dozens of movies.  The most recent is Woody Allen's homage to the Eternal City, "To Rome with Love."  While the piazza was designed by Napoleon's architect, Valadier in the 19th century, the towering Egyptian obelisk dates from the 13th century BCE.   The 115-foot monument was relocated from Heliopolis to Rome under the reign of Emperor Augustus.  Walk around the square or just sit, relax and watch everyone else.
Perhaps the best-kept secret is hidden away at the north end of the Piazza del Popolo;  the Basilica of Santa Maria del Popolo.  Inside, you'll find several small chapels, two of which are an art lover's dream.  The Chigi Chapel, designed by Raphael, is home to several carvings and statues by Bernini.  The Cerasi Chapel displays two 17th century Caravaggio oil paintings:  the Conversion of St. Paul and the Crucifixion of St. Peter.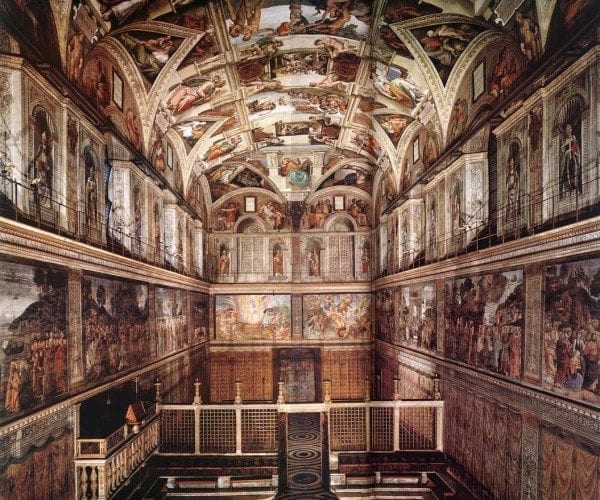 What about the Vatican?

Decisions, decisions.  If your main goal in Rome is to tour the Vatican Museum and grounds, then instead of a walking tour, hop into a taxi or take the subway to Vatican City, across the Tiber River.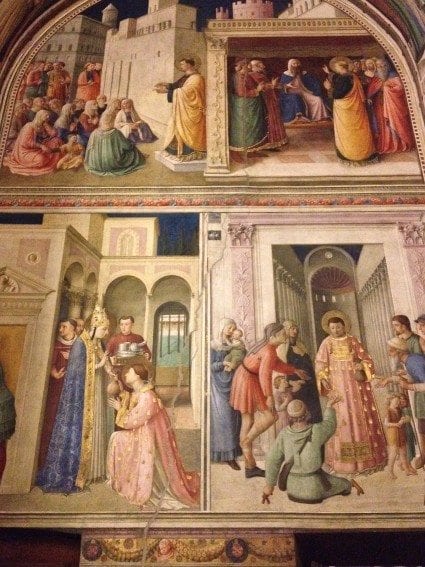 It would be impossible to see many of the iconic Roman antiquities and the treasures of the Vatican all in one day.  The Vatican Museum includes eight museums, art galleries and the Sistine Chapel.  A word of advice again: plan ahead and purchase your Vatican and Sistine Chapel tickets before you leave home.
In reality, one day or even a few days still isn't enough time to see, do, taste and sip your way around the Eternal City. But if you only have one precious day, it's possible to experience a taste of Rome that will linger in your memory for many years.
PIN AND SAVE!