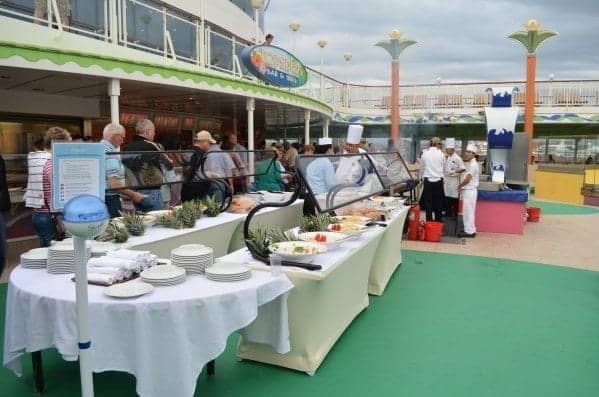 If you'd rather not catch this messy bug, here's what to know.
Being sick aboard a ship used to simply mean seasick. Not anymore. Norovirus, formerly Norwalk virus (from a gastroenteritis outbreak in 1968 at a public school in Norwalk, Ohio) seems to be in and out of the news year-round.  No one likes to sensationalize a cruise ship passengers plagued by this gross virus more than the media.
Cruise lines issue Code Red, a term used when at least more than five people become ill over five consecutive days. These actual numbers to qualify for a Code Red may vary with each cruise line.  According to the CDC, somewhere between 19 and 21 million people in the U.S. contract the norovirus each year.
Don't blame the cruise line.
If you think the cruise line is at fault, consider this.  In order to board a cruise ship, passengers must complete a health questionnaire that asks if they have had symptoms such as vomiting, diarrhea, fever or sore throat.
Many cruise guests have either flown or driven a great distance and spent a lot of money for their cruise.  Do you think anyone might actually not tell the truth on that form? A "yes" answer may required medical exam by the ship's physician prior to boarding or denial of boarding. So yes. People lie. And people don't purchase travel insurance, either.  Guess what spreads like wildfire once the ship is underway? Norovirus. Ship's fault? Not hardly.
What some of the cruise lines do in anticipation of norovirus carriers coming onboard?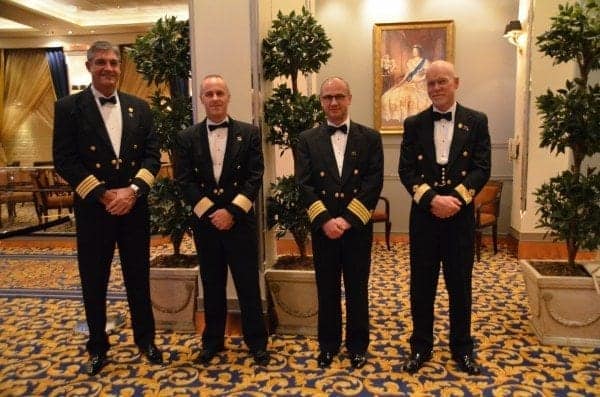 Cunard and Holland America Line: No handshaking at any of the "meet the officers" parties.  Signs are posted at the ballroom or lounge entrances.
Holland America takes a preemptive strike and for the first two days of every voyage on every ship, none of the passengers can serve themselves at the Lido buffet.  Serving utensils are turned with the handles away from the guests and only waiters stationed generously throughout the serving line, can dish up the grub.
What you can do to avoid norovirus on your next cruise?
1. WASH YOUR HANDS. This not only helps to prevent YOUR spreading the virus to others but will also help to fend off the bug for you. 20-seconds of scrubbing (sing the Happy Birthday song; it's about 20-seconds) with hot water is sufficient.
2.  DON'T TOUCH RAILINGS, ELEVATOR BUTTONS AND CERTAINLY NOT BATHROOM DOOR HANDLES. Any surface that people slide, grab or touch is the enemy.
3.  STATEROOM SAFETY.  Wash your hands immediately upon returning to your stateroom.  Who knows who might have inadvertently touched the corridor door handle or what you might have accidentally touched en route to your stateroom. Don't spread norovirus in your own space.
4. AVOID THE BUFFET.  Why? The buffet is a huge contender for spreading norovirus.  Before the outbreak is noted by the ship, utensil handles aren't yet reversed. I've seen people cough into their hands and then grab the serving spoon. I leave the buffet line without hesitation.  Sometimes hot food gets warm (especially if it's towards closing time).  Breeding ground for the virus and bacteria.
5. USE THE HAND SANITIZERS IN ADDITION TO THOROUGH WASHING.  You wash your hands before leaving your stateroom but without realizing it, touch a railing on the stairs or an elevator button.  Always use the hand sanitizers.  Carry your own, too, because once seated in the dining room, the menus and chair arms can be contaminated.
If it sounds like I'm a bit paranoid, I am.  I have friends who have experienced this debilitating bug and it sounds like no fun at all.  And it's no fun for the crew either.  When an outbreak occurs, there is a 24-hour sanitizing procedure in place every day until it's under control.  No rest for the weary.
The next time you hear or read about an outbreak of norovirus on a cruise ship, realize that it isn't totally the fault of the ship or the cruise experience. In my opinion, ignorant or self-entitled passengers are the main cause for spreading the illness.  While many crew members stationed at restaurants do try to spritz everyone's hands, they are not policemen/women.  Guests sneak past thinking they don't need it and so it goes.
Of course, even the most cautious of cruisers (like me) are prone to the virus.  But if an ounce of prevention is worth a pound of cure to avoid norovirus, I'm all for it.