Queen Mary 2 refurbishments scheduled for 2016.
The older you get, the faster time goes by, or so it appears. It seems like yesterday when the Queen Mary 2 went into drydock for refurbishment. In reality, the last refit was in November 2011.
News from Cunard is that the Queen Mary 2 will undergo an extensive 25-day dry dock refurbishment in Hamburg, Germany from May 27 – June 21 2016.
Cunard did their due diligence and determined what is important to guests, especially moving forward over the next few years. Aside from refreshing all of the staterooms and many public areas, Cunard listened to suggestions from their guests and are doing the following: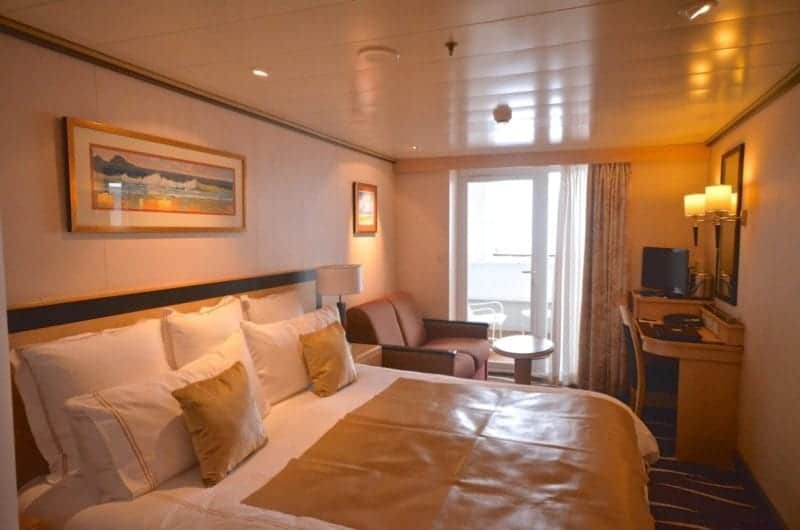 Solo staterooms
For the first time, 15 single passenger staterooms will be added during the refit. Word isn't out yet what categories will be included but let's hope for at least a few with balconies.
Britannia Club
Guests who prefer a bit of ooomph without the cost of the Princess or Queen's Grill ultra-luxe staterooms, opt for the Britannia Club Balcony Staterooms. All these staterooms are the same dimensions as the "regular" balcony staterooms but Britannia Club guests have a separate dining room with open seating.
Due to popularity, 30 additional Britannia Club Balcony Staterooms will be added. Their dining room will also be expanded.
More kennels!
It's so much more humane to cruise the Atlantic with your pet than plunk it into the hold of an airplane to cross the ocean. Currently there are twelve kennels, six large and six smaller-sized that accommodate either dogs or cats. And they sell out two to three years in advance.
With this refurbishment, ten additional kennels will be added. Yes, there's a dedicated Kennel Master who takes care of the animals (maybe they'll need two Kennel Masters by next year), takes the dogs outside to get fresh air and go potty and feeds/cares for them on the voyage. And yes again, owners are invited up to deck 12 to hang out with their pets at designated play times.
To keep the canines happy, Cunard will install a lamp post and a fire hydrant on the area of deck reserved for dog walking. Original idea? Sort of. This idea was a feature of the kennels on Cunard's QE2, and first introduced on the Queen Mary at the suggestion of The Duke of Windsor. Corgies, you know.
With an eye to the detail that differentiates Cunard, both a lamp post and a fire hydrant will be installed on the area of deck reserved for dog walking as part of the kennels development.
From Richard Meadows, president, Cunard North America, "Queen Mary 2 is an icon in the world of luxury ocean travel. A ship that turns heads everywhere she goes, she is the pride of the Cunard fleet and we are committed to ensuring her reputation grows ever stronger."
This is only the beginning. More announcements are forthcoming in the next few months. Stay tuned.

I'm the editor and creator of CruiseMaven.com, a solo traveler cruising the world on waves and wheels, collecting recipes along the way.  I hope my articles and photos entertain, advise and inspire you to travel the world without flying.  Take a breath…stop for a local meal and a glass of wine along the way.