Queen Mary 2 on historic voyage from New York to Southampton.
Where does the time go? It seems like only yesterday I anxiously embarked on my first Queen Mary 2 transatlantic crossing, from Southampton to New York City. It was June 2005 and at that time this grand ocean liner, built to handle north Atlantic crossings, completed the voyage across the north Atlantic in six days, instead of the current seven sea days. Cunard Line's Queen Mary 2 was a mere one and one-half years old.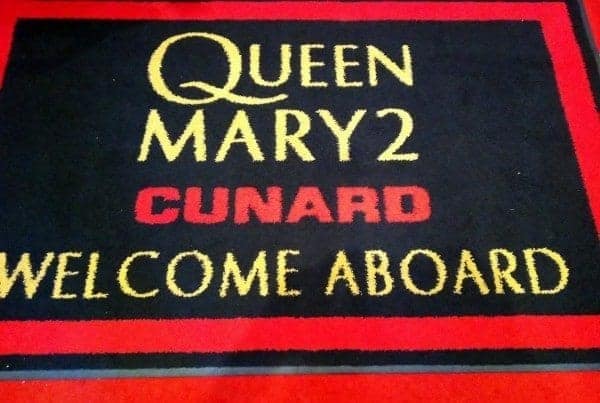 This week's 200th milestone voyage began as the Queen Mary 2 sailed past the Statue of Liberty and gingerly passed beneath the Verrazano-Narrows Bridge. During the voyage, keynote speakers will present talks about the ship's design, as there'll be special Big Band performances, culminating with a celebratory Gala Dinner just past the halfway point of the journey.
Queen Mary 2 is the largest, longest, tallest, widest and most expensive liner ever built. Today, she is the only true ocean liner in service and is the fastest passenger ship in the world.
In the course of Queen Mary 2's 200 transatlantic crossings, Cunard Line estimates that a half-million passengers have consumed 8.4 million cups of tea; 980,000 scones; 481,000 bottles of champagne; 644,000 eggs; and 253,605 gallons of milk. In total, 22.4 million meals have been served over 600,000 nautical miles. And how much kibble, I wonder…
If you want to bring Fido along with you, no problem. The Queen Mary 2 is the only ship with kennel facilities. And not just any kennel. This one has a designated Kennel Master who lords over the pampered pooches, lets them out to play on their secured deck space and makes sure they are fed and happy. The dogs' owners are encouraged to participate in the 2-3 daily play times and visit whenever possible. To date, over 1,000 dogs have made the crossing with their owners.
"As each year in service passes, Queen Mary 2 becomes even more special and we will continue to celebrate and cherish her milestones and history," said Peter Shanks, president of Cunard Line. "Looking at Cunard's earlier Queens, Queen Mary crossed the Atlantic 1,001 times, Queen Elizabeth crossed 896 times and QE2 crossed 812 times. Queen Mary 2 achieved the milestone of 200th in this, her ninth season, and has many seasons and crossings still ahead!"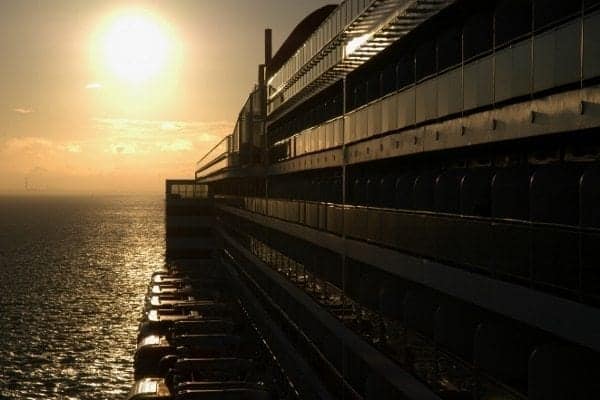 "Queen Mary 2 embodies the attributes of a true liner, including reserves of stability and deep draught. Combined with her great size, these attributes ensure that the ship can achieve a level of Atlantic sea-keeping superior to any other liner in history," said Stephen Payne OBE, who was largely responsible for the overall design of Queen Mary 2. "No other passenger ship is as much at home on the North Atlantic as Queen Mary 2." Payne is onboard to give presentations on the building of the Queen Mary 2.
Also speaking during the milestone Crossing is BBC newsreader and Classic FM presenter Nick Owen; and getting into the swing of things are a dozen musicians, plus a band leader and vocalist from the world-renowned Juilliard School of Dance, Drama and Music. The group is performing as a jazz orchestra, providing a selection of Big Band, Swing and Glen Miller style music and smaller ensemble pieces. They will perform at an evening event in the Royal Court Theatre with full orchestra and vocalist, an afternoon tea dance, lunchtime jam sessions featuring an ensemble in the Chart Room, and a late evening ensemble in Illuminations. In addition, two jazz masterclass talks and a Q&A are being held with the bandleader and members of the orchestra.
"Every Crossing has its moments, as no two are ever the same," commented Queen Mary 2 Hotel Manager Robert Howie. "The beauty of transatlantic crossings is the elegance of our guests, the fact that you seem transported back in time, and even the unpredictability of the weather."
Howie continued, "Guests marvel at how the ship handles the varying weather and this is when Queen Mary 2 comes into her own, performing at her best – it's what she was designed for. All of us who work on board feel immense pride when she is acknowledged throughout the world with fantastic arrivals and departure celebrations. No other ship in the world has that recognition."
I totally agree. I still get goose-bumps when my taxi pulls into either pier when I'm about to set out on another transatlantic crossing. The ship is simply amazing. Now that it takes seven days to make the crossing (saves fuel, adds to onboard revenue) there's more time to explore every nook and cranny plus there are more onboard activities. There's nothing like this ship in rough seas – she glides through 30-foot seas as if it were a mill pond.
This year, I'll set out on my fifth Queen Mary 2 crossing. Try to find a week in your lifetime to experience a transatlantic crossing on the Queen Mary 2. It's throwback travel at its best; slower, easier, stress-free.

I'm the editor and creator of CruiseMaven.com, a solo traveler cruising the world on waves and wheels, collecting recipes along the way.  I hope my articles and photos entertain, advise and inspire you to travel the world without flying.  Take a breath…stop for a local meal and a glass of wine along the way.