Little Azamara Club Cruises is big on inclusive amenities.
I've known Azamara since it began as Azamara Cruises, a two-ship boutique cruise line. Everyone asked what does "Azamara" mean – and basically it's a made up name combining azure (like the color blue) and mar (as a derivative of  "sea"). There's also a reference to the star, Acamar, the lowest star in the southern hemisphere.
A couple of years later, the name expanded into Azamara Club Cruises and a brand was born.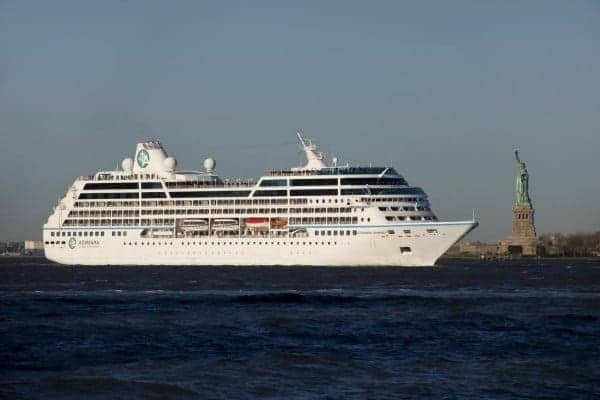 I was onboard the Azamara Journey on the very first sailing when the semi-all-inclusive concept began. While cappuccino and espresso were complimentary, there was confusion as to whether or not the specialty teas were included. Within minutes, it was confirmed, yes, of course, it was included as was bottled water, select wine and beer. This was only a little over three years ago.
Today, this upper-premium cruise line was named the third best large-ship cruise line by Travel and Leisure magazine, just behind Crystal Cruises and Regent Seven Seas. That's pretty impressive.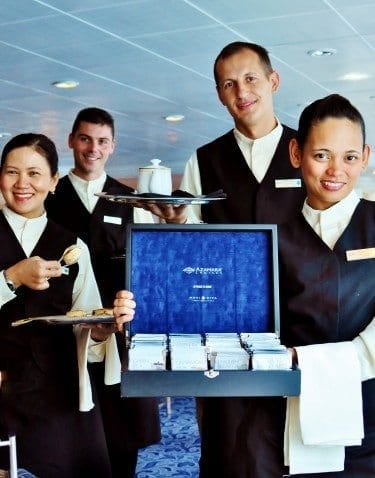 What I think is cool is that Azamara has created its own niche. Their two beautiful ships still offer guests unlimited bottled water, soft drinks, specialty coffees and teas. Now, wine and beer are offered at lunch and dinner, there's complimentary shuttle service to and from ports to a city center (some cruise lines charge a small fee to bring guests to the city center, when they have to dock in an industrial area). Quality wines from around the world are poured at lunch and dinner. There's even self-service laundry (comes in very handy on longer cruises).
Azamara is focused on the destinations and cultural immersion in all of their ports of call. Plus, they now claim to stay longer, spend more overnights in port and offer more evening tours than any other cruise line. Considering that they cruise to some very exotic locales, this became a huge investment by the cruise line to deliver on their promise. And they have.
Beginning this past spring and once on every cruise, Azamara guests are treated to a very precisely-planned, unique shore-side event. Called AzAmazing Evenings, guests are transported from the port to the private location of their exciting event.
On one of Azamara Quest's Mediterranean cruises this fall, the special event will take place high above the Ionian Sea in the ancient town of Taormina, Sicily, dating back to 345 B.C.E. A Sicilian-style banquet awaits at the looming Castello di San Marco, a restored castle from the 17th century. Not your typical tour bus banquet dinner, this one is a private poolside Italian extravaganza. Those curious are free to walk through the grounds and winding passageways and then return to dine on Sicilian cuisine, regional wines, fresh cheeses, fruits and much more. After dinner, guests will be entertained with live Sicilian music and traditional dance performances.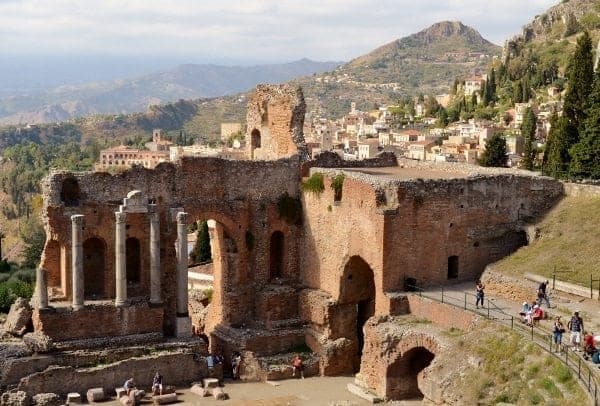 I mentioned this particular AzAmazing Evening because Taormina is a very special place in the Mediterranean. Imagine an evening spent in the hillside town of Taormina, overlooking the sea and watching the lights of the city below, as your AzAmazing Evening begins.
If longer port stays, overnights and a fabulous shoreside evening event appeal to you, then you would enjoy Azamara Club Cruises. With less than 700 passengers, two elegantly appointed modern ships and the nearly all-inclusive concept (you'll still pay for the regular shore excursions) Azamara Club Cruises has come a long way in the last few years.
Photo credits: Sherry Laskin except ship in NYC, Azamara Club Cruises.
I'm the editor and creator of CruiseMaven.com, a solo traveler cruising the world on waves and wheels, collecting recipes along the way.  I hope my articles and photos entertain, advise and inspire you to travel the world without flying.  Take a breath…stop for a local meal and a glass of wine along the way.