What's a Transatlantic Cruise Really Like?
Welcome to my world on a transatlantic crossing aboard the Queen Mary 2, where each day seems to flow into the next. There aren't any ports. You're a captive audience.
So why do the six days and seven nights at sea seem to so quickly pass into each other? Let me help unravel the mystery of the missing days on a transatlantic crossing.
After a rainy, early evening departure from Brooklyn, Queen Mary 2 sailed out into the Atlantic, passing the Statue of Liberty and barely scooting underneath the brightly lit Verrazano Bridge. We were on our way.
A little history to get you up to speed. Cunard Line goes back over 180 years when Samuel Cunard began the first regularly scheduled transatlantic crossings. The old steamships took weeks and weeks.
Board Queen Mary 2 and one week later, you'll arrive in Southampton. Six days of isolation. Or six days of activities, fresh sea air, entertainment, the option to meet new people and try new cuisine. It all depends on how you look at it.
Traditionally, I unpack right away, get familiarized with the ship, figure out where my cabin is in relation to the nearest outdoor exit (another inside cabin this time) and head down to dinner.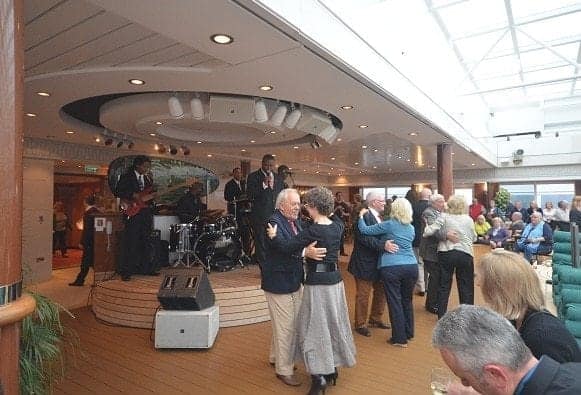 Even though this isn't the Caribbean, there was a Caribbean band playing at sailaway at the glass-enclosed pool area.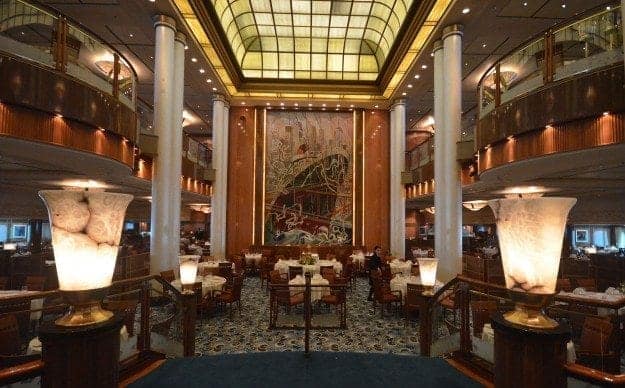 Dinner seating in the Britannia Dining Room is at 6:30 or 8:30 and I chose the latter. As a solo traveler, I usually start a cruise at the largest possible table.
By the middle of the voyage, I'm usually at the buffet or specialty restaurant at my own table. Last two nights, if my table companions were awesome, I'm back in the dining room.
Next morning is when the day count begins on Cunard; the first full day at sea is Day #1. It doesn't matter how many times you read and re-read the daily planner.
Unless you make a bold mark or use a highlighter pen for the event that you'd like to attend, you can't possibly remember everything there is to do.
On my last crossing I found out that Cunard offers a ship-your-extra-stuff-home service through DHL in Southampton. Even though I packed really light, I wouldn't need my long dress and a few other amenities any longer.
Sounded like a good idea until I checked out the price. Even with my past passenger discount it was still $257 to ship up to a 44lb suitcase back to Florida. Plus, I'd have to buy a new suitcase since they didn't furnish DHL boxes.
Guess I'll lug my extra clothes after all.
The Royal Court theatre is the venue for most of the days' lectures as well as the main evening entertainment. The late show at 10:30 consistently plays to a full house.
On the second night, the Cunard Singers and Dancers performed with a fresh new slant on the same old theme, "Rockin'/Dancin'/Singin/ thru the Ages." Well, you get my point. Good show.
Dinner in Britannia Dining Room was very good. The first two nights I enjoyed a variety of fish and salads. Third night, I decided to try the buffet. Something new has been added.
The Kings Court Buffet is divided into four sections, but only one area of the buffet is complimentary. The other four areas are divided into three specialty restaurants: Italian, Meat Carving and Asian or Indian.
Each requires a reservation and has a $10 service fee. Pretty reasonably priced and usually sold out every night.
To wrap up the first three days aboard our Queen Mary 2 seven-night transatlantic crossing, where did the time go? The service has been spot-on, the main dining room delivers the goods and the activities are non-stop, if you want to participate.
How was the weather? Days three and four brought 15' seas and gale force winds. Doors to the promenade deck were closed.
But the Queen Mary 2 seemed to glide through the water with amazing strength and stability. That's because the QM2 is the only purpose-built oceanliner (not a "cruise" ship) in the cruise industry, built specifically for the north Atlantic unpredictable seas.
And for even more fun, we advance our watches one hour ahead each day at noon. The first couple of days it really seemed wacky.
By the third day, you're in sync with the time shift and it actually seems easier than an overnight time change. Yes, you have 23-hour days on an eastbound transatlantic.
If you have never booked a Queen Mary 2 transatlantic crossing, it should be on your to-cruise list.
I'm the editor and creator of CruiseMaven.com, a solo traveler cruising the world on waves and wheels, collecting recipes along the way.  I hope my articles and photos entertain, advise and inspire you to travel the world without flying.  Take a breath…stop for a local meal and a glass of wine along the way.