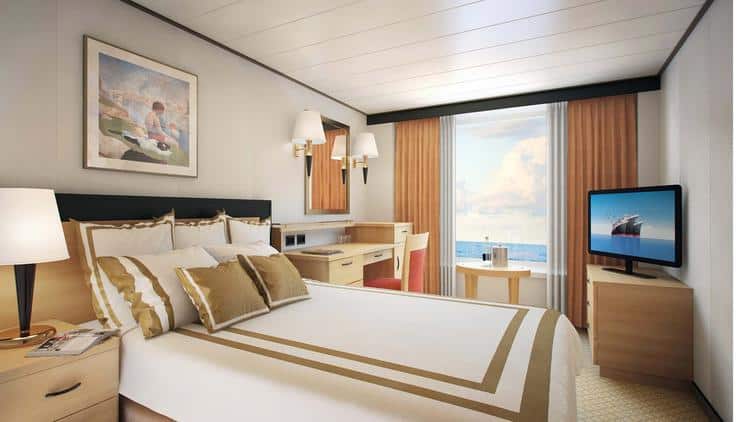 Solo travelers get their own staterooms after refit of Cunard's newest ship.
Many cruise lines are getting better in recognizing the fact that solo passengers are tired of paying double for a cruise. But, because it's all about the money, most cruise lines balk at adding too many solo staterooms for the fact that they'll lose the revenue for the second passenger.
Cunard Line recently announced that they are adding a handful of single staterooms aboard their 90,400 ton Queen Elizabeth, launched in 2010. This includes a total of nine new staterooms for single occupancy; eight oceanview staterooms and one inside stateroom.
Not only does the Queen Elizabeth sport an older demographic, there are also a good share of solo passengers, male and female. Nine new cabins may not sound like much, but it's a start.
Remember, without the 150-200% single supplement, there's bound to be a loss in revenue with solo staterooms, no matter what ship or cruise line. The new single staterooms are available for cruises beginning on December 16, 2014. Get acquainted with the Queen Elizabeth in this short video:
New stateroom features
According to Cunard's press release, the single staterooms will feature:
-Mid-ship location near the social areas of the Empire Casino, Royal Court Theater and Queens Room
-Single bed with generous width of over 47"
-Large windows (outside staterooms only)
As with all of their accommodations, these new staterooms will also include:
-24-hour room service
-Bathrobe and slippers
-Nightly turndown service with pillow chocolate
-Satellite TV with multi-language film and music channels
-Refrigerator, safe, hair dryer -Daily shipboard newspaper
-Half a bottle of Bon Voyage wine
-Fruit basket (on request)
-220V British 3-pin and 110V 2-pin socket
And the rates are…
I just checked single stateroom rates on the Queen Elizabeth, to get an idea as to what kind of pricing to expect.
On the first sailing of 2015, there's a four-night round-trip cruise from Southampton to Hamburg on January 6, 2015. The inside solo stateroom runs about $1,604* total and the oceanview is priced at $1,727* total. These are the rates displayed on their online travel agent area.
Oddly, the "regular" double-occupancy oceanview stateroom for a solo passenger (single occupancy) is at the same rate as the new solo oceanview stateroom. What's the difference? Location.
Remember, the new single staterooms are located mid-ship, while the least expensive double-occupancy oceanview staterooms are located all the way forward or aft and can even be on the very lowest decks. Plan on a bit of walking to get to the main public areas of the ship.
Would I try one of the new single passenger staterooms? You bet. There's nothing quite like being in a new stateroom with all new fabrics, carpet, upholstered goods and of course, Cunard's wonderful mattresses and linens.
*These rates are subject to change. Cruise rates rise and fall at what seems like random moments. Always check, or ask your travel agent to check from time to time for any price reductions.
I'm the editor and creator of CruiseMaven.com, a solo traveler cruising the world on waves and wheels, collecting recipes along the way.  I hope my articles and photos entertain, advise and inspire you to travel the world without flying.  Take a breath…stop for a local meal and a glass of wine along the way.