So you're going to take an Amtrak train trip! Good for you. I've put together this complete guide to help you plan your Amtrak train trip.
In this post, I'll share my Amtrak travel advice so you can plan your Amtrak train trip, all across America.
How to Plan Your Amtrak Train Trip
I've created this Amtrak planning guide to help you quickly find what you might need to plan your Amtrak train trip. I've done or used everything mentioned in this article, beginning when Amtrak came into existence in 1971.
Before You Go – Planning Your Amtrak Trip
While a train trip could be as simple as buying a ticket and boarding the train, being prepared has its perks. Whether you're going cross-country for fun or taking Amtrak to a cruise port, these tips will help you plan your Amtrak train trip. Helpful suggestions and not all just for newbies.
Best Tips for Your First Amtrak Train Trip
First time on Amtrak? Here are my top tips for your first ride aboard an Amtrak train, whether a day trip or overnight. Or maybe you've planned short Amtrak train trips and you're ready to travel on a long-haul overnight train.
If you've never purchased an Amtrak ticket, this is where you should begin. There are several ways to reserve your Amtrak travel and I explain all the ways to do it and get the best pricing and accommodations.
How to Bring Your Dog or Cat on Amtrak – Updated 2021
Yes, you CAN bring your dog or cat on Amtrak. There are certain rules that you must follow but it's all explained here.
Packing Tips for an Amtrak Overnight Trip
If you've never traveled on an Amtrak overnight train, you may not know the best things to pack, from clothes to necessities. And if you're going cross-country, it's even more important to know these packing tips.
29 Best Tips for Overnight Amtrak Train Trip
Beyond packing, here are my recommendations to make the most of your time aboard America's train.
Best Apps to Download Before Your Amtrak Trip
Yes, there are some apps that you should download before your train leaves the station. Here are the ones that I have on my phone…some are fun and others are more necessity.
How to Choose an Amtrak Sleeping Accommodation
Did you know that there are nearly a dozen different types of overnight sleeping accommodations on Amtrak? I've list all of them.
Pre-purchase Parking at an Amtrak Station
Take it from me…there's nothing worse that not finding a parking spot for your car and the train is due into the station in 15 minutes. Here's the list of Amtrak stations with nearby parking that you can prepay and guarantee the spot.
Don't Fly! Take Amtrak Trains to Your Cruise Port
Avoid flying and do what I do; take the train to my cruise port. My vacation begins when I step onto the train not at a crowded airport.
How to Get to Los Angeles Union Station from San Pedro Cruise Port
It's a bit confusing so I created step-by-step directions to get you from the San Pedro Cruise Port to L.A. Union Station.
What It's Like Onboard Amtrak Trains
If you've ever lived in an apartment, you know how annoying it can be if you have obnoxious neighbors. Sometimes people don't even realize they're bothering someone. The same courtesies apply to train travel. Plus, information about what you can expect when you're onboard the train. All to help you better plan your Amtrak train trip.
Complete Guide for Amtrak for Coach Passengers
Complete Guide for Amtrak Sleeping Car Passengers
Amtrak Train Trip Reviews
Want to know what it's like to travel on the train from Los Angeles to New York? I've traveled many times on nearly every train route on the Amtrak train system. And I love taking photos of the scenery and train stations to share with you.
Across America Aboard Amtrak Southwest Chief
Silver Star Without the Dining Car
Amtrak Coast Starlight from Los Angeles to Seattle
Aboard the Capitol Limited Superliner from Washington D.C. to Chicago
Riding the Rails from Florida to New York
From Florida to Boston for a Holland America Cruise
Please check back to this list of articles to plan your Amtrak train travel. I'm always adding more helpful advice and tips.
Please Pin and Share!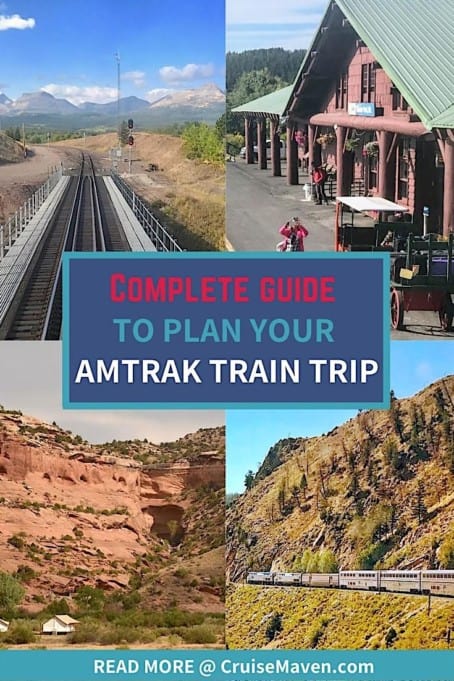 I'm the editor and creator of CruiseMaven.com, a solo traveler cruising the world on waves and wheels, collecting recipes along the way.  I hope my articles and photos entertain, advise and inspire you to travel the world without flying.  Take a breath…stop for a local meal and a glass of wine along the way.