Behind all the lace and schnitzel in Salzburg, hides the sweetest treat in Austria; Mozartkugel or commonly called Mozart Balls.
Affectionately known in English as "Mozart Balls", these little chocolaty delicacies delight the tourists and are a source of pride for Austrians. Confectioner Paul Fürst from Salzburg was the creator of the very first Mozartkugel, originally called Mozartbonbon, in 1890.
Fürst headed to Paris to attend a conference in 1905 and brought his creation with him. It was here that his sweet treat gained notoriety by winning a gold medal in a confectioners' competition. When Mozartbonbon returned to Salzburg, the name was officially changed to Mozartkugel and the rest is candy history.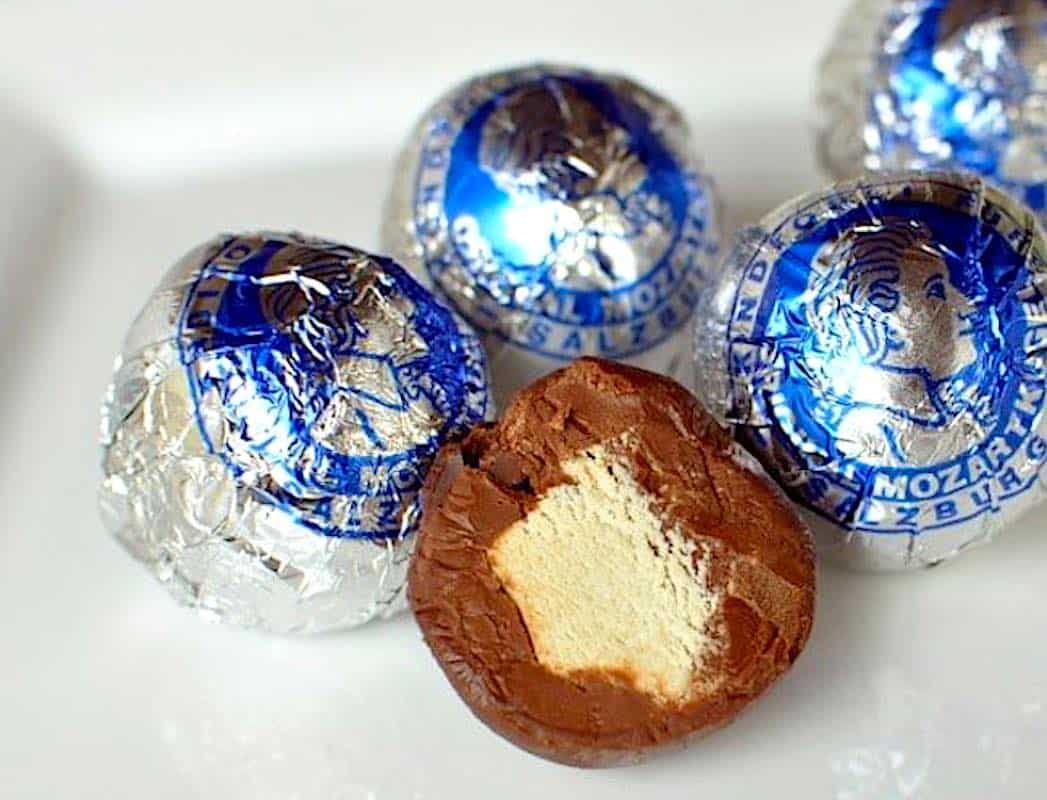 What exactly is a Mozartkugel?
Fürst's claim to fame was his invention to produce a totally round confection without the typical flat bottom found on typical chocolate candy. His Mozartkugel began with a ball of green pistachio marzipan covered with a layer of nougat. Next, he inserted a small wooden stick into the ball and dipped it into dark chocolate to coat. The base of the stick was placed into a cooling platform with the ball on top so that the chocolate coating would harden.
Once set, the stick was removed and the hole left behind was filled with the same chocolate coating. Then the cooled chocolate ball was hand-wrapped in silver and blue foil and was now ready to sell.
Sadly, Master Confectioner Paul Fürst never obtained a trademark for his Mozartkugel. With growing popularity and automation, candy companies jumped into the Mozartkugel business hoping to reap some of their own profits. Today in Salzburg, there are four Fürst confectionery shops scattered around mostly tourist area, each having lines of customers waiting patiently to buy a bit of chocolate history. The Fürst company still makes their Mozartkugel by hand and is the only confectioner allowed to advertise as the "Original Mozartkugeln." Although several other companies claim to duplicate the same recipe as Paul Fürst, they cannot use the phrase, "Original Mozartkugel" in their advertising.
Today, the Fürst company claims to produce approximately 1.4 million Mozartkugel each year, using the same hand-made techique as their founder. When you enter one of their shops, you'll notice that the air conditioning is quite cool. This gives a shelf life to the Mozartkugel of about eight weeks. Not that anything sits that long in their store, but it adds to the length of freshness for transporting home by tourists.
Here's a little secret. When you're in the shop, you'll notice two different colors of foil wrappers; one is blue and silver and the other is gold and red. According to the explanation given to me, the blue and silver wrapper contains the original, hand-made chocolate ball. The gold wrapper contains a mass-produced version using the same recipe. Naturally, the silver-wrapped chocolate is a bit more expensive. Can you taste the difference? I couldn't. But when it came time for me to place my order, I asked for the silver and blue Mozartkugel. I didn't travel all the way to Salzburg to bring home a knock-off!
Note: The day trip to Salzburg from Vienna is a shore excursion offered by most of the river cruise lines, including Uniworld River Cruises and AmaWaterways on a Danube river cruise.
I'm the editor and creator of CruiseMaven.com, a solo traveler cruising the world on waves and wheels, collecting recipes along the way.  I hope my articles and photos entertain, advise and inspire you to travel the world without flying.  Take a breath…stop for a local meal and a glass of wine along the way.