After a ship is refurbished and renovated, what does the cruise line do with the leftover and replaced art items? In the case of AmaWaterways, they donate the artwork to Kiwanis International for a charity auction.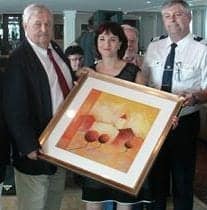 River cruise line AmaWaterways has donated the entire onboard art collection from its recently renovated ship, the AmaDagio, to the Avignon chapter of Kiwanis International. The artwork, which will be auctioned off to raise money for local children's charities, was ceremoniously handed over at a special reception aboard the AmaDagio on Saturday, August 4, 2012.
"One of the main reasons we started this company 10 years ago was to provide enriching experiences that bridge different cultures and bring people together," said Kristin Karst, AmaWaterways' executive vice president and co-founder. "Over the years, we've established a warm relationship with the townspeople along our European routes and we're very excited to now have this opportunity with the beautiful city of Avignon."
AmaWaterways has operated in southern France for several years and the 150-passenger AmaDagio cruises exclusively in the Rhone River Valley. Recently, the company opted to replace the ship's existing artwork with reproductions of Vincent Van Gogh's paintings, in honor of the artist's lifelong love of Provence.
"The AmaDagio's former art collection included a number of lovely, high quality paintings," explained AmaDagio's Hotel Manager Luis de Sousa Marques. "We thought it was a wonderful opportunity to make a positive contribution to the local community, and the Kiwanis club in Avignon generously agreed to auction off the collection to benefit worthy children's charities."
The AmaDagio event was attended by about 40 guests, including local dignitaries and city officials, the Italian Consul in the Department of Vaucluse, AmaDagio Captain Louis Devaux, members of Kiwanis France and local print/broadcast media. Karen Argonza, representing AmaWaterways US headquarters, was also on hand for the festivities.
Attendees were treated to a VIP tour of the ship's facilities, cocktails, and remarks from AmaWaterways Director of European Operations Leonardo Starico, Kiwanis d'Avignon President Jacques Cambuzat and other local officials and dignitaries.
"Kiwanis International is a global organization of volunteers dedicated to changing the world, one child and one community at a time," Mr. Starico said. "AmaWaterways is proud to be associated with such a dedicated and respected organization, and we look forward to an ongoing and rewarding relationship with the citizens of Avignon."
I'm the editor and creator of CruiseMaven.com, a solo traveler cruising the world on waves and wheels, collecting recipes along the way.  I hope my articles and photos entertain, advise and inspire you to travel the world without flying.  Take a breath…stop for a local meal and a glass of wine along the way.