In celebration of the continued re-airing of Norwegian Cruise Line's "Undercover Boss" episode featuring CEO Kevin Sheehan, the company is showing its appreciation to the more than 35 million viewers who have watched the episode's two airings on the CBS Television Network.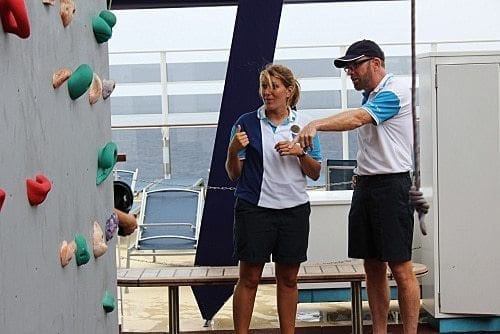 More recently, the Norwegian episode has aired on The Learning Channel (TLC) and the Oprah Winfrey Network (OWN) and will re-air on TLC this Saturday, August 18 at 8 and 11 pm EST. The show has also aired in dozens of countries around the world, providing for a global audience.
To thank all those who have sent letters expressing their fondness for the show, Norwegian is offering "The Boss is Back" promotion giving all those who book a cruise on Norwegian Epic or Pride of America between today and August 19, 2012, up to a Norwegian Celebrates "Undercover Boss"/2 $200 on-board credit per stateroom plus reduced deposits on all cruises of three days or longer, courtesy of "The Boss."
"I learned so much during my Undercover experience. Even now, more than a year later, I continue to be humbled and appreciative of how our crew makes every day memorable for our guests," said Sheehan. "I've also continued my Undercover journey by making a point of visiting all of our ships on a regular basis."
Just this year, Sheehan has visited nine of Norwegian's 11 ships and has personally met thousands of crew members and guests. He has placed a major focus on crew welfare and training and has introduced many initiatives based on feedback he receives during his visits. Most recently, the company has introduced enhancements that will allow crew to better communicate with family and friends around the world. The company is expanding bandwidth for crew, along with lowering telephone and internet rates, making it easier and more affordable for crew to keep in touch with their families.
"My mission since filming "Undercover Boss" has been to listen to our crew and make adjustments to ensure that they have the appropriate tools to do their jobs, feel appreciated and, very importantly, can keep in touch with their families and friends while onboard."
The episode originally aired in 2011 on the CBS Television Network and featured Sheehan who finds himself in uncharted territory aboard both Norwegian Epic and Pride of America when he's asked to lead nearly 1,000 party-goers in a line dance, and is later forced to reveal his true identity after being recognized by a crew member.
"Every time the episode airs, I receive a flood of emails from guests who tell me how much they loved the episode and how much they are looking forward to cruising with us," added Sheehan.
In addition, Sheehan will take questions via Twitter during the dates of the promotion. From today through August 19, tweet questions or comments to @CruiseNorwegian using the hashtag #TheBossisBack and look for responses from Sheehan.
I'm the editor and creator of CruiseMaven.com, a solo traveler cruising the world on waves and wheels, collecting recipes along the way.  I hope my articles and photos entertain, advise and inspire you to travel the world without flying.  Take a breath…stop for a local meal and a glass of wine along the way.