There are three basic facts to know about me with no uncertain terms. One: I travel a lot. Two: I'm certainly not getting any younger. Three: I pack some unusual things.
I try to pack in anticipation of a certain comfort and safety level and I'll kick myself if I forget any of these items.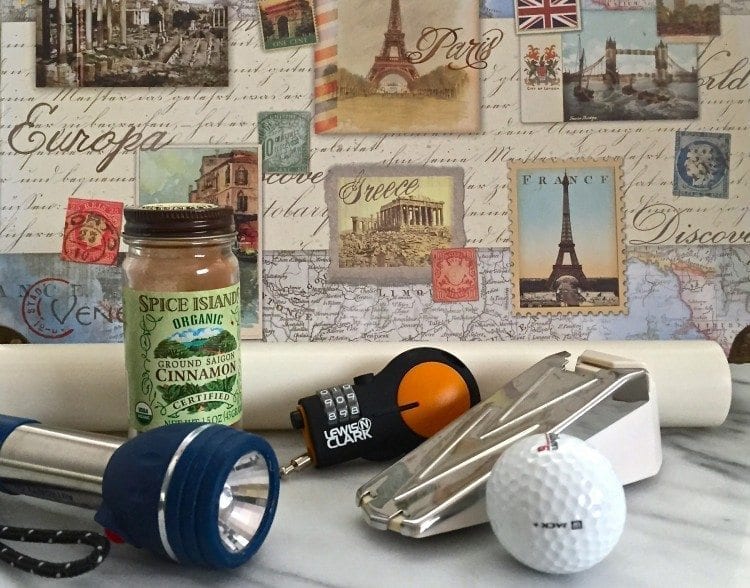 Unusual Things to Pack for a Cruise or Land Vacation
My travel adventures involve walking tours, overnights in various hotels, climbing among the ruins, exposure to people coughing and sneezing in small enclosed areas (pre-pandemic) and trying to avoid losing my possessions.
While I don't plan to handcuff my carry-on luggage to my wrist, my "new" travel item (during and post-pandemic) will include face masks, just in case. Plus, they help against the flu, colds and other vacation-ruining viruses.
However, again…not including pandemic-issue face-masks (personal choice), I always suggest these six unusual things to pack. They're all super lightweight, small and practical. And a little quirky.
Six Odd Things to You Should Always Pack for a Trip
Starting from the back row in the photo above…
1. PVC "Pipe"
No, it's not to clobber an obnoxious street vendor selling selfie sticks in Rome. Nearly weightless, a small PVC pipe is the perfect solution to sore feet after climbing/hiking/walking streets or countryside here or abroad.
The pipe is actually one of the legs to an old plastic shelving unit that was sitting in my garage. I had returned from an unusually long neighborhood walk and was in dire need of a foot massage. As I was rummaging around my garage looking for something else, I saw eight of these poles lying around next to the unused shelves. Hm…
How to use it? With or without socks, sit in a chair and roll it under both feet. This immediately starts to work on the flat areas of your feet and somehow slowly you feel the stress of the day dissolve. But what about the smaller areas of your feet? Here's item #2.
2. Golf Ball
After using the plastic roller, place the golf ball under the arch of your foot and slowly roll the golf ball towards your toes and then to the heel. It's a little tricky and the tiny ball likes to scoot away to roll under the nearest bed frame. Once you get the hang of it, you'll never travel without one.
3. Flashlight
I always pack a small flashlight (with fresh batteries) and keep it on the nightstand next to the bed, whether at a hotel or on a cruise ship. Of course all of our mobile phones have a flashlight app on them, but in an emergency, why burn up the charge on your phone?
4. Locking Cable
I can't tell you how many times this little locking cable has come in handy. First, if you take trains through Europe and your suitcase is too large to hoist into the overhead, this small item is essential.

Here's what I do. Be one of the first passengers to board your train car. Quickly scout the luggage bin near the doorway so that you can slide your suitcase into a spot that's next to a steel support post. Attach the cable.
I like to assume that everyone is honest. However, there's always a chance at a station stop, a passenger might accidentally leave with your suitcase.
Or, while the train is stopped, someone boards the train as soon as the doors open and grabs whatever suitcase is within easy reach. I've seen this happen in Europe.
Unless your assigned seat is right at the sliding glass doors that separates the seating area from the luggage and boarding area, it would be nearly impossible to run after someone who's just made off with your luggage.
This skinny steel cable extends about 3-feet, plenty of length to put through your suitcase handle and around a post. No post? Cable it to the grating that the luggage sits on or even your second suitcase's handle. It's pretty difficult to dash off of a train while fumbling with two suitcases.
I also use this locking cable when I'm in transit, for example, while waiting in a train station and I'm reading and not paying attention to my luggage. The cable simply slides through both suitcase handles, maybe on the top and a side handle. Good luck to the thief trying to make a quick getaway.
5. Door Alarm
Whether in a hotel in a big city, a highway motel on Route 66 or a cruise ship stateroom, this easy-to-use door alarm adds another level of security beyond the turn-lock or a flimsy chain.
I've had one too many uncomfortable encounters on cruise ships with a crew person on a routine delivery in the afternoon (like a surprise plate of chocolate strawberries) or a maintenance person checking the air conditioning.
Yes, they knock. But sometimes you're in the shower, listening to music or indisposed and can't hear or reply to the knock at the door. Suddenly, there's someone in your stateroom, albeit for a legitimate reason, that you simply did not expect to be there.
Then there's also the fact that certain hotel and cruise staff have pass keys. While many hotels, especially the major hotels in Europe, have a really sturdy secondary door-opening blocker-gadget, most regular hotels and cruise ships do not.
Simply place the door alarm wedge right up to the edge of the closed door. Should someone try to enter, as soon as the bottom of the door touches the silver plate, the alarm sounds. Just remember to turn the switch to "off" when you answer the door. It's a eardrum-bursting decibel level. And always remove the battery while you're in transit and the door alarm is packed in your luggage.
6. Cinnamon (and Vitamins)
What? Yes, cinnamon. I was on a river cruise, sitting at the dining table with a random group of women, all in their 80's and one 90-year old. Everyone told me that they either traveled with cinnamon or took a cinnamon pill every morning.
Apparently, it's a tremendous boost to your immune system. Or maybe it's simply a placebo effect. Nevertheless, these solo-traveling female octogenarians never left home without their cinnamon.
I sprinkle a bit into my cup before I pour the coffee. Cinnamon doesn't totally dissolve because of the natural oils in it. Just sprinkle it into a hot beverage or on toast or whatever. Tastes great in green tea, too. I also bring dried garlic and cayenne pepper with me.
However, THIS IS NOT MEDICAL ADVICE. Cinnamon may interact with some drugs so consult your physician before you travel.
What Unusual Things Do You Pack for a Cruise or Land Vacation?
I'm not trying to espouse homeopathic treatment for overworked tendons, bouts of paranoia or the common cold. The six unusual items listed here are always with me on my trips.
Note: Be sure to not pack the locking cable in your luggage. It doesn't work when it's inside your suitcase!
Happy and safe travels!

I'm the editor and creator of CruiseMaven.com, a solo traveler cruising the world on waves and wheels, collecting recipes along the way.  I hope my articles and photos entertain, advise and inspire you to travel the world without flying.  Take a breath…stop for a local meal and a glass of wine along the way.