Azamara Club Cruises gets a total makeover.
If you're not familiar with Azamara, I'm not surprised. They're a very small cruise line.
What started back in 2000 with the purchase of two small-size ships from Renaissance Cruises and a creatively made-up name, Azamara is now a world class cruise line, bordering between luxury and upper-upper premium.
With only 686 passengers and a crew that really makes you feel like part of a family, Azamara Club Cruises delivers a high-quality cruise experience. They were one of the very first, if not the first, to overnight in more ports and offer more in-depth shore experiences on every cruise. And once per cruise (except transatlantic crossings and cruises less than 7-nights), Azamara plans a complimentary immersive shore excursion entitled, Azamazing Evenings. In this photo below, we were treated to a performance of Three Tenors from Tuscany at the beautifully restored opera house in Livorno.
Even though their two ships, the Azamara Journey and Azamara Quest, were recently refurbished in 2012, Larry Pimentel, President and CEO promises a totally new Azamara, from stem to stern.
"As we continue to evolve our destination immersive offerings, we also want to ensure our onboard experience is modernized to meet guests' every need," says Larry Pimentel, President and CEO of Azamara Club Cruises. "We can't wait for our ships to come out of dry dock as these major upgrades are going to have an instant impact on our guests' experience. Each corner of the ships will have a new look and feel, setting a brighter, more contemporary ambiance, while the new venues will bring guests fresh experiences. We're also investing in new onboard innovations and have paid close attention to the smallest of details. We really are redefining our onboard experience in every way."
Who's on first?
Beginning in January 2016, the Azamara Journey will go into drydock in the Bahamas. Then in April 2016, sister ship Azamara Quest will take a turn at a total makeover while in Singapore. The upgrades include all staterooms and suites, dining, spa and entertainment.
To say the "Azamara Ships to Undergo Exciting Upgrades" is almost an understatement. Here's just a timeline snippet:
Suites & Staterooms – Details to be announced early July
Dining, Entertainment & Pool Area – Details to be announced early August
The Sanctum Spa – Details to be announced early September
Technology & the "Inspiration" Travel Area – Details to be announced early October
And here are the first photo renderings of what to expect in the Club Continental Suite and the Pan Asian restaurant: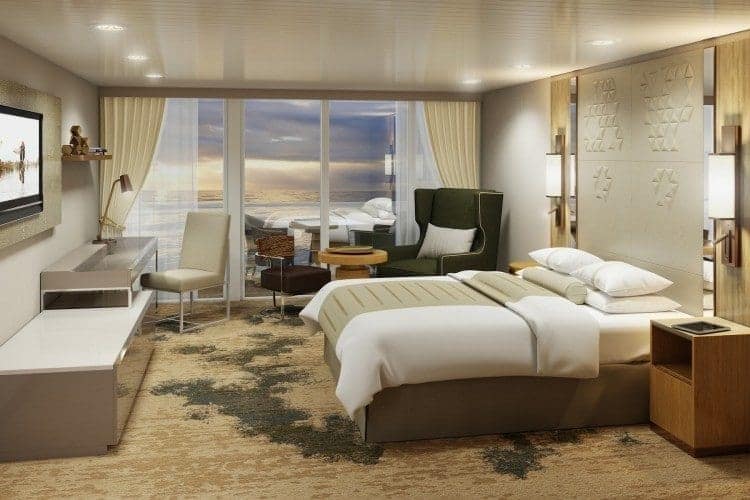 Follow along with #LoveTravel
As Azamara unveils more detailed information regarding its major upgrades, loyal guests and new voyagers can join in the conversation on the line's social media channels on Facebook, Twitter, Google+, Pinterest, Instagram using hash tag – #LoveTravel.
I'm the editor and creator of CruiseMaven.com, a solo traveler cruising the world on waves and wheels, collecting recipes along the way.  I hope my articles and photos entertain, advise and inspire you to travel the world without flying.  Take a breath…stop for a local meal and a glass of wine along the way.