New concept blends volunteer opportunities with a Caribbean cruise.
Carnival Corporation announces a brand new, stand-alone cruise line: fathom. "Social Impact Travel" is the term for this new cruise concept. And a new Carnival cruise brand is born.
In April 2016, fathom begins seven-day cruises from Miami aboard the MV Adonia, a former ship from P&O Cruises.
With only 710-passengers, the Adonia will spend two days at sea before reaching its destination at Puerto Plata in the Dominican Republic. The ship will function as a floating hotel while guests participate in volunteer social impact opportunities.
The itinerary
Sunday: Board the Adonia and depart the port of Miami in the afternoon.
Monday: Full day at sea
Tuesday: Arrive in Amber Cove, Dominican Republic around mid-day
Wednesday/Thursday: Shoreside impact activities and exploration in the Dominican Republic
Friday: Spend the morning shoreshide in the Dominican Republic, then depart Amber Cove in the early afternoon
Saturday: Full day at sea
Sunday: Arrive at the Port of Miami in the morning
During the two sea days en route to Puerto Plata, guests can choose from a variety of onboard experiences to help prepare for their arrival. Onboard activities will include an orientation to the Dominican Republic, conversational Spanish lessons, impact activity training, creative workshops and personal enrichment. More activities to be announced.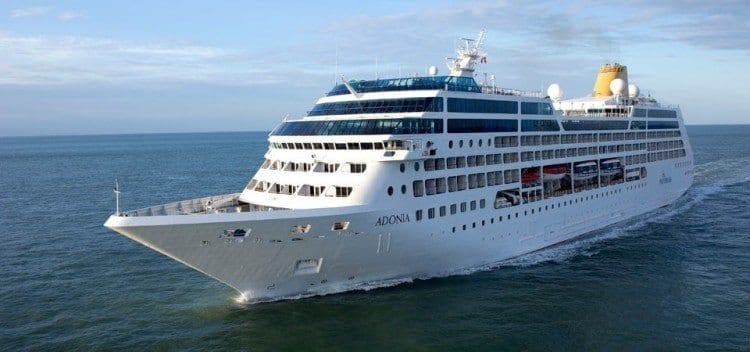 fathom travelers
Passengers of all skill levels will be able to build their own volunteer schedules and have the flexibility to choose from a variety of social impact projects. They can also choose recreational shore activities.
The new cruise line is expected to attract seasoned cruisers as well as those who have been on the fence to take their first cruise. fathom is expected to appeal to those in North America, the UK and Australia, from all ages and demographics.
Millennials – people in their 20s and 30s looking to make a difference in the world;
Parents seeking a way to open their children's eyes to other parts of the world in a meaningful way (approximately half of travelers are expected to be families);
Adults 50+ years of age.
Participants in the social impact activities can adjust their volunteer programs according to their preferences and physical ability. Guests may choose to spend part of or the full 3-days in port working alongside the island's residents on one or more projects.
Volunteer activities may include:
Economic Development: Help cultivate cacao plants and organic fertilizer at a nursery and assist a local women's cooperative in producing artisan chocolates.
Educational: Work side by side with Dominican school teachers in classrooms to teach English skills and help boost students' academic performance. Adult education will focus on teaching English as a second language to help residents qualify for a wider variety of employment opportunities.
Environmental: Provide hands-on support to craft and build water filters – using clay, a natural resource found locally – and deliver those filters to families throughout the community to provide healthy drinking water. Safe, piped drinking water is not available island-wide.
Reservations are open for booking.
Interested? Call any travel agent or visit fathom.org. Rates for the seven-day cruise to the Dominican Republic begin at $1,540 pp for an oceanview stateroom. Also included in the prices are the onboard social impact immersion experiences, three on-shore social impact activities and related supplies, taxes, fees, and port expenses.
The Adonia features the familiar four stateroom categories: inside, oceanview, balcony and suites. Volunteer activities may be pre-booked online beginning the fall 2015.
I'm the editor and creator of CruiseMaven.com, a solo traveler cruising the world on waves and wheels, collecting recipes along the way.  I hope my articles and photos entertain, advise and inspire you to travel the world without flying.  Take a breath…stop for a local meal and a glass of wine along the way.