After a fabulous first year, Holland America culinary cruises are back for a second season. Officially called the Holland America 2019 Food & Beverage Aficionado Cruises, these twelve culinary cruises are produced in conjunction with the Holland America Culinary Council.
Holland America Line's Master Chef Rudi Sodamin is joined by international chefs Jonnie Boer, David Burke, Elizabeth Falkner, Andy Matsuda, Ethan Stowell and chocolatier extraordinaire Jacques Torres. Master mixologist Dale DeGroff rounds out the group with the cocktail program.
On each Food & Beverage Aficionado Cruise, you can attend your choice of cooking or cocktail demonstrations. There are meet and greet opportunities to chat and take photos with the chefs and experts. Reservations are a good idea if you'd like to attend the highlight of each culinary cruise; a  small-group dinner in the Pinnacle Grill with members of the Culinary Council.
Find your Holland America culinary cruise for 2019
Here's the list of 2019 of Food & Beverage Aficionado Cruises with each Culinary Council and Master Mixologist.
Rudi Sodamin, Holland America Culinary Council Chairman
Sodamin was born in Austria and trained in France. Rudi began his culinary career at sea as a 22-year old sous chef aboard the Vistafjord. Within one year, he became the youngest executive chef at sea. Sodamin also authored an interesting coffee table book called, "Food Faces" that showcases images of over 150 quirky and whimsical edible creations.
Nieuw Statendam:  February 17, 2019 – 7-Day Eastern Caribbean, round-trip from Fort Lauderdale
Veendam:  November 13, 2019 – 7-Day Eastern Caribbean, round-trip from Fort Lauderdale
David Burke
Burke is a restaurateur, cookbook author, inventor and consultant at ESquared Hospitality, that owns and operates the BLT restaurant brand. Burke was featured on "Iron Chef America" and "Top Chef Masters." He is a graduate from the Culinary Institute of America.
Rotterdam:  March 3, 2019 –  7-Day Western Caribbean roundtrip from Tampa, Florida
Veendam:  September 7, 2019 –  7-Day Canada & New England, Sept. 7, 2019, from Boston, Massachusetts to Montréal, Canada
Andy Matsuda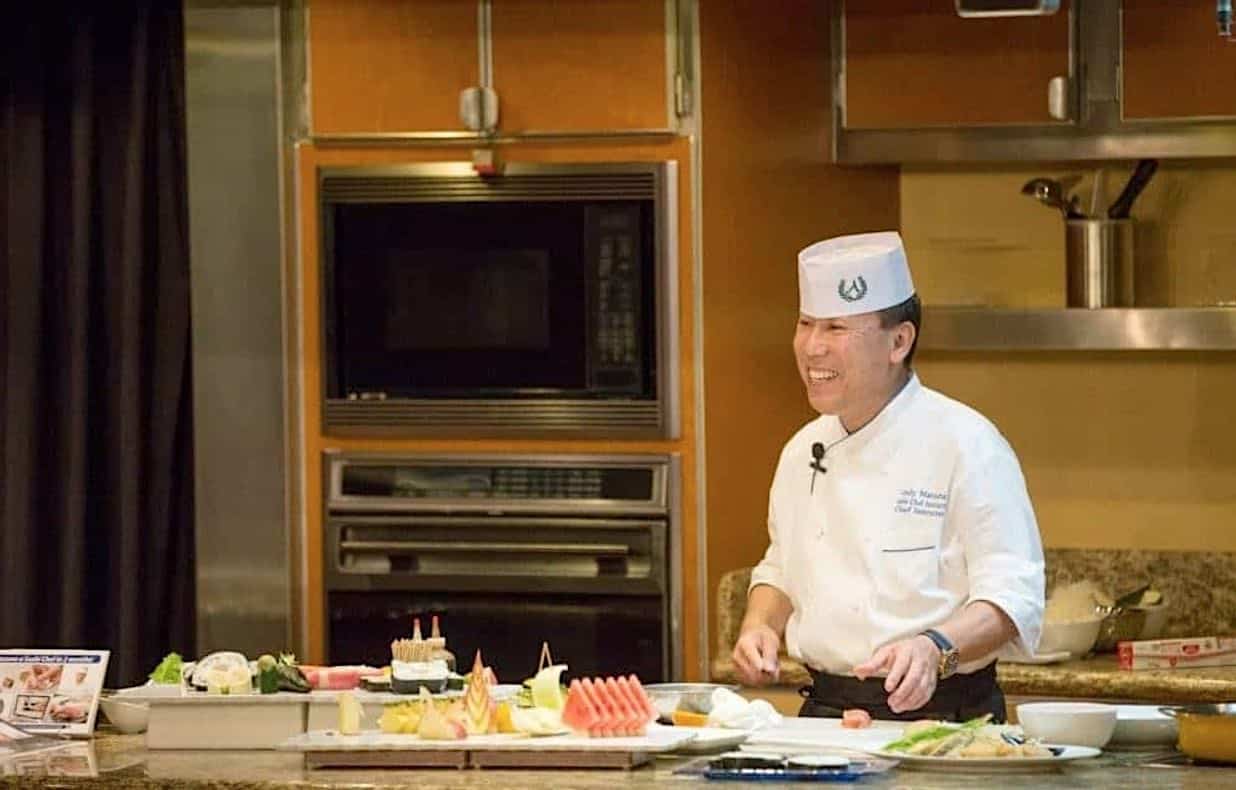 Andy Matsuda is an innovator of sushi trends and techniques. At Matsuda's Sushi Chef Institute in Los Angeles, California, he teaches aspiring chefs and professionals about sushi and Japanese cuisine.
Nieuw Statendam:  March 3, 2019 –  7-Day Eastern Caribbean, round-trip from Fort Lauderdale
Eurodam:  October 19, 2019 –  7-Day Mexican Riviera, round-trip from San Diego, California
Ethan Stowell
With his highly acclaimed restaurants, Stowell has largely influenced the Seattle food scene. He was named one of the Best New Chefs in America by Food & Wine magazine in 2008 and chosen as one of the Best New Chef All-Stars in 2013.
Eurodam:  May 11, 2019 –  7-Day Alaskan Explorer, round-trip from Seattle, Washington
Noordam:  July 12, 2019 – 7-Day Alaska Glacier Discovery, from Vancouver, British Columbia, Canada, to Seward, Alaska
Jacques Torres
French-trained Master Chef and artisan chocolatier, Jacques Torres is a James Beard award winner. After rising to executive pastry chef at New York's legendary Le Cirque, he opened a chocolate factory and stores throughout New York. Torres is co-hosting the Netflix culinary show "Nailed It" with Nicole Byer.
Zaandam:  June 1, 2019 –  7-Day Canada & New England Discovery, from Montréal to Boston
Veendam:  September 28, 2019 – 7-Day Canada & New England Discovery, from Montréal to Boston
Dale DeGroff
DeGroff received the James Beard Award for Wine & Spirits and was inducted into the James Beard Who's Who of Food and Beverage in America in 2015. He is the author of "The Essential Cocktail" and "The Craft of the Cocktail."
Zuiderdam:  April 10, 2019 – 11-Day Panama Canal Sunfarer, round-trip from Fort Lauderdale
Westerdam:  August 4, 2019 – 7-Day Alaska Glacier Discovery, from Seward to Vancouver
If you would like to make reservations for the Culinary Council specialty dinner in Pinnacle Grill, when you have your reservation contact Holland America Line's Ship Services Department as soon as possible to secure their spot. There is a separate fee for this event.
Holland America is still planning their wine cruises for 2019. I'll post the list as soon as it's available.

I'm the editor and creator of CruiseMaven.com, a solo traveler cruising the world on waves and wheels, collecting recipes along the way.  I hope my articles and photos entertain, advise and inspire you to travel the world without flying.  Take a breath…stop for a local meal and a glass of wine along the way.