Port Canaveral, on Florida's central east coast, is a great location for a day of fun.
When cruise ships visit Port Canaveral it's usually a very long stay; at least eight hours until well past 6pm. Why so long? Cruise lines sell shore excursions to Disney World, Universal Studios and the Kennedy Space Center and these trips take time. If you don't feel like an eight to ten hour shore excursion, here are some things to do for a relaxing and fun day near Port Canaveral.
To start, you'll want to rent a car for the day.
There is an Avis location in Cape Canaveral, about 10 minutes from the port.Reserve a rental with them and they'll pick you up at the ship and go to their rental location. When you return your car, they'll drive you back to the ship. This is a great way to explore Florida's Space Coast and Cocoa Beach at your own pace and visit some out of the way places and interesting in this area.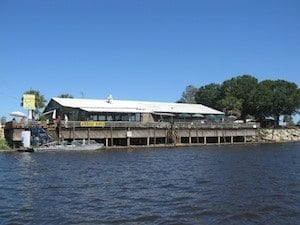 1. Lone Cabbage Fish Camp airboat rides.
A 20-minute drive west from the port via SR 520, is Lone Cabbage Fish Camp on the St. Johns River. Reminiscent of an old Florida fish camp, you can munch on a bit of Florida "cuisine;" fried gator tail, frog's legs and catfish. For adventure, try the Twister Airboat Ride. Call ahead to reserve a spot for a breathtaking 30- to 90-minute trip through marsh and swamp at over 45 mph.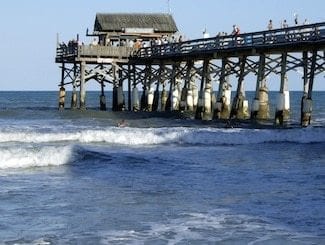 2. Cocoa Beach Pier.
Yes, this is where it all happened in the '60s. There's even an "I Dream of Jeannie" street. But the main gathering place is on and around the Cocoa Beach Pier. Visible from your ship at Port Canaveral, the old wooden pier juts out 800′ over the ocean. Built in 1962, the Cocoa Beach Pier is home to five restaurants, four bars and a few souvenir shops. If you want to make it a beach day, there are fresh-water showers, beach rentals and pick-up games for beach volleyball.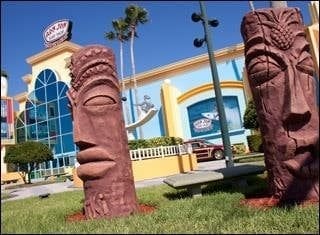 3. Ron Jon Surf Shop.
No visit to Cocoa Beach is complete without a stop at the Ron Jon Surf Shop. You can't miss it. It's the huge, colorful building at the corner of SR 520 and A1A. Open 24/7/365, Ron Jon is a 52,000 sq. ft. store on two levels and sell a bit of everything surf and beach related: clothing, equipment and souvenirs. Here's a coupon for you, too!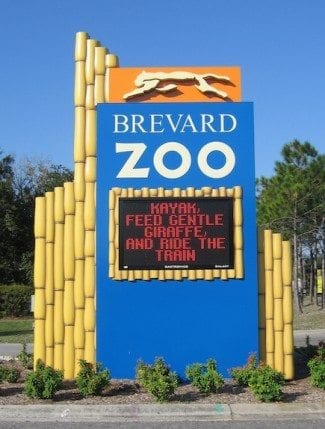 4. Brevard Zoo.
What started out as a small, local zoo has grown into a world-class zoo with a focus on conservation, education and fun. Truly a community effort, over 16,000 volunteers helped to build the Brevard Zoo in 1992. You can literally zip through the zoo, either with an hour of fast walking or by the daring Treetop Trek zipline adventure. Try on of three aerial obstacle courses designed for different age and fitness levels. Walk along a boardwalk through a recreation of old Florida's swampland, paddle a kayak, pedal a paddleboat or view a feeding. There's so much to do there that it's best to plan it as a half-day tour.
5. Picnic at Jetty Park
This is an easy one. Bring a small, soft-sided cooler, some ziplock sandwich bags and an ice pack from home. Get your car rental in the morning and bring along your empty cooler and beach towels. Drive around, explore the shoreline, shop, walk out on Cocoa Beach Pier. Drive over to Publix supermarket and pick up some cold drinks and made to order sub sandwiches. Get a bag of ice, too and pop everthing into your cooler. When you get hungry, head back towards the port, but detour into Jetty Park – be sure to pick up a local map to find the entrance. Park your car and grab that perfect picnic spot, either shaded, on the beach or near the rocks. You can walk out on Jetty Pier, too and wave to your ship, hopefully not when it's leaving port!
There's so much more to mention, but that will be in the next article about shore excursions from Port Canaveral.

I'm the editor and creator of CruiseMaven.com, a solo traveler cruising the world on waves and wheels, collecting recipes along the way.  I hope my articles and photos entertain, advise and inspire you to travel the world without flying.  Take a breath…stop for a local meal and a glass of wine along the way.