A Day in Breisach and the Bike Ride from Hell
No, seriously. I'm not kidding. When I signed up for the "Easy" bike tour shore excursion, from Breisach into the surrounding countryside, I had visions of leisurely pedaling along the river, in the shadows of steep slope vineyard with a wine tasting here or there.
Five of us signed up – three Americans and one French couple in their mid-forties. Of the Americans, only one was under 40. The two of us "older" women didn't know what we were in for that bright blue-sky day, under the German sun.
The journey begins
All helmet'd up, we set out on our supposed 10-mile easy ride. Aside from my bike's rear brake not working, it seems like this would be a lovely afternoon. Ride a little, stop and relax, visit a vineyard and pedal on.
Hah!
The ride started out easy enough. We rode along flat paths, passing mostly fields that were not yet ready for planting. Vineyards remained dormant while asparagus plants were neatly covered in plastic sheaths, both waiting for warmer and sunnier spring weather. The blue-hued Vosges mountain range spanned the horizon.
This is a volcanic region of Germany, which lends itself to being a prominent wine region. And soon, we thought, we'd all stop for a tasting somewhere. At least, that's how the excursion description read.
Suddenly, we were going uphill. Paved paths turned into pebbles and eventually cobblestone. While our seasoned tour leader forged on ahead, there was no way I could pedal this German equivalent of our beach bikes, uphill and on cobblestone.
Luckily there was another woman in our group that same age and same biking skills as me. If we had pedaled any slower, we'd have fallen over from lack of inertia. Walking the big bikes uphill was a lot easier. And still no rest stop.
The rebellion
After making it up, around and through town, we all parked and our bikes were locked up. The guide had a friend in town (where have I heard this before…) and we could look around his shop for 10 minutes.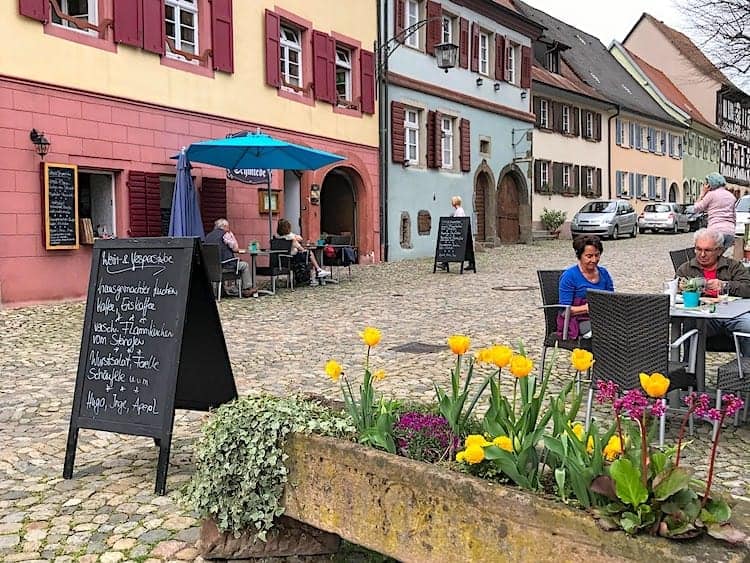 No way. Karen (my age-counterpart) and Ishie (a 30-something pathologist) and I decided this was enough. In a town as quaint (and touristic) as this, it was time for a rest and a glass of local wine.
When our guide saw us, you could almost see smoke coming out of his ears. No, we weren't supposed to stop for a glass of wine, he sternly said. Uh, yes we were. At this point, we had biked almost the entire distance that the description said we'd do, 10 miles. Which meant we were only at the half-way point.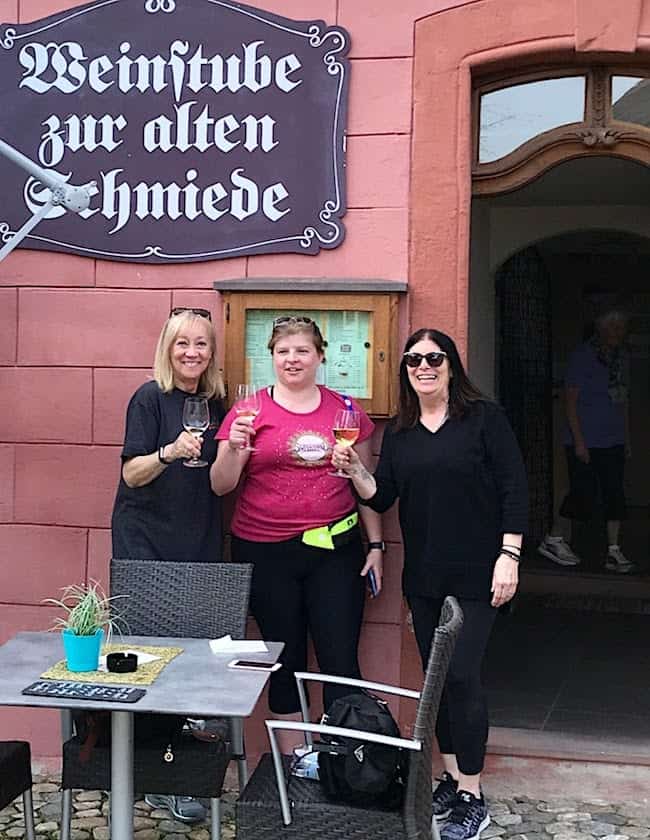 A glass of Riesling, a 20 minute break and we back on our bikes.
Leaving the town, our bike tour leader took a wrong turn. We figured we biked about 2 miles off course, in each direction. Again, not on a paved road.
Back on track and about 45 minutes behind schedule, we forged onward. Any effects of the wine had long worn off. Once again, the tour description said we'd finish our tour with a scenic ride along the Rhine. No mention of a gravel and dirt path. Which it was. For eight miles.
See later:  My CroisiEurope Douce France review
All Karen and I could do was laugh. If we stopped to rest, we were sure our leg muscles would seize up and it would be the end of our ride.
We finally returned to the ship. Our new 40-something French friends and Ishie waited for us on the park bench. The guide would occasionally pedal back to check on us but I think it was to hurry us onward.
All totaled, our bike tour shore excursion took 21  miles. Uphill, downhill, over bridges, through vineyards, past football games and roadside art. It was a trip through a beautiful part of Germany. If one was in great biking shape, it was a fabulous ride. I'm not overweight, I do my 10K steps and bike almost every day at home. But it wasn't enough. This ride went from river level to 800 ft. elevation. Florida's highest point is Thunder Mountain at Disney.
For the third time, I was fooled by a bike tour shore excursion description. This was not leisurely nor flat. Without our wine rebellion, there would have not been a wine break nor a rest stop.
This wasn't the fault of CroisiEurope. It was the guide himself or bike tour shore excursion company. AmaWaterways was also docked and used the same bike rental/tour company as CroisiEurope. Their bikes were long packed up and passengers onboard by the time we returned.
And yes, CroisiEurope did call the company and file our collective complaint.
Fool me three times and I'm done with bike tours. Until river cruise lines are told accurate information to describe the intended ride or offer a second smell-the-roses bike tour, I'm out. Or maybe not. It's a wonderful way to see the countryside or inner cities. Just be prepared for more than you bargained for, if you sign up for a bike tour shore excursion.
Start from the beginning
Day 1 – How my CroisiEurope Rhine river cruise began
Day 2 – Excursion to Switzerland's Rhine Falls
Disclosure:  Though I was a guest of CroisiEurope, this in no way influenced my review of this trip. All opinions are my own.
I'm the editor and creator of CruiseMaven.com, a solo traveler cruising the world on waves and wheels, collecting recipes along the way.  I hope my articles and photos entertain, advise and inspire you to travel the world without flying.  Take a breath…stop for a local meal and a glass of wine along the way.