Mahogany Bay Cruise Center and the Flying Chair in Roatan.
I don't fly. Ever. When the opportunity to "fly" from Mahogany Bay Cruise Center at the port in Roatan, Honduras to the beach presented itself, I was determined to sally forth. Come along with me in this short video as I take a ride on the flying chair. The view is spectacular!
Unique to the Caribbean, the Magical Flying Chair in Roatan is the first chair lift to transport riders from a cruise ship terminal directly to the beach. The beach chair lift is only one of the many features of Carnival Cruise Lines' $62 million Mahogany Bay Cruise Center, which welcomed its first cruise ship, Carnival Cruise Lines' 2,124-passenger Carnival Legend, on November 20, 2009.
The "Magical Flying Chair"in Roatan takes cruise ship guests on an exhilarating 10 minute ride suspended sixty-seven feet above lush treetops, grassy flats and crystal clear water. To board the new beach chair lift system, look for the pink kiosk at the Welcome Center.
The chair lifts let guests off directly on the sand at Mahogany Beach. You can easily spend the day there with the complimentary lounge chairs, floats, a beach volleyball court and myriad watersports opportunities. There are also eight exclusive cabanas for rent offering private beach access.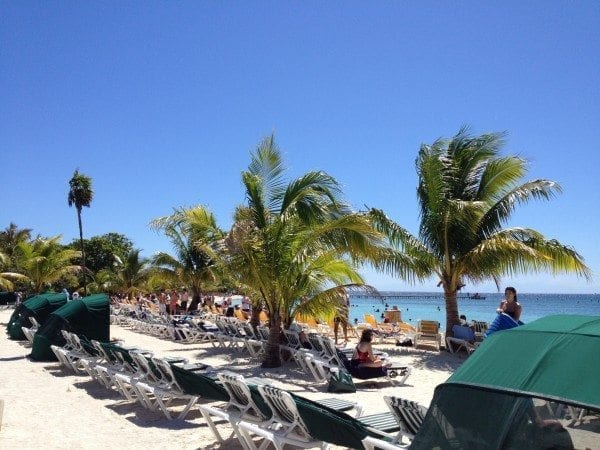 The galvanized steel lift chairs can accommodate up to four adult riders at a fee of $14 each for unlimited use throughout the stay in port. The fee for children ages 4-12 years old is $8 for unlimited use, under 3 years is free. If you get thirsty or hungry, there's a 17,000 sq. ft restaurant and beverage center with live music and open seating.
Back at the cruise port, officially named, "The Mahogany Bay Cruise Center" there are over a dozen shops (Del Sol, Diamonds International are there of course,) a few local shops, a gelateria, a coffee stand featuring (what else?) Honduran coffee and a few restaurants.
Ships from other cruise lines that are owned by Carnival Corporation also visit Roatan Mahogany Bay. Royal Caribbean and Celebrity ships, too, include Roatan on a handful of sailings.
I'm the editor and creator of CruiseMaven.com, a solo traveler cruising the world on waves and wheels, collecting recipes along the way.  I hope my articles and photos entertain, advise and inspire you to travel the world without flying.  Take a breath…stop for a local meal and a glass of wine along the way.