Let me help sort out the different types of sleeping accommodations on Amtrak long-haul and overnight train trips.

As a committed non-flyer, Amtrak has played an important role for my travel experiences across America. For me to travel for a cruise from non-Florida cruise ports, an overnight Amtrak train is needed. That's how I became so familiar with Amtrak sleeping accommodations.
There are two types of Amtrak sleeping accommodations: a roomette and a bedroom. While both have beds, they are two different entities. There are also two different types of sleeper cars which have totally different train car equipment and sleeping compartments. Let's look at the two different long-distance train types: the Amtrak Viewliner and Superliner.
Amtrak sleeping accommodations options
Viewliner
Viewliner trains operate mainly along the Eastern Seaboard. Because of its lower height, Viewliners can fit into the many tunnels along this route. There are a few Viewliner trains on the east coast that travel westbound and their sleeping accommodations are always sold out well in advance.
There's the Cardinal that runs between Washington, DC and Chicago, the Crescent traveling between New Orleans and New York City and the historic Lake Shore Limited between New York City and Chicago.
The Viewliner is a one-level train and offers compartments that will sleep two or more passengers. A Roomette sleeps two passengers, a Bedroom sleeps two and maybe a very small child and a wheel chair accessible bedroom will accommodate two passengers. Two bedrooms can combine to become a bedroom suite that will sleep four people.
Roomette at a glance
A Viewliner roomette has a picture window with two wide, reclining seats that face each other. In the middle of the seats is a pull-up table that unfolds. There's also an upper bunk with its own window and basket for reading glasses, etc. Right next to one of the seats is the "bathroom". This consists of a fold-out sink with hot and cold spigots, a mirror, a rack for soap, tooth brush and wash cloth. There is a small luggage storage bin up and across from the upper bunk.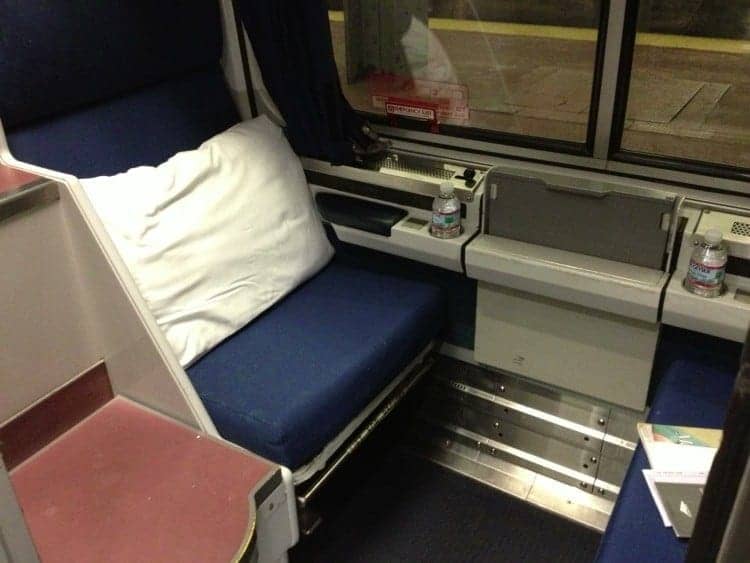 The toilet is right there, too, next to one of the seats. If you're traveling solo, it's no big deal. If two people are traveling in a roomette and modesty prevails, one person may choose to step outside while the other, well…you know.
Privacy curtains have Velcro fasteners and there's a flip-over lock for the door. There are two electric sockets with 120v, close enough to be able to charge your laptop while working on the pull-up table. Unlike in Europe with keycards for entry, on Amtrak your compartment door does not lock from the outside.
When you leave your compartment to go to the Dining Car, Café/Lounge Car, Observation Lounge, or to step off at a stop to stretch, your compartment is unlocked
The good news is that your car attendant seems to know who does and does not have a reservation for a sleeper and keeps an eye out for trespassers. Europeans, used to having their compartment locked when they leave it, are usually a little flustered at first. But it all works out fine.
Bedroom
If you can afford a bedroom, go for it. With plenty of room for your luggage, two people can travel in comfort in an Amtrak bedroom. As you enter the bedroom, there's a fold-out, full-length sofa (a smidgen wider than a twin bed) that runs just about from the doorway to the window. Above it is a drop-down bunk bed. Across from the sofa is a petit sink and countertop, with room for your toiletries. Facial tissue is provided (in the roomette, too) as well as wash clothes, hand and bath towels and soap.
Best of all, there's a private bathroom with a shower. It's not big and the shower is above the toilet. When securely closed, it works great. It's really nice after an overnight train ride to arrive at your destination totally refreshed.
Opposite the door to the tiny bathroom is a small fold-up chair with storage rack and hooks above it. This makes it possible for two people to sit by the window facing each other. The door locking system is the same as the roomette.
Public Shower room for roomette passengers
At one end of each sleeping car on a Viewliner is a public shower room. Able to accommodate only one person at a time, your car attendant will have it stocked with fresh soap for each person and neatly folded towels. There's a laundry basket where you can toss your used towel and wash cloth.
Amtrak Superliner
The second of Amtrak's overnight long-haul trains is the Superliner. This is Amtrak's iconic double-decker train that operates mainly everywhere else across the USA except the eastern seaboard, because it is too tall. One east coast Superliner exception is the Capitol Limited between Washington DC and Chicago. The remainder of Superliner overnight trains head west, except for the Texas Eagle which runs north and south between Chicago and San Antonio.
Here's where the Superliner and Viewliner differ. Aboard the Superliner, compartments are on two levels and roomettes on the Superliner do not have an en suite sink or toilet, as they do on the Viewliner.
On the lower level of the Superliner you'll find four roomettes plus a family bedroom at one end of the car and an accessible bedroom at the other end. It's on this level that there are three private bathrooms, each with sink and toilet and one separate shower room. Paper towels are available or your can bring towels from your compartment if you're just using the bathroom to wash your hands.
Upstairs you'll find both roomettes and bedrooms. The four bedroom sleepers have their own enclosed bathroom. For the ten roomettes there is only one public bathroom on the upper level. Occasionally, I've been in an upstairs roomette when there were two public bathrooms. But it's not the norm.
Choosing a Superliner roomette
If you want a roomette, how do you decide which level of the Superliner is best for you?
If you're on the upper level, the train ride is quiet and amazingly smooth. But, as I mentioned above, there is only one bathroom to share with nine or more other roomette passengers.
If you're in a roomette on the lower level, you will feel the train movement and hear the clickety-clack of the wheels. But, on the lower level you have access to more bathrooms and the shower room.
For those who have difficulty walking, they may prefer the lower level to not have to climb the staircase to the second level. Very convenient if you're on the train for two or three days across country.
What's included with a sleeper
No matter which Amtrak sleeping accommodation you choose, all of your meals are included in the dining car for the entire journey. The exception is the no-dining-car Silver Star train between Miami and New York City; no meals are included.
Also included when you purchase an accommodation are complimentary bottled water, coffee, tea and juice, turn down service by your room attendant, individual climate control, soap, towels and tissues.
Rather than sit up all night in a chair in the coach car, opt for a sleeper. You'll never go back to sleeping in a coach seat again!
You Might Like These Related Amtrak articles by Cruise Maven
PIN FOR LATER!