Cunard just shared a peek at the stateroom designs for all accommodation levels on their newest ship, Queen Anne. This is Cunard's 249th ship and is scheduled to debut in early 2024.
By adding this fourth ship, Queen Anne, Cunard will be able to offer additional cruises in sought-after destinations like Alaska, Australia and Japan.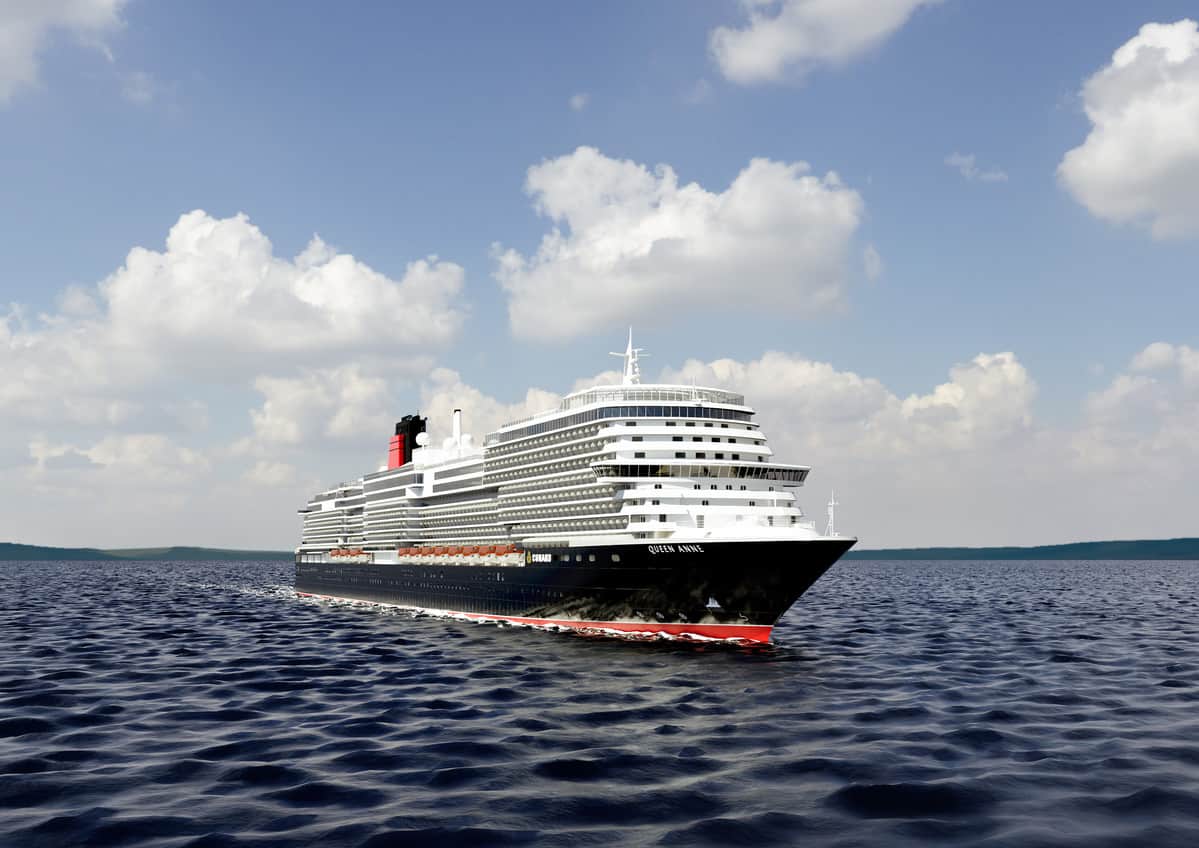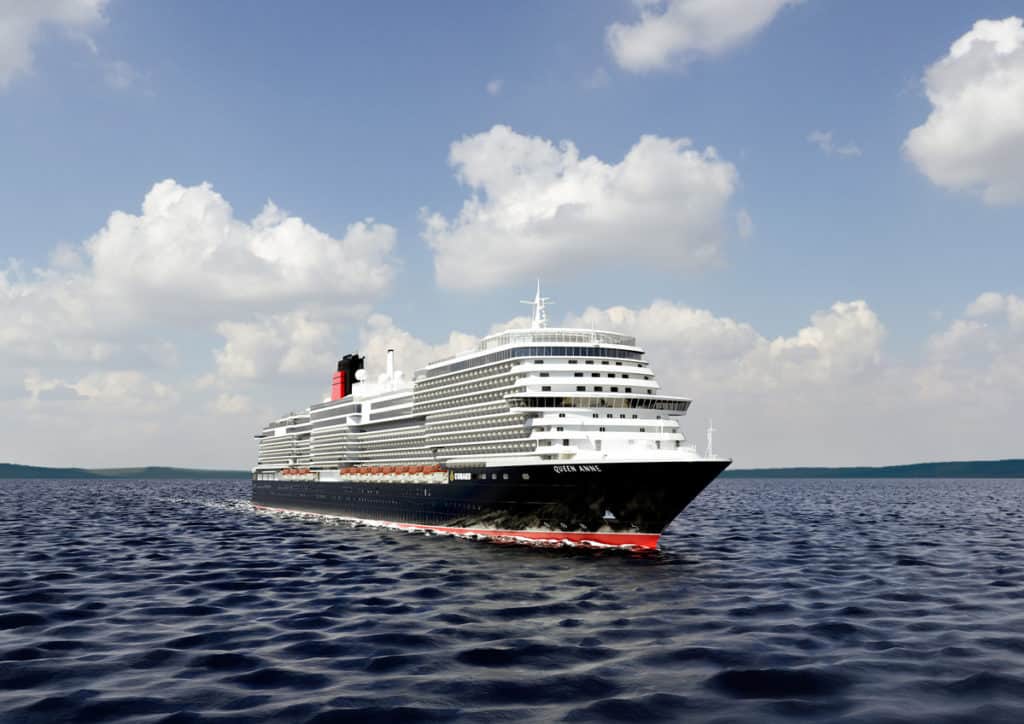 Cunard's Queen Anne Stateroom Designs
Queen Anne's stateroom designs will bridge traditional with contemporary luxury. Renowned designers David Collins Studio, Richmond International and Sybille De Margerie have teamed up with Cunard's Creative Director Adam D. Tihany to create the new ship's accommodations design.
The design teams spent time in Liverpool to study the Cunard Archives for design details from past Cunard ships. Their goal was to reinterpret Cunard Art Deco design and how to apply it to Queen Anne.
READ MORE: Seven Secret Hideaways Aboard Queen Mary 2
The teams studied iconic poster advertisements, brochure covers and plans of grand spaces of Cunard's early deco designed ships.
Lewis Taylor, Design Director at David Collins Studio commented, "We had the unique opportunity to explore the fascinating trove of the Cunard Archives which is housed within the University of Liverpool and provides a wealth of photographs, onboard pieces, details on layout, materials, fabrics, patterns and textures, plus business documents and marketing collateral, including menus and other ephemera. This experience was at the core of the design inspiration for Queen Anne."
Feeling Inspired? Read my Transatlantic Cruise Tips and Advice
Britannia Staterooms
With Britannia cabins comprising the majority of accommodations onboard, colors chosen reflect the deep blue of the ocean with touches of gold to mimic the sunshine.
Each Britannia stateroom features three-dimensional paper cut deco frames reminiscent of Cunard's former deco patterns.
Wall coverings have a print pattern inspired from the Cunard crest and laurel with photos of historical Cunard memorabilia.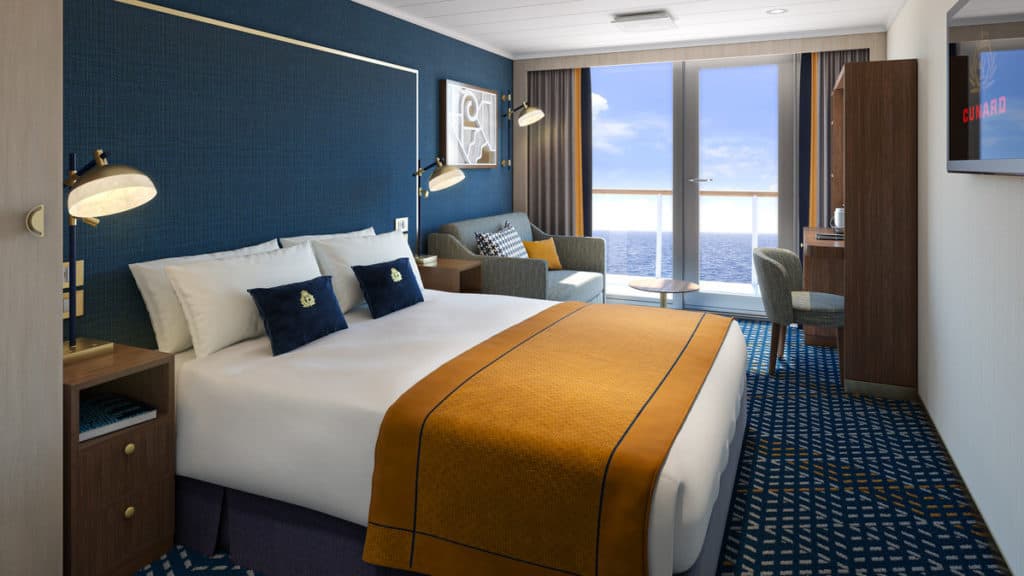 Princess and Queens Grill Suites
Princess Grill suites feature Cunard red and gold tones with warm wooden furnishings. Queens Grill suites follow the art deco design with deep shades of purple and wood.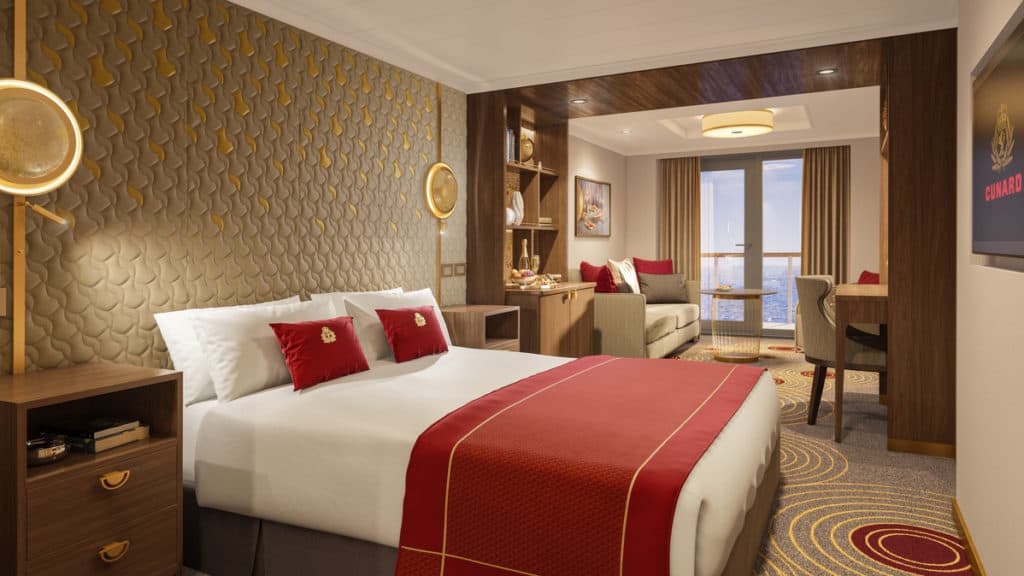 Grand and Master Suites
The Grand and Master suites are designed in subtle shades of green, purple, taupe and grey, accented with wood and marble highlights.
Each of the top six suites were named after an iconic waterway in the U.K. that was important to Cunard and includes Mersey, Solent, Boston, Hudson, Halifax and Clyde.
The Grand and Master suites bathrooms will feature a black and white photo series documenting the construction of Queen Anne, taken by photographer Michael Mann.
Grand Lobby
The Grand Lobby is the focal point of the ship where the new deco design anchors itself and echoes throughout each space on the ship.
The design of Queen Anne is an evolution taken from the rest of the fleet to become a bolder contemporary interpretation of Cunard's previous designs.
Cunard continues its rich heritage of honoring the names of each queen over the last millennium: Mary, Victoria, Elizabeth and Queen Anne.
Queen Anne inaugural season itineraries will be announced on May 4, 2022.
I'm the editor and creator of CruiseMaven.com, a solo traveler cruising the world on waves and wheels, collecting recipes along the way.  I hope my articles and photos entertain, advise and inspire you to travel the world without flying.  Take a breath…stop for a local meal and a glass of wine along the way.