Bahamas Express ferry service to Grand Bahama Island
This isn't a new concept. Back in the 1970's a cruise line called SeaEscape shuttled their Scandinavian Sun back and forth between Miami and Freeport, Bahamas. It was a great way to feel like you were actually going somewhere, when in reality it was barely a fifty-five mile ocean jaunt. But the ship was an older ferry boat and it chugged along for the trip, nearly five hours each way. This made for a very long one-day getaway; you departed from Miami at 8am and returned back at half past midnight.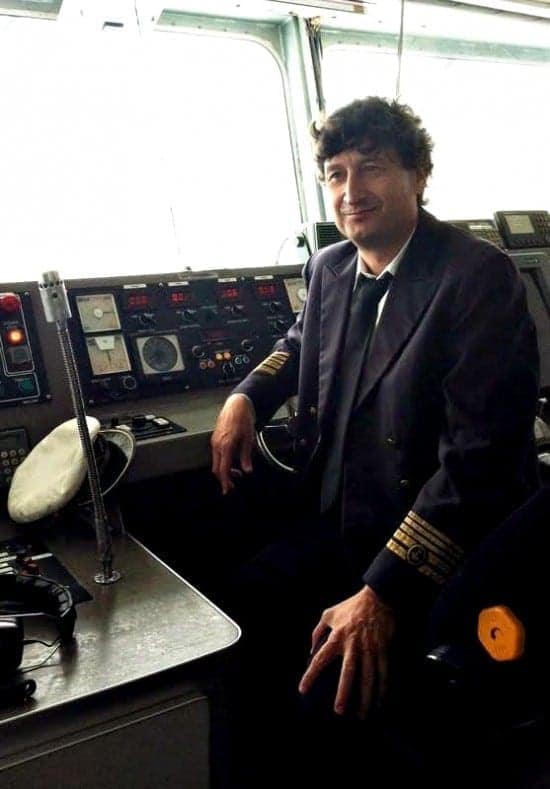 Fast forward forty years and there are fast ferry boats running all around the edges of Europe, shuttling people, vehicles and cargo back and forth between countries and continents. It's one of these ferry companies, Baleària of Spain, that announcedthat they will operate daily service between Fort Lauderdale and Freeport (actually on Grand Bahama Island) every day except Wednesdays.
The difference is that now the fast ferry will make the crossing in 2.5 hours enabling a later departure time from Ft. Lauderdale at 10:00am, and returning back to Florida well before midnight (10:00pm.)
Unlike the old SeaEscape Scandinavian Sun from Miami, the fast ferry 'Pinar del Río',  sails at a speed of 32 knots and has capacity for 463 passengers. The Pinar del Río also boasts diferrent onboard services such as a cafe-bar, duty free gift shop, and tourist and first class accommodation, among others.
Baleària is one of the leading Spanish shipping lines, providing passenger and sea transport services in the Spanish Mediterranean. The company provides regular services in the Balearic Islands (to the northwest of peninsular Spain) and in the Strait of Gibraltar (the main connection point between Europe and Africa), where it is the second-largest shipping line in terms of passenger numbers.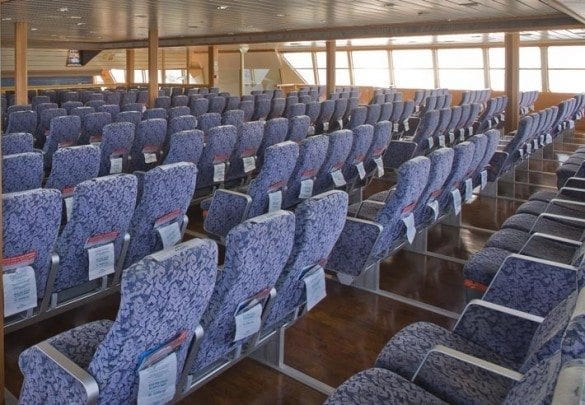 Restoring regularly scheduled day trips to the Bahamas has been on the drawing board for awhile. Back in July, Balearia Bahamas Express announced it would soon commence a jet-powered high-speed ferry service between the Port of Miami and the Bimini Bay Resort & Marina on the island of Bimini. The new service was met with interest and anticipation from the travel community, since the two-hour ferry trip would present an appealing alternative to travel by air. As the mid-July start date grew closer, the inaugural voyage was changed to mid-August. Now a third adjustment has been announced.
"We still have some unresolved issues at the Port of Bimini, so we are going to start the line with the fast ferry from the Port of Miami to Grand Bahama Island next month (in October)," said Karen Garrigos McCarthy, operations manager for Balearia Bahamas Express. "At this time we do not know when we will start going to Bimini. Our plan is to offer service to both destinations from Miami."
If all had gone as planned, the Balearia Bahamas Express would have made two roundtrips a day. The ferry schedule would have been to depart Port of Miami's Terminal J at 9 a.m. and 7 p.m. and depart Freeport Harbour, Grand Bahama Island at 12 p.m. and 10 p.m. The crossing from Miami to Freeport takes around two hours. This idea was also scrubbed and the new Ft. Lauderdale itinerary took hold.
Balearia Bahamas Express will be offering four classes of roundtrip fares: the Excursion fare, at $99; the Excursion VIP, at $130; the Economy Class, at $150 and First Class, at $180. Additional charges comprise a Bahamas Departure Tax of $18 and a fuel surcharge of $13.50. Children age 6 and under travel at no charge. Balearia Bahamas Express will also pay commission to travel agents.
Passengers will be able to check schedules and book tickets on the Balearia Bahamas Ferry website www.ferryexpress.com. The site is still be under construction and presently carries information on Balearia's Mediterranean ferry services, which are more extensive than the Ft. Lauderdale/Bahamas service. For example, unlike the company's Mediterranean service, the Balearia Bahamas Express will not have facilities for bringing vehicles onboard and pets will be excluded from the voyage.
You can opt to stay overnight at one of the many hotels on Freeport. So what about bringing luggage? "We do not have weight restrictions but, of course, there is security," said McCarthy. "Our policy in Spain is that each passenger has to carry his or her own luggage onboard in one trip." The residents of Freeport have also used these ferry boats as a way for a one-day shopping trip to Florida.
The shift from Bimini to Grand Bahama Island has the potential to appeal to more travelers. The family-friendly island is only 55 miles east of Florida. The island has several national parks, dive facilities, gaming and opportunities to swim with dolphins at Sanctuary Bay. There are also a wide range of accommodations choices, including an all-inclusive option at Viva Wyndham Fortuna Beach All-Inclusive Resort. Freeport, where the ferry docks, also offers duty-free shopping.
McCarthy also noted that, in the event that the U.S. eases travel restrictions to Cuba, Balearia will consider the possibility of offering ferry service to Cuba. This would hearken back to the glory days of Florida/Cuba travel, during the 1940s and 50s, when tourists would make the quick trip by sea from Miami to Havana.
How exciting would it be to travel on the first passenger ship from the United States to Cuba in over half a century. Count me in.
Source: Balearic Bahamas Express
Photo credit: Balearic Bahamas Express, Simplonpc.com
I'm the editor and creator of CruiseMaven.com, a solo traveler cruising the world on waves and wheels, collecting recipes along the way.  I hope my articles and photos entertain, advise and inspire you to travel the world without flying.  Take a breath…stop for a local meal and a glass of wine along the way.