Since I haven't set foot on an airplane in twenty years, I'm relegated to my own version of "slow travel." It's not all bad, either…since it means a trip Europe requires not one but two transatlantic crossings.
Every spring and fall, cruise lines send a handful of their ships over to Europe for the summer season. Traditionally termed "repositioning" cruises and sold for a pittance, they now command a per diem similar to a typical Caribbean cruise. The cruise lines now turn a short transatlantic crossing into at least a 12 night voyage. What if you don't want to spend over two weeks getting to your European destination?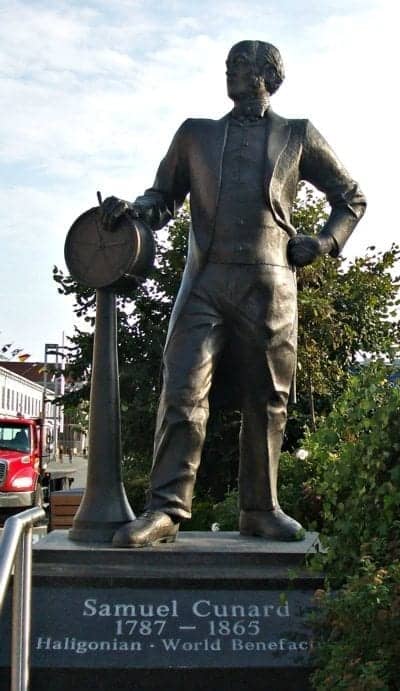 Enter Samuel Cunard. A skilled entrepreneur with a passion for the maritime industry, he pioneered regularly scheduled passenger and cargo service between the UK and North America. His first scheduled run went from Liverpool to Halifax and onto Boston in 1840. 171 years later, Cunard Line is still the only shipping line to designate a vessel to take passengers (and their dogs, too) back and forth between England and America on a set schedule. Queen Mary 2, built in 2004, is a true ocean liner purposely built for north Atlantic crossings.
[youtube]http://www.youtube.com/watch?v=GqzhXHyUKy0&feature=youtu.be[/youtube]
Although the Queen Mary 2 has had minor upgrades and tweaks in the last seven years, she is currently undergoing a major refit and refurbishment in Hamburg, Germany. You can read more about the process in my article highlighted below.
What is fun to watch, is a behind the scenes look at a ship in the midst of a frantic time-restricted face lift. Here's is the first of two videos produced by Cunard Line that takes you aboard the Queen Mary 2 showing a glimpse into what to expect in just a couple of extremely busy weeks of drydock.
A part of Carnival Corporation, Cunard Line has kept its prestigious name and ambiance. While you can have "tons of fun" on the Queen Mary 2, it's not Carnival's typical Fun Ship. There are no belly-flop into the pool contests or men's hairy chest contests. Rather, there are enrichment opportunities ranging from astronomy classes in the only planetarium at sea to participating the in Royal Academy of Dramatic Arts acting classes. Even though Cunard has extended the crossing days from six to seven, there still never seems to be enough time to do everything on your to-do list. And there always seems to be a celebrity or two on board; a harkening back to the Golden Age of Cruising.
Photo credit: Sherry Laskin
I'm the editor and creator of CruiseMaven.com, a solo traveler cruising the world on waves and wheels, collecting recipes along the way.  I hope my articles and photos entertain, advise and inspire you to travel the world without flying.  Take a breath…stop for a local meal and a glass of wine along the way.