Windstar Cruises and SAVEUR Magazine team up for Spanish culinary and wine cruise in 2014.
Think Spanish cuisine. Most of us imagine plates of tapas, pitchers of sangria and rich paella brimming with seafood. But there's so much more to Spanish cuisine and wine. Really.
Windstar Cruises and SAVEUR magazine (yes, I have a subscription) have created their first collaboration on a Spanish culinary themed cruise. The newly renovated Wind Surf will sail from the port of Lisbon, Portugal on April 19, 2014 on a 8-night cruise to Barcelona.
Every cabin on this majestic, 310-passenger sailing yacht has an oceanview.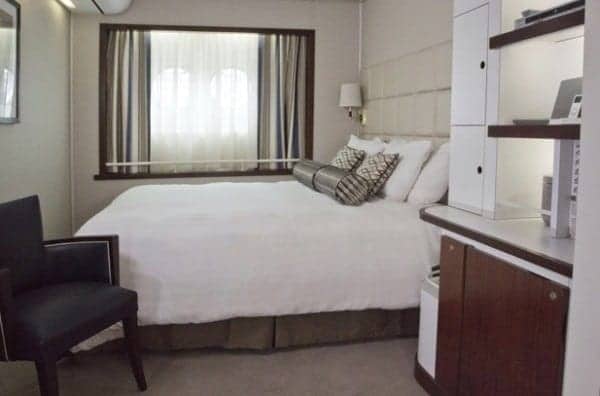 During the voyage, food and wine enthusiasts will experience local wine and regional cuisine and participate in cooking demonstrations aboard ship. Tours through the Andalucía and Catalonia countryside and insights into Spanish culture round out the Culinary & Wine Delights of Spain cruise.
Hosts for this unique cruise include a SAVEUR chef, a master sommelier, and winemaker Jorge Ordonez, a leading Spanish wine maker.
"We are excited to partner with SAVEUR in order to bring our guests closer to exploring the world of food in the destinations we sail to throughout the world," said Hans Birkholz, Windstar Cruises' chief executive officer. "Our new Culinary & Wine Delights of Spain voyage allows food and wine connoisseurs to revel in the highly acclaimed Spanish cuisine and wine all while exploring its culture and beautiful landscapes."
Highlight of this cruise include:
Two hosted wine dinners on board, featuring the best of Spanish food and wine pairings;
A selection of complimentary Spanish wines featured daily throughout the cruise (six wines per day served throughout the yacht's restaurants and bars);
The choice of two complimentary shoreside local vineyard and culinary excursions (eight to choose from);
Two onboard wine lectures given by guest winemaker Jorge Ordonez and a master sommelier;
Cooking demonstrations of local dishes with a SAVEUR guest chef; and
Complimentary exclusive turn-down gifts to commemorate the unique itinerary.
The Wind Surf will stop at six ports along the east and west coasts of Spain that include: Cádiz, Málaga, Almería, Cartagena, Valencia, Sóller before reaching Barcelona.
Each day will feature local cuisine, wine tastings before dinner and a evening of Spanish entertainment including an onboard performance by local Flamenco dancers.
If you are interested in this cruise, make your reservation before August 31, 2013 for a reduced rate and a free one-year subscription to SAVEUR magazine.
Oh, while you're out touring through the Spanish countryside, don't forget to visit Jerez de la Frontera, the "Sherry Capital of the World."
I'm the editor and creator of CruiseMaven.com, a solo traveler cruising the world on waves and wheels, collecting recipes along the way.  I hope my articles and photos entertain, advise and inspire you to travel the world without flying.  Take a breath…stop for a local meal and a glass of wine along the way.