Windstar Cruises will begin a multi-million dollar refurbishment of their three luxury sailing yachts, to be completed in multiple phases beginning this fall.
The new initiative named, "Full Sail Ahead" is comprised of several major projects which are expected to be completed within eighteen months at a cost of $18 million. Included in the overall projects are the refurbishments, branding, technology and product upgrades.
"This is a significant investment in our luxurious sailing yachts and will enable us to provide an unparalleled guest experience," said Hans Birkholz, President and CEO of Windstar Cruises. "Our new owners, Xanterra Parks & Resorts, are committed to Windstar's growth for the long term. Previously, there have been enhancements and refurbishment projects throughout the years to keep our yachts beautiful; however this is the most extensive fleet-wide refurbishment project in Windstar's history."
Who's on first?
The 312-passenger Wind Surf will be the first ship going into refurbishment this November and will be completed just in time for the beginning of her Caribbean season, on December 10, 2011. The Wind Surf will emerge with renovated and luxurious staterooms, suites, bridge suites, corridors, and a 'timber boardwalk' throughout the main deck in keeping with her elegant yacht style. The second phase of Wind Surf's refurbishment will take place in the fall of 2012 and focuses on the yacht's public spaces including the Lounge, The Restaurant, Degrees, Veranda, Compass Rose, WindSpa, Yacht Club and Pool Bar.
Wind Star and Wind Spirit, each accommodating 148-passengers, will undergo complete refurbishments of staterooms, owner's suite, and corridors along with public spaces including The Restaurant, Veranda, Lounge, WindSpa, Library, Reception, and Pool Bar following their respective Costa Rica and Caribbean seasons. After the completion of work, both yachts begin their Mediterranean seasons with Wind Spirit starting April 15, 2012, and Wind Star beginning April 29, 2012.
The vision for the refurbishment is classic, stylish yacht luxury that dramatizes Windstar's brand position of a "boutique yacht vacation" that is "180 Degrees from Ordinary." The yachts will receive new furniture, upholstery, art, lighting, wall coverings, carpeting, ceiling finishes, window treatments, and floor coverings. New furnishings will complete the look in keeping with the chic, private yacht scheme. The design palette combines sand and marine colors contrasting elegantly with the warmth of wood finishes, elevating the look and feel to ultimate luxury at sea.
Here's what we can expect over the next eighteen months: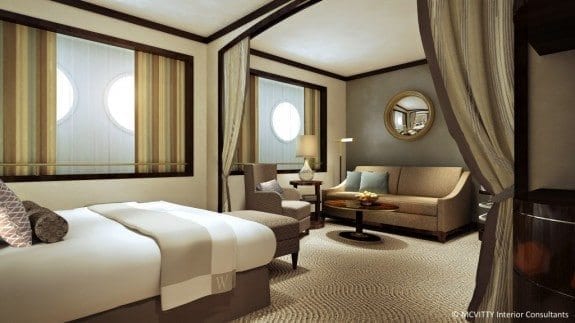 Staterooms and Suites:
Staterooms on all three yachts will be transformed with new leather headboards, stately arm chairs, linen wall coverings, new lighting features, elegant window coverings, plush wool carpeting, art work, stylish bed cushions, and luxurious bed throws.
Suites will additionally be outfitted with new furniture that is easily convertible to lounging, dining, or accommodating a third occupant.
Wind Surf Public Spaces:
The Restaurant will be completed with a new seating layout, all new soft goods, and state-of-the art wine display and storage.
Degrees Restaurant will be transformed into a Mediterranean bistro, anchored by a central wine bar for counter dining as well as an inviting area to relax before and after dinner. Wine tastings and cooking demonstrations will also be conducted here.
The Compass Rose will be reconfigured to open up expansively to the adjoining outdoor deck, and its interior completely renovated to reflect the sophisticated elegance of a private club.
The Veranda's outdoor seating will be significantly expanded, creating an ideal mid-ship area for enjoying breakfast and lunch alfresco. The interior will include a new buffet, new lighting, and epicurean style display counters.
In the Lounge, wall-to-wall carpeting will be replaced with hard flooring accented with inset rugs, a contemporary mix of furniture, lighter color palette and improved sound insulation around the casino.
Corridors will be completely renovated from floor to ceiling with all new wall coverings, carpeting, ceiling finishes, lighting and art work.
The Pool Bar will sport new awnings for additional shade, new deck furniture, and improved outdoor dining layout for Candles Grill.
Wind Spirit and Wind Star Public Spaces:
The Restaurant will receive a complete makeover to create the excitement and drama of an exclusive destination restaurant with luxurious neutral tones and curved design elements.
The Veranda will be renewed with new lighting, fresh "market-style" buffet arrangements and reconfigured indoor/outdoor seating.
The Lounge will be contemporized with new furniture, soft goods, seating arrangements, window treatments and AV system, creating an ideal, welcoming space for evening entertainment.
The Pool Bar will be redesigned to offer a more engaging and upscale social experience and to create additional alfresco seating for sunset dining at Candles Grill.
The renovations to the Library space will create an intimate, luxurious cocoon for more contemplative pursuits.
WindSpa will also receive an interior soft goods update, to reflect the sophistication and elegance of relaxing with spa treatments at sea.
Visit Windstar's blog at blog.windstarcruises.com for refurbishment updates and behind-the-scenes information throughout the entire project.
I'm the editor and creator of CruiseMaven.com, a solo traveler cruising the world on waves and wheels, collecting recipes along the way.  I hope my articles and photos entertain, advise and inspire you to travel the world without flying.  Take a breath…stop for a local meal and a glass of wine along the way.