Mayor Michael R. Bloomberg and Norwegian Cruise Line CEO Kevin Sheehan yesterday announced that Norwegian Cruise Line's new state-of-the-art 4,000 passenger ship, Norwegian Breakaway, will make New York City its year-round home port from May 2013 to March 31, 2015, with an inaugural season sailing to Bermuda. Norwegian Breakaway—which will be the largest ship ever to home port in the City—will replace Norwegian Star, and embark on a minimum of 88 cruises from the Manhattan Cruise Terminal.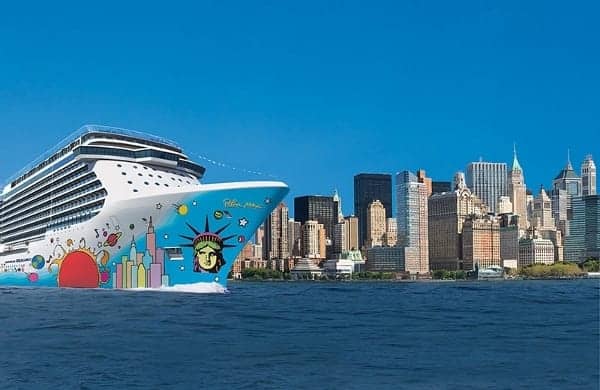 "By making New York Cityhome to its newest ship, Norwegian Cruise Line is further confirming our standing as a top cruise destination and a place that tourists from around the world want to visit," said Mayor Bloomberg.
"New York is not only one of our top markets, but also my hometown," said Norwegian Cruise Line Chief Executive Officer Kevin Sheehan.
"Therefore, I am thrilled to announce thatNew York will be the year-round home for our next generation Freestyle Cruising ship, Norwegian Breakaway. In addition, we are offering an exciting inaugural summer itinerary cruising to the beautiful island of Bermuda, a much sought-after summer destination."
In a first for Norwegian, it was also announced thatAmerica's most popular living artist, pop icon and New Yorker, Peter Max, has been commissioned to paint the signature hull artwork for the ship, which is scheduled for delivery in April 2013.
"Since Norwegian Breakaway will be making her home inNew York, we felt it was fitting to ask the artist best associated withNew York, Mr. Peter Max, to paint the ship's hull," said Kevin Sheehan. "I am a huge fan of his work and know that the art he creates for Norwegian Breakaway will make the ship instantly recognizable."
With paintings on display in hundreds of museums and galleries worldwide, Peter Max and his vibrant colors have become part of the fabric of contemporary culture. Max has been successively called a Pop Icon, Neo Fauvist, Abstract Expressionist and theUnited States' "Painter Laureate." He has achieved his place in history having painted for various Heads of State, including six U.S.Presidents.
"I love painting large canvasses. I've painted a plane and a stage forWoodstock, but never a ship. I love ships and have travelled on them many times in my life. To see my artwork floating on Norwegian Breakaway out at sea will be a dream come true," said Peter Max.
Norwegian Cruise Line was the first cruise line to homeport year-round inNew York City beginning in 2003. Since then, the company has been committed to bringing its newest and largest ships to the Big Apple, with two ships calling in New York City since 2005. In 2013 alone, Norwegian Breakaway is expected to make 34 calls at Manhattan Cruise Terminal (MCT). In addition, Norwegian Gem will continue to call year-round at MCT, with an expected 47 calls, and Norwegian Star will make 15 calls in 2013 before being replaced.
Currently under construction at Meyer Werft in Germany, Norwegian Breakaway will be 144,017 gross tons and is scheduled for delivery in April 2013. Following inaugural events, the ship will sail a series of 22 seven-day cruises from New York to Bermuda beginning May 12, 2013 through Oct 6, 2013. Departing on Sundays, the ship will spend three full days inBermuda, along with three days at sea. Norwegian Breakaway's New York to Bermuda cruises are scheduled to go on sale on October 17, 2011.
Norwegian Breakaway represents an opportunity for guests to "break away" from the routine of work, school, and daily stress, and find a true respite at sea. Norwegian Breakaway, and sister ship Norwegian Getaway (scheduled for delivery in April 2014), will take the best of the best from all of Norwegian's existing ships, drawing on the line's experience of having launched 10 ships in the past 10 years – starting with Norwegian Star and Sun in 2001 and culminating with the launch of Norwegian Epic in 2010.
I'm the editor and creator of CruiseMaven.com, a solo traveler cruising the world on waves and wheels, collecting recipes along the way.  I hope my articles and photos entertain, advise and inspire you to travel the world without flying.  Take a breath…stop for a local meal and a glass of wine along the way.