Immerse yourself in the joys of an AmaWaterways wine cruise in Europe.
If you are even a little bit interested in wine and river cruises, keep reading. AmaWaterways has assembled eight unique wine-themed river cruises along the Rhine, Rhône, Mosel and Danube, hosted by celebrity vintners and expert wine aficionados.
All eight of these specialized wine cruise itineraries offer guests wonderful opportunities to experience the richness of the wine regions and taste remarkable vintages.
There are two wine cruises in particular that I find truly unique and peak my curiosity.
It's not all about California. Oddly enough, two excellent wine regions in the US are at nearly opposite ends of the geographic spectrum; the Arizona high country and the Grand Traverse Bay area of northern Michigan.
Sam Pillsbury owns a small, award-winning winery near Sedona, Arizona. Yes, Arizona. Turns out that grapes grown along the Rhône do equally well in similar soil found in the high country in Northern Arizona. It's taken a few years and a bit of grafting and now his Pillsbury Wine Company has gained fame and notoriety. His wines are served in celebrity chefs' restaurants, including James Beard's.
Then there's Mark Johnson, Vice President and Winemaker at Chateau Chantal vineyards in Traverse City, Michigan. Part of his responsibilities include overseeing the Company's grape growing and wine production. One of his passions is to produce an ice wine that adheres to strict German rules as to what is qualified to bear the name, ice wine.
So unique are these winemakers talents that Paul Lasley, a noted radio personality and travel expert, recently interviewed each of them on two recent broadcasts of his OnTravel Radio Show. On one show, Lasley interviewed Sam Pillsbury about the upcoming AmaWaterways wine cruise that Pillsbury will co-host with his Pillsbury Wine Company partner and celebrated winemaker, Eric Gromski.
Departing from Budapest on November 6 – 13, 2013 aboard the AmaPrima, this itinerary meanders along the Danube river through some of the most noted wine regions of Europe. Along with wine lectures and onboard wine tastings, there will be complimentary, escorted tours to historic wineries along the Danube and Rhine. Guests can debark the AmaPrima in Vilshofen or opt for the land extension to Prague.
On another radio show, Lasley interviewed Mark Johnson, so intrigued was he by Johnson's award winning wines from Michigan. Johnson is also hosting an AmaWaterways wine-themed cruise on November 22 – 29, 2013. In a different itinerary that highlights the region of grape-growing that also produces fabulous ice wines, Johnson's cruise will feature wines of the Rhine river region. After a November 22 departure from Amsterdam, the AmaCello winds its way south and east all the way to Basel, Switzerland.
As on Pillsbury and Gromski's wine cruise, Johnson's cruise will also have wine lectures, tastings and shore excursions to noted wineries. When the AmaCello arrives in Strasbourg, France, a complimentary motor coach tour takes guests along the ancient wine road to Colmar and Riquewihr, for additional wine tastings and learning enrichment.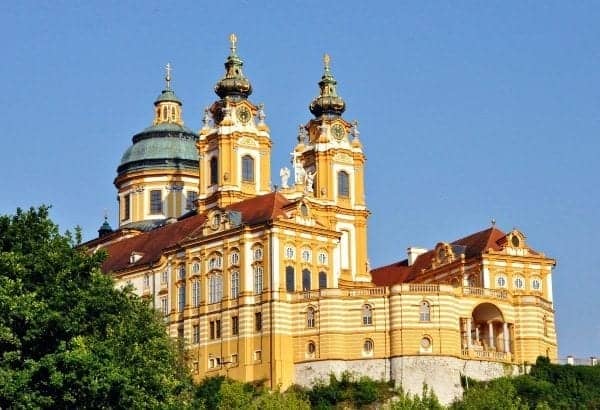 In 2011, I was invited to participate on an AmaWaterways wine cruise from Luxembourg to Nuremburg aboard the AmaLegro, traveling alongside the beautiful steep slopes of the Mosel River. Not only was the scenery spectacular, the wines along this area had produced bountiful and beautiful 2010 wines. We visited a winery in nearly every city. In the evenings we were served unlimited wines from each particular region as we cruised along.
Autumn is a beautiful time to visit Europe. The throngs of tourists have gone home, the leaves are changing into a spectrum of gold and red hues and wineries are wrapping up the harvest season. Winery owners, sometimes accompanied by family members or even the town mayor, greet you with an incredibly warm welcome. Unlike on ocean cruise ships, wines that you purchase ashore aren't confiscated and you may even open your new wine at dinner without paying a corkage fee.
Photo of Sam Pillsbury-Weekly Wine Journal and Mark Johnson-Michigan.org
I'm the editor and creator of CruiseMaven.com, a solo traveler cruising the world on waves and wheels, collecting recipes along the way.  I hope my articles and photos entertain, advise and inspire you to travel the world without flying.  Take a breath…stop for a local meal and a glass of wine along the way.