At 7am on debarkation morning, some 5,400 passengers are eager to go on their merry way after a week-long cruise. Of those, probably a couple thousand arrived by car. With all this activity – people rushing to their cars, busses and taxis – you'd think debarkation on Oasis of the Seas would be a chaotic mess. Think again.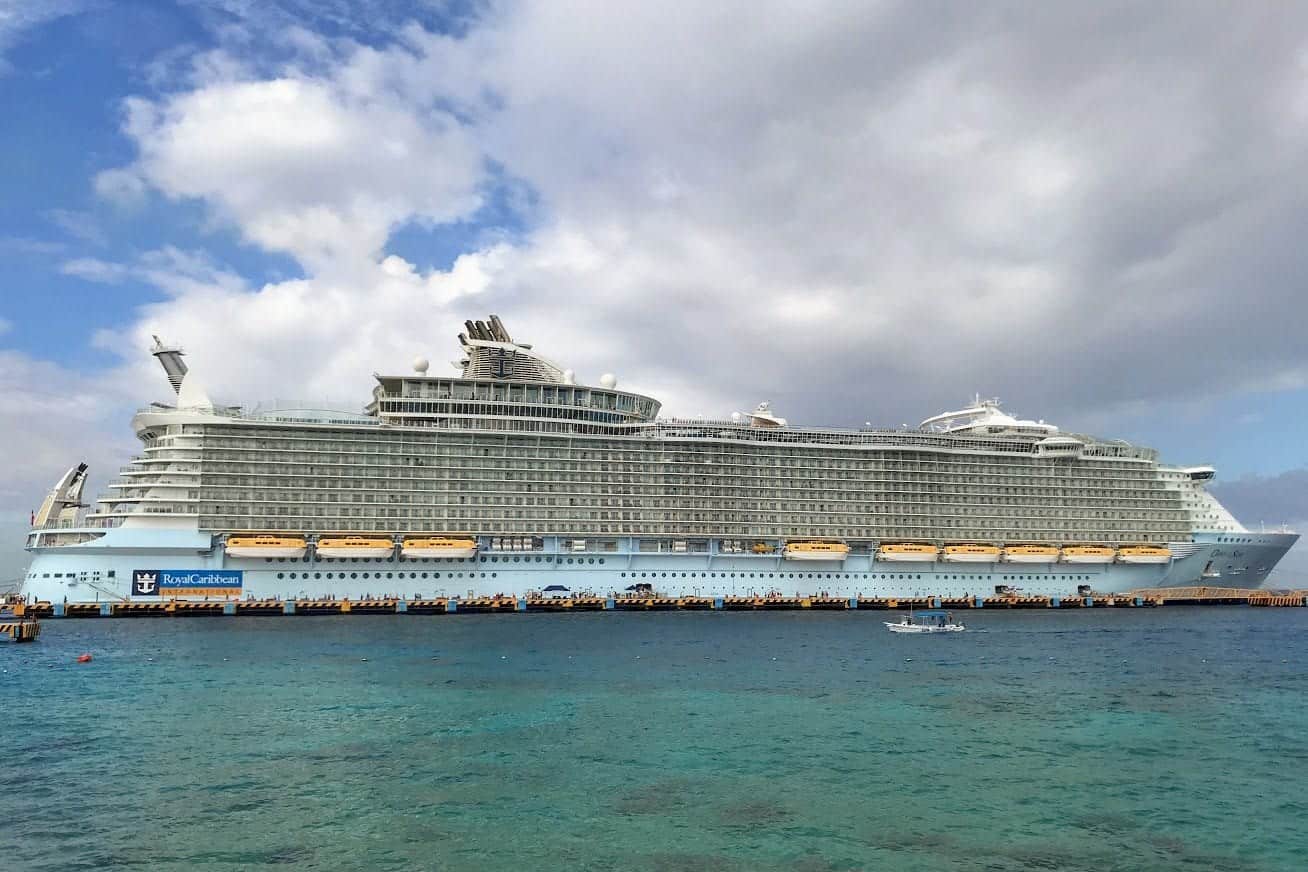 As always happens, my seven-day western Caribbean cruise went by much too fast. Packing early only exacerbates that feeling. I always begin to pack up right after the last formal night and this cruise was no exception.
By Saturday afternoon, our last cruise day, my closet was nearly empty. This gave me extra time to enjoy a longer-than-usual lunch at Izumi, Royal Caribbean's answer to Benihana. I think we all try to prolong a cruise; we cram unexperienced moments into the last few hours. But we know only too well that our vacation will soon draw to a close.
Then comes the dreaded day of debarkation. A huge Oasis of the Seas Debarkation!
In a nutshell, it took me exactly (and I mean exactly!) 28 minutes to go from the gangway on Deck 5 to my car door on Deck 4 Rooftop of the parking lot. Seriously.
Oasis of the Seas Debarkation Made Easy
Here are my suggestions for a smooth and speedy Oasis of the Seas debarkation morning.
On boarding day, remember what deck you've parked your car. Hint: Park on rooftop and there's nothing to remember.
Night before debarkation, your luggage is supposed to be set outside of your stateroom at 11pm. No more midnight deadline.
Attach your colored bag tag to the handle of any suitcase that's being set outside. Hint: Attach a bag tag to your carryon to help remember what number area you will collect your luggage in the terminal.
There's no room service on debarkation morning.
For that early morning coffee, I headed to Starbucks. There's also Marketplace Buffet and their version of coffee. But, I would rather pay for a decent cup at 6:30am than fight the mob scene that's coming and going from the buffet at the crack of dawn. But you have options.
Back in your stateroom (with coffee!), you can finish any last minute packing, take a shower etc.
Plan to leave your room by 8am. That's the time you're asked to vacate.
At 8am saunter down to American Icon for a leisurely table-service breakfast in the main dining. On Deck 3, American Icon is the lowest level of the three-story dining room. It's open until 9am.
FYI: If you have access to the Diamond and Diamond Plus Lounge, despite what Guest Services tells you, there is NO continental breakfast served on debarkation morning. There's only the cappuccino machine, if it's in service at that time.
It doesn't matter if your bag tag is # 3 or #33. You can leave the ship at your own pace, as long as you're off the ship by 10am. The time associated with your bag tag actually indicates when you can expect your luggage to be in its numbered claim area. I left the ship 1 1/2 hours after my suitcase would be ashore and there were only four other pieces of luggage at area #3.
No more blue U.S. Declaration slips to fill out at the last moment or be scrutinized by immigration. Speedy!
Once you finish your breakfast at American Icon, simply grab your carryons and call for an elevator or walk up the two flights from Deck 3 to Deck 1
Have your Sea Pass in hand so you don't clog the line to be "dinged" out at the exit door.
Walk off on deck five down the long gangway to the terminal. Claim your luggage and you'll be directed to Immigration. Without needing the paper declaration forms, the officer checks your passport, asks a few pertinent questions and off you go in just 30 minutes or less.
Read more: Majesty of the Seas review after refurbishment
Here's my routine:
Alarm at 6:15 – crawl out of bed and throw on clothes – go to Starbucks and head back to room. Shower and then finish last-minute items to pack. At about as close to 8 as possible, I take all of my belongings and go to American Icon for a leisurely sit-down breakfast. It's a wait-to-be-seated breakfast but worth the couple of minutes to be seated. The closer you are to 8:30am the longer the line…or so it seems. No rush, no fuss.
With so many people that want to get from Point A to Points B, C and D, Royal Caribbean has done a great job to make an Oasis of the Seas debarkation as painless as possible. It's really one swift continuous motion from ship exit to luggage claim to immigration check and out to your car or bus.
READ NEXT: Royal Caribbean adds more visit to Perfect Day at CocoCay
Pin this post for later!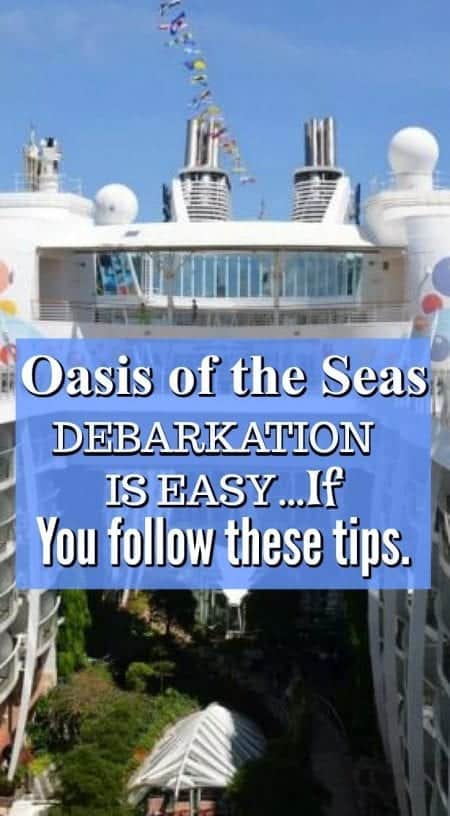 I'm the editor and creator of CruiseMaven.com, a solo traveler cruising the world on waves and wheels, collecting recipes along the way.  I hope my articles and photos entertain, advise and inspire you to travel the world without flying.  Take a breath…stop for a local meal and a glass of wine along the way.