Good news this week as Viking Cruises announced their newest ship, Viking Neptune, had finally touched the water for the first time.
The Viking Neptune event, nautically known as the "float out," was accompanied by a celebration to mark a major milestone in ship building.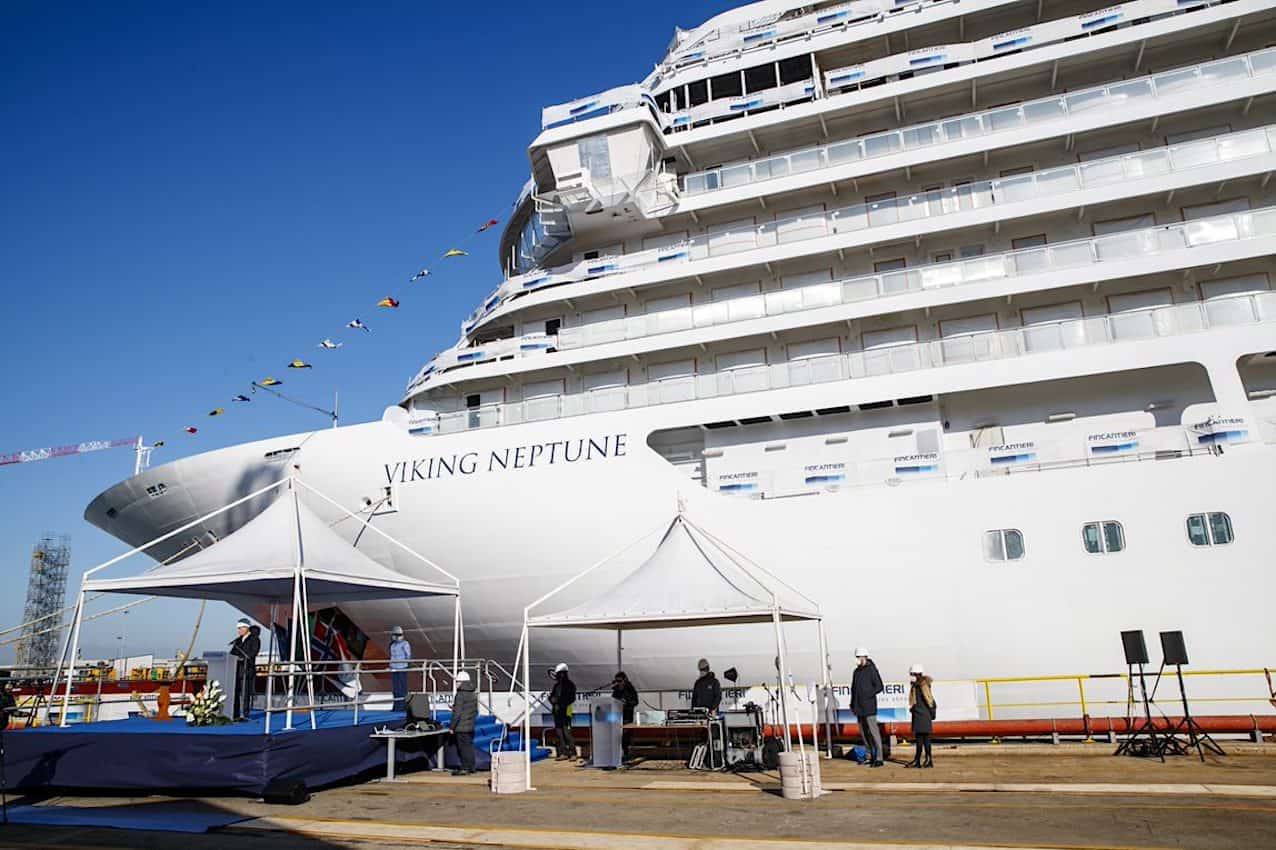 Scheduled for a November 2022 debut, the 930-passenger Viking Neptune will spend the first few months after the launch cruising the Mediterranean.
Following a year of inaugural itineraries and a transatlantic crossing to Florida, on December 23, 2023, Viking Neptune embarks on a 138-day World Cruise.
Beginning in Fort Lauderdale and ending in London, the ship will visit 28 countries and 57 ports. Eleven cities will have overnight stays.
"It is always a special day when a new ship meets water for the first time, and we look forward to welcoming guests on board the Viking Neptune this fall. Together with Fincantieri we have built the world's most elegant vessels, which truly allow our guests to explore the world in comfort," said Torstein Hagen, Chairman of Viking.
"We are marking several milestones in 2022, including our 25th anniversary and the 10th year since starting our ocean project. With the arrival of the Viking Neptune and her identical sister ship, the Viking Mars, this year—along with the debut of our two new expedition ships and new river ships—we are proud to firmly establish Viking as the leading small ship travel company."
Fincantieri's Ancona shipyard in Italy was host for the traditional float out ceremony. The actual float out of Viking Neptune began at approximately 11:00 a.m. Italian time. A member from the Viking team cut a cord to signal that water would begin to flow into the ship's building dock.
It takes two days for enough water to flow into the dock to set Viking Neptune afloat. After that, the ship will be moved and the final phases of construction will begin, both exterior and interior.
About Viking Neptune
Viking Neptune, as with its other ocean sister ships, has a gross tonnage of 47,800 tons and 465 staterooms that can accommodate up to 930 guests. Viking Neptune's sister ships include Viking Star, Viking Sea, Viking Sky, Viking Orion, Viking Jupiter and Viking Venus.
Viking Mars will be delivered in May 2022 while Viking Saturn will be delivered in early 2023.
You May Also Love These Related Posts
I'm the editor and creator of CruiseMaven.com, a solo traveler cruising the world on waves and wheels, collecting recipes along the way.  I hope my articles and photos entertain, advise and inspire you to travel the world without flying.  Take a breath…stop for a local meal and a glass of wine along the way.