This week, it was formally announced that ultra-luxury brand Crystal Cruises would cease operations due to its owners filing bankruptcy. All Crystal Cruises are canceled through April 2022. Sailings were canceled mid-cruise.
The writing was on the wall a few weeks ago when it was revealed that Genting Hong Kong, the conglomerate that owns Crystal Cruises, was having financial difficulties.
When a cruise line with staunchly dedicated followers seems to be going in the direction of belly-up, it's really a source of wonder how this could happen. Genting had grand plans for its Crystal Cruises brand.
Several years ago, Crystal added its own airplane to transport passengers to remote destinations to board their ship.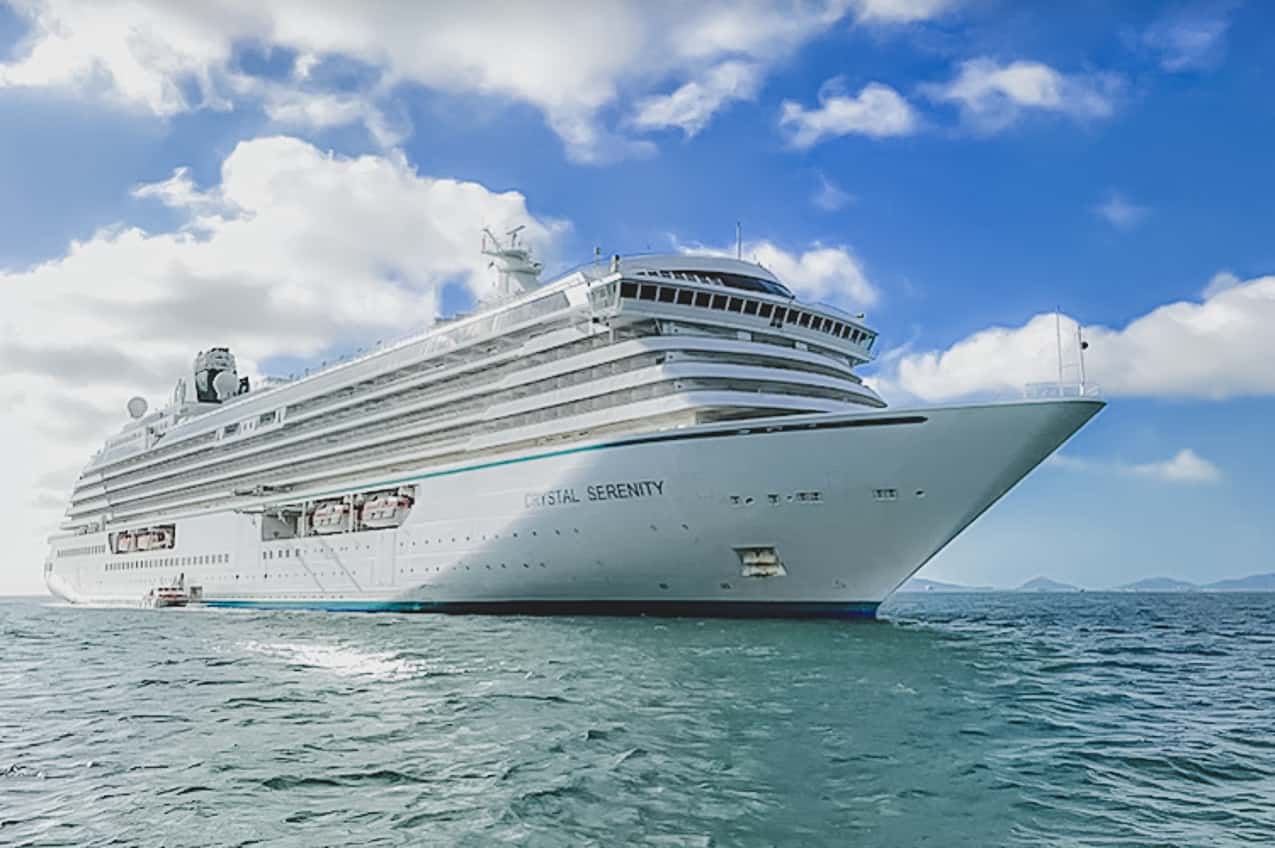 Crystal Cruises Ends Operations Through April 2022
There were plans for a $2.9M 2-passenger and captain submersible "submarine" as part of the Crystal Esprit expedition ship experience. Crystal sold off Esprit to Lindblad Expeditions late last year.
Crystal also added Europe river cruises starting with one charter ship and then eventually four more of their own river ships. Too much too fast?
There were even tentative plans to take the historic ship, S.S. United States, out of perennial drydock in Phildelphia and bring it back into service.
Turned out that the cost to do so would have been astronomical so that idea didn't proceed. But money was still spent on a technical feasibility study.
READ NEXT: Crystal Plans to Resurrect Once-Fastest Ship in the World
Add two years of Covid and that's a formula for disaster, if sights were set too high and included hefty price tags.
Where are Crystal Ships Now?
Crystal Cruises has two ocean cruise ships, Crystal Serenity and Crystal Symphony plus one remaining expedition ship, Crystal Endeavor. The line also has five river ships currently in drydock in Europe.
Both Crystal Serenity and Crystal Symphony are in the middle of Caribbean cruises while Crystal Endeavor is on an Antarctic expedition cruise.
Passengers from all three ships will need to disembark within the next few days. Flights home will be provided by Crystal from Aruba, Miami and Ushuaia, Argentina for the expedition guests.
What is Genting Hong Kong
Genting Hong Kong is a holding company based in Hong Kong and operates cruise and resorts. Under the Genting name, in addition to Crystal Cruises, are Asia-based Dream Cruises, Star Cruises and Resorts World Manila, plus two shipyards in Germany.
In early January 2022, both of Genting's shipyards, Lloyd Werft and MV Werften filed for insolvency. Within 10 days, Genting Hong Kong itself wound up filing for insolvency.
Will Crystal Cruises Resume Sailing
Genting issued a statement alluding to hopes that they will be able to hang onto their cruise lines. The big question is…where will the family-owned holding company find the funds to restart Crystal Cruises in April 2022?
It didn't take long for Sycamore Partners to buy up Royal Caribbean's premium line, Azamara when Royal announced it was selling its three-ship fleet. Since that time, barely a year ago, a fourth ship was added to Azamara.
If Genting can't restart Crystal Cruises, let's hope that another company like or even Sycamore Partners comes along with an offer.
Personally, my one and only Crystal Cruise aboard Crystal Serenity, a 20-day Panama Canal cruise from Florida to Los Angeles, was one of my top 5 best-ever cruises. I really hope that this cruise line can be saved!
I'm the editor and creator of CruiseMaven.com, a solo traveler cruising the world on waves and wheels, collecting recipes along the way.  I hope my articles and photos entertain, advise and inspire you to travel the world without flying.  Take a breath…stop for a local meal and a glass of wine along the way.