New 10-day Seine cruise from Paris to Normandy and back.
Uniworld Boutique Cruises will introduce a brand new Seine river cruise itinerary in March 2017. This new experience will cruisethe Seine round-trip from Paris to Caudebec-en-Caux, the end of the line for Seine river cruises before reaching the English Channel and the beaches of Normandy.
After the first overnight in port aboard the 116-passenger River Baroness, the itinerary begins with a full day in Paris. The river ship sets out for the first of five city visits; northbound ports include Conflans-Sainte-Honorine (a day cruise from Paris) Vernon, Les Andelys and Caudebec-en-Caux. Southbound calls on Rouen and again at Vernon before returning to Paris for two overnights and at nearly three days docked on the Seine.
The itineraries include 8 days of excursions, all hosted by English-speaking local experts. Those that want to explore on their own can simply do as they please. There are guided "Go Active" excursions, like rowing a boat on the Grand Canal at Versailles. There are local events planned as well as gentle walking options.
Guests are welcome to the complimentary use of bikes and Nordic walking sticks.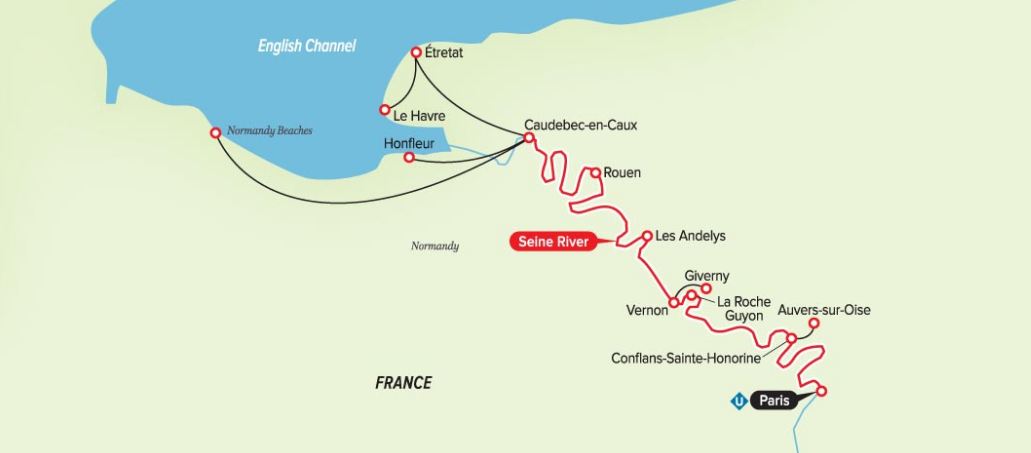 Stroll through the village of Auvers-sur-Oise, where Van Gogh lived and painted in his final months. While in Rouen, visit Monet's gardens at Giverny with its familiar Japanese bridge and water garden that inspired his work.
Once in Caudebec-en-Caux, travel by motor coach to Honfleur, a charming French harbor town favored as an artistic backdrop by artists such as Courbet and Monet. From Caudebec-en-Caux you can walk the historic beaches of Normandy, explore the Romanesque Normandy Abbey Route and stop at to Château de Bizy, referred to as the "Versailles of Normandy."
The first cruise is scheduled for March 28, 2017 aboard the River Baroness and continues the 10-day Seine cruises until November 8, 2017. Prices begin at $2,800 per person based on double occupancy.
I'm the editor and creator of CruiseMaven.com, a solo traveler cruising the world on waves and wheels, collecting recipes along the way.  I hope my articles and photos entertain, advise and inspire you to travel the world without flying.  Take a breath…stop for a local meal and a glass of wine along the way.